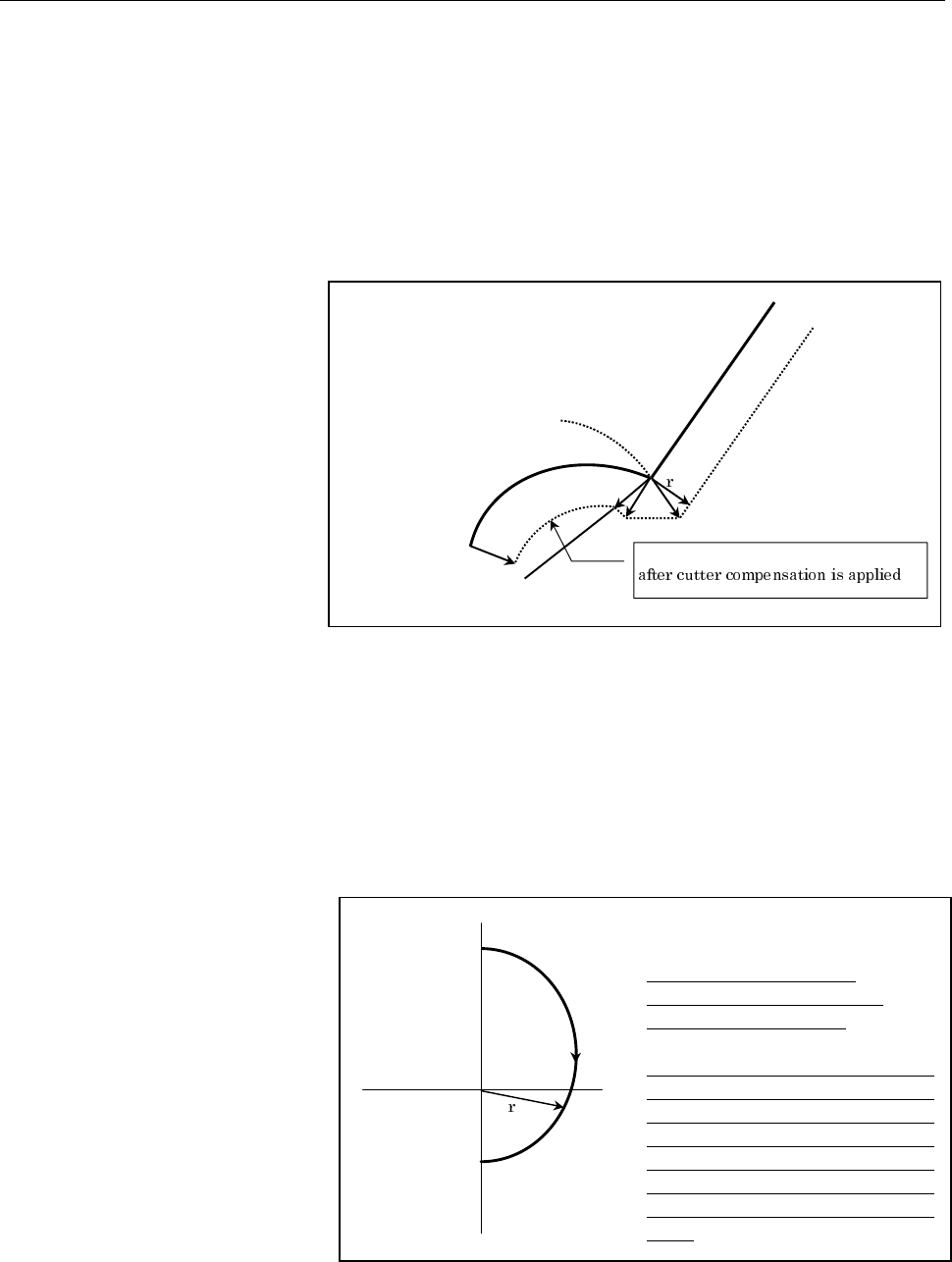 B-63324EN/03
PROGRAMMING

4.INTERPOLATION FUNCTIONS
- 111 -
- Tool offset
The spiral interpolation function and conical interpolation function
can be used in cutter compensation C mode. The same compensation is
applied as that described in (d) Exceptional case, (3) Offset mode, II-
14.4.3 Detailed explanation of cutter compensation C. Cutter
compensation is applied along a virtual circle whose center is located at
the center of spiral interpolation and which passes through the end
point of a block. Spiral interpolation is applied to the path obtained
after cutter compensation is applied.
Fig.4.15 (b) Tool offset
- Actual speed
In spiral interpolation and conical interpolation, the feedrate is usually
kept constant. When the radius of a spiral becomes small near the
center of the spiral, however, the corresponding angular velocity may
become very high. To prevent this from occurring, the system keeps the
angular velocity constant when the radius of a spiral reaches the value
specified in parameter No.2440, resulting in a lower velocity than
before.
An example is shown below.
Fig.4.15 (c) Actual speed
Spiral interpolation
program
Virtual
circle
Path of the center of a
tool
r
Center
Path obtained with spiral interpolation
Specified feedrate : F100
Parameter No.2440(r) : 1000
Increment system : IS-B
When spiral interpolation is used
under the above conditions, feedrate
is F100 for a radius larger then the
value specified in parameter
No.2440. The feedrate is reduced as
the radius becomes smaller and is
about F65 at the end point of the
spiral.
1.5
-0.5