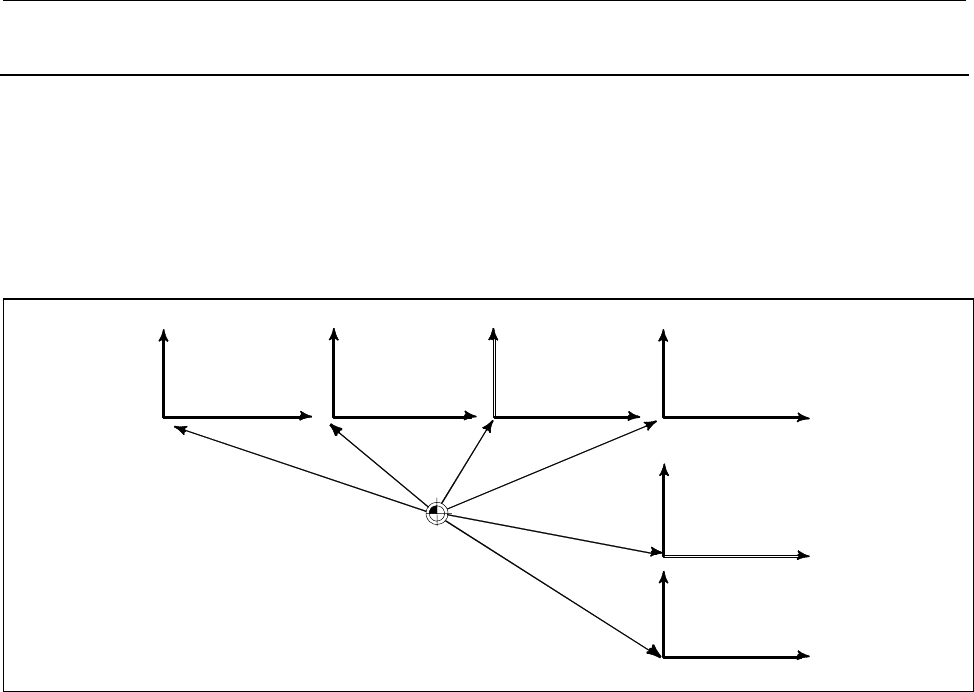 7
.
COORDINATE SYSTEM PROGRAMMING

B-63324EN/03
- 192 -
7.2.2
Setting Workpiece Coordinate System (G54 to G59)
Explanation
- Setting workpiece coordinate system
Six workpiece coordinate systems can be set. These six systems are
decided by setting the distances of each axis from the machine zero
point to the zero points of the coordinate systems, (i.e. the workpiece
zero point offset value, by using the CRT/MDI panel).
ZOFS1:Workpiece zero point offset value of workpiece coordinate
system 1 (parameter (No.1221))
ZOFS2:Workpiece zero point offset value of workpiece coordinate
system 2 (parameter (No.1222))
ZOFS3:Workpiece zero point offset value of workpiece coordinate
system 3 (parameter (No.1223))
ZOFS4:Workpiece zero point offset value of workpiece coordinate
system 4 (parameter (No.1224))
ZOFS5:Workpiece zero point offset value of workpiece coordinate
system 5 (parameter (No.1225))
ZOFS6:Workpiece zero point offset value of workpiece coordinate
system 6 (parameter (No.1226))
Workpiece
coordinate system 1
(G54)
Workpiece
coordinate system 2
(G55)
Workpiece coordinate
system 3
(G56)
Workpiece
coordinate system 4
(G57)
Workpiece coordinate system 5
(G58)
Workpiece coordinate system 6
(G59)
ZOFS2
ZOFS3
ZOFS4
ZOFS5
ZOFS1
ZOFS6
ZOFS1 to ZOFS6 : Workpiece zero point offset value