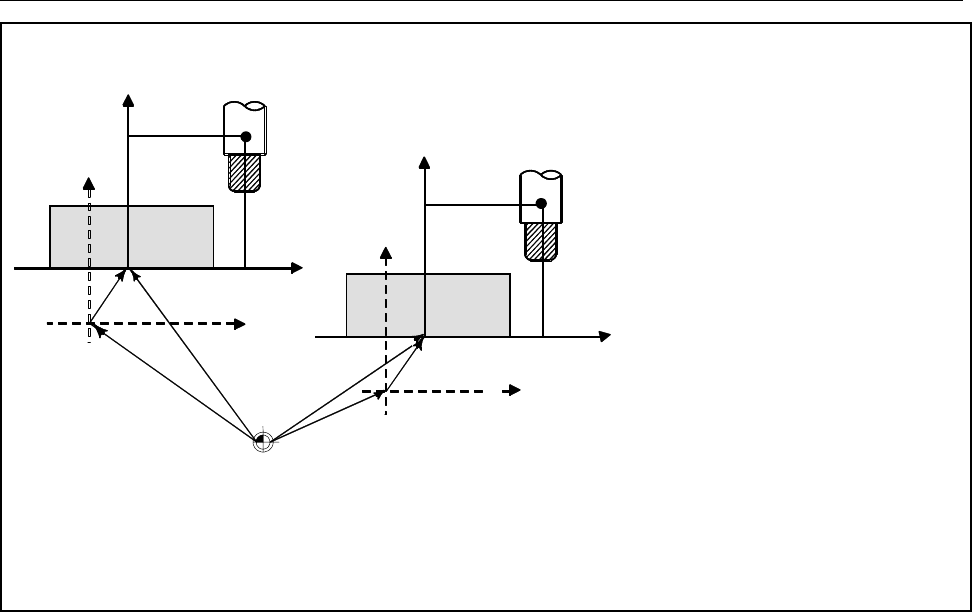 B-63324EN/03
PROGRAMMING 7

.

COORDINATE SYSTEM
- 197 -
Suppose that a G54 workpiece coordinate
system is specified. Then, a G55 workpiece
coordinate system where the black circle on
the tool (figure at the left) is at
(600.0,12000.0) can be set with the following
command if the relative relationship between
the G54 workpiece coordinate system and
G55 workpiece coordinate system is set
correctly:G92X600.0Z1200.0;Also, suppose
that pallets are loaded at two different
positions.
G92X600.0 Z1200.0;
If the relative relationship of the coordinate
systems of the pallets at the two positions is
correctly set by handling the coordinate
systems as the G54 workpiece coordinate
system and G55 workpiece coordinate
system, a coordinate system shift with G92 in
one pallet causes the same coordinate
system shift in the other pallet. This means
that workpieces on two pallets can be
machined with the same program just by
specifying G54 or G55.
G54 Workpiece
Coordinate system
1200.0
Z
Z
X'
600.0
600.0
1200.0
G55 Workpiece
Coordinate system
Z'
Z'
X
X
X'
- Z'

.............New workpiece coordinate system
X - Z
..............Original workpiece coordinate system
A ; Offset value created by G92
B : Workpiece zero point offset value in theG54
C : Workpiece zero point offset value in the G55
A
B
C
X'
A