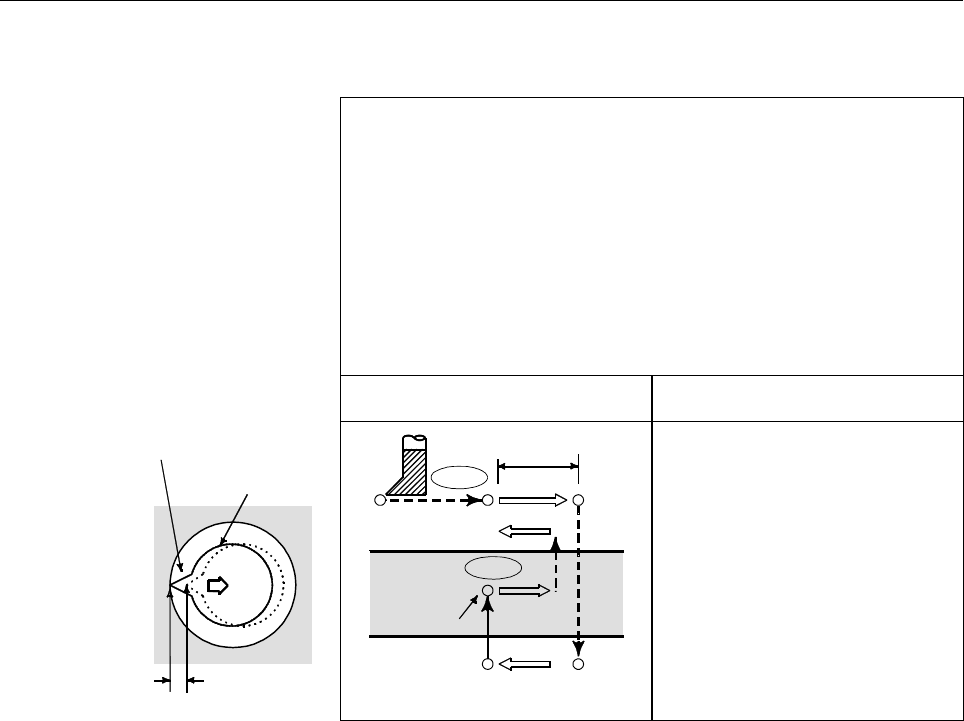 B-63324EN/03
PROGRAMMING 13.FUNCTIONS TO

SIMPLIFY PROGRAMMING
- 309 -
- Canned cycle II (back boring cycle)
Spindle CW
Point R
Point Z
q
OSS
OSS
Not used
Tool
P
Spindle CW
Shift amount q
Oriented spindle stop
G87 X_ Y_ Z_ R_ I_ J_ P_ F_ L_ ; (when the parameter SIJ(No.6200#2) is 1)
or
G87 X_ Y_ Z_ R_ Q_ P_ F_ L_ ; (when the parameter SIJ(No.6200#2) is 0)
X_ Y_
: Hole position data
Z_
: The distance from the bottom of the hole to point Z
R_
: The distance from the initial level to point R
(the bottom of the hole) level
Q_
: Shift amount in the bottom of hole
I_, J_
: Shift amount in the bottom of hole
L_
: Number of repeats (if required)
Explanation
- In the case of canned cycle I (boring cycle)
After positioning along the X-axis and Y-axis, movement is made by
rapid traverse to the R point level. Next, boring is performed from the
R point level to point Z. Then, the spindle stops at the hole bottom. At
this time, the mode can be switched to manual mode to move the tool.
Any manual operation is allowed. For safety, however, the tool should
ultimately be pulled out of the hole.
To restart machining, set either tape mode or memory mode. The
spindle returns to the initial level or R point level according to G98 or
G99, then starts rotating in the forward direction. Then, operation is
restarted according to the command programmed in the next block.
- In the case of canned cycle II (back boring cycle)
After positioning along the X- and Y-axes, the spindle is stopped at the
fixed rotation position.
The tool is moved in the direction opposite to the tool tip, positioning
(rapid traverse) is performed to the bottom of the hole (point R).
The tool is then shifted in the direction of the tool tip and the spindle is
rotated clockwise. Boring is performed in the positive direction along
the Z-axis until point Z is reached.