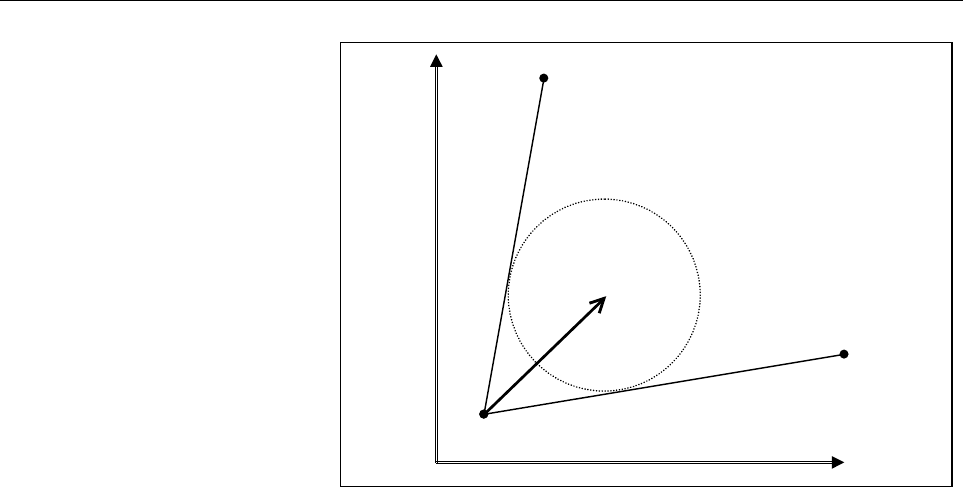 B-63324EN/03
PROGRAMMING

14.COMPENSATION FUNCTION
- 507 -
e3
e2
P'
Q'
R'
V
D
'
Fig.14.14.1 (k) Compensation vector calculation
The e1 component of VD' is assumed to be always 0. The
calculation is similar to the calculation of cutter compensation C.
Although one vector is obtained in this example, up to four
vectors may be calculated.
If the difference between the e2 and e3 components (in the
compensation plane) between two points is smaller than the value
set in parameter No. 6114 in intersection vector calculation, the
block is assumed to specify no movement. In this case,
intersection calculation is performed using the coordinates of one
block ahead.
(5)
Converting the intersection vector from coordinate system C2 to
coordinate system C1
From the following expression, vector VD' in coordinate system
C2 is converted to vector VD in coordinate system C1 :
'
1
−
=
Vector VD is the compensation vector in the original XYZ
coordinate system.
- Calculation used when the compensation plane is changed
(1)
When a rotation axis and linear axis are specified at the same time
When a rotation axis and linear axis are specified in the same
block in the G41.2 or G42.2 mode (the compensation plane
changes frequently), the cutter compensation vector is calculated
using the coordinates of the rotation axis at each point at which
the vector is obtained.
<Example>
G90 G00 X0 Y0 Z0 B0 C0 ;
G01 F1000 ;
N1 G42.2 Xp Yp Zp Bp Cp D1 ;
N2 Xq Yq Zq Bq Cq ;
N3 Xr Yr Zr Br Cr ;
N4 Xs Ys Zs Bs Cs ;