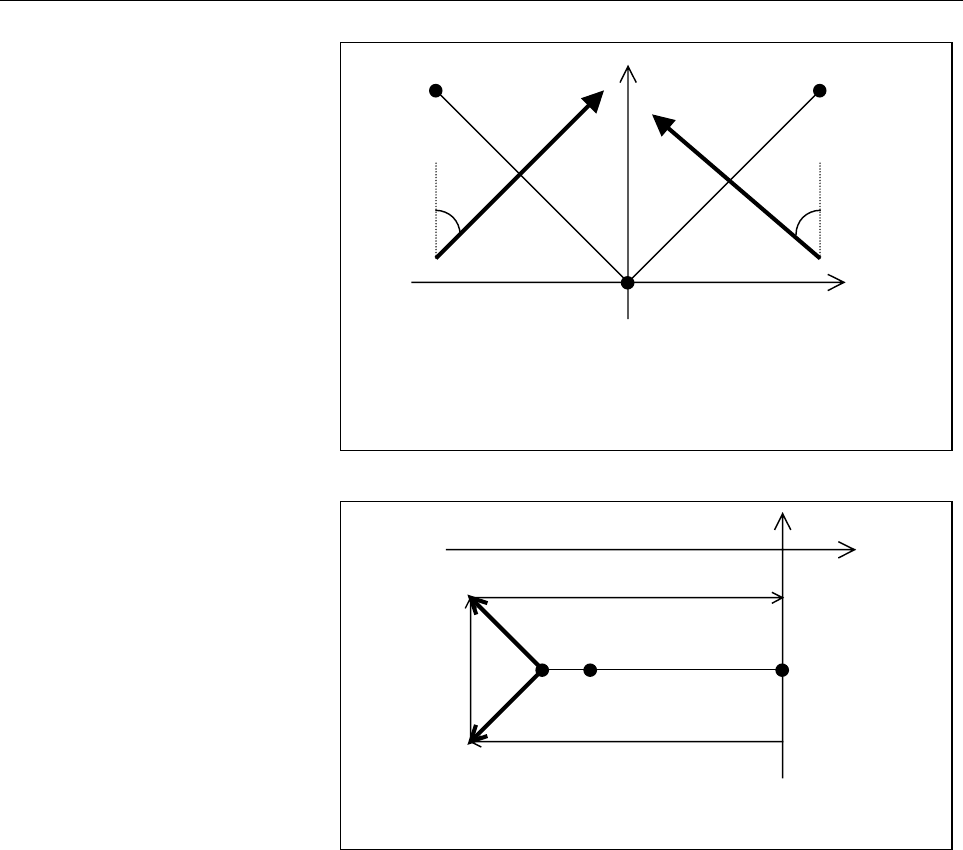 14.COMPENSATION FUNCTION
PROGRAMMING

B-63324EN/03
- 510 -
Y
Z
Va: Tool direction vector when A = -46
Vb: Tool direction vector when A=45
A: End point of N3
B: End point of N4
C: End point of N6
A
B
C
Fig.14.14.1 (o) Tool Direction Vector
e3
e2
A'C'B'
V1
V2
A'
: Point A projected onto the compensation plane
B'
: Point B projected onto the compensation plane
C'
: Point C projected onto the compensation plane
Fig.14.14.1 (p) Compensation Vector at the End Point (Point B) of N4 (on
Compensation Plane)
The move direction of A'B' is opposite to that of B'C', so that two
compensation vectors, V1 and V2, are produced at point B' (end point
of N4). There is a possibility of overcutting in this case, so an alarm
(PS0272) is issued from N4.
(1)
Conditions for issuing the interference alarm
Suppose that the tool direction vector changes considerably from
one block to another due to a move command for a rotation axis.
In this case, an interference alarm is assumed because
compensation vectors are regarded as being generated in the
wrong directions when the path angle difference on the
compensation plane is large, even though the angle difference of
the directions of compensation vectors to be generated by those
blocks is small.
Here, the compensation plane is perpendicular to the tool
direction (Va in Fig. 14.14.1(q)) of the first of the two blocks.
Specifically, the conditions below are used for issuing the alarm.