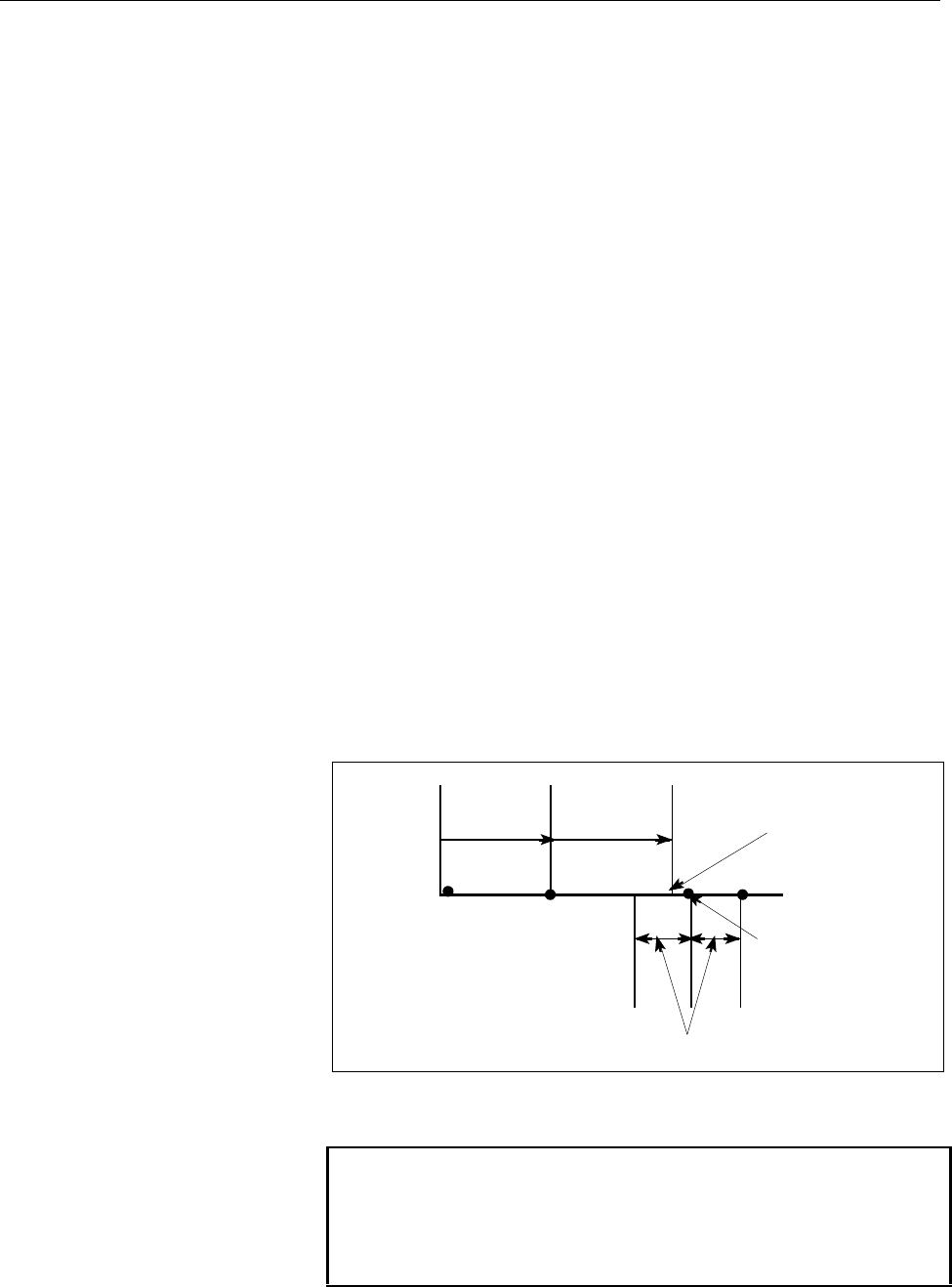 16
.
MEASUREMENT FUNCTIOM PROGRAMMING

B-63324EN/03
- 572 -
- Specifying G37
Specify the absolute coordinates of the correct measurement position.
Execution of this command moves the tool at the rapid traverse rate
toward the measurement position, reduces the federate halfway, then
continuous to move it until the approach end signal from the measuring
instrument is issued. When the tool tip reaches the measurement
position, the measuring instrument sends an approach end signal to the
CNC which stops the tool.
- Changing the offset value
When the MDC bit (bit 0 of parameter 7300) is set to 1 (default value),
the difference between the coordinate value of the tool reaching the
measurement position and the coordinate value specified by G37 is
added to the current tool compensation data.
Compensation data = (Current compensation data) + [(Measurement
position reach signal detection position) - (Coordinate value specified
by G37)]
If the MDC bit (bit 0 of parameter 7300) is set to 0, subtraction can be
performed here. The compensation data can be manually changed to a
desired value by MDI.
- Alarm
When automatic tool length measurement is executed, the tool moves
as shown in Fig. 14.2 (b). If the approach end signal goes on while the
tool is traveling from point B to point C, an alarm occurs. Unless the
approach end signal goes on before the tool reaches point F, the same
alarm occurs. The P/S alarm number is 080.
Start
position
Rapid
traverse
Approach end signal ON
Position commanded
by G37
Permitted range of approach end signal
A
B
Deceleration
feedrate
(measurement
feedrate)
C
Fig.16.5 (b) Tool movement to the measurement position
WARNING
When a manual movement is inserted into a
movement at a measurement federate, return the
tool to the position before the inserted manual
movement for restart.