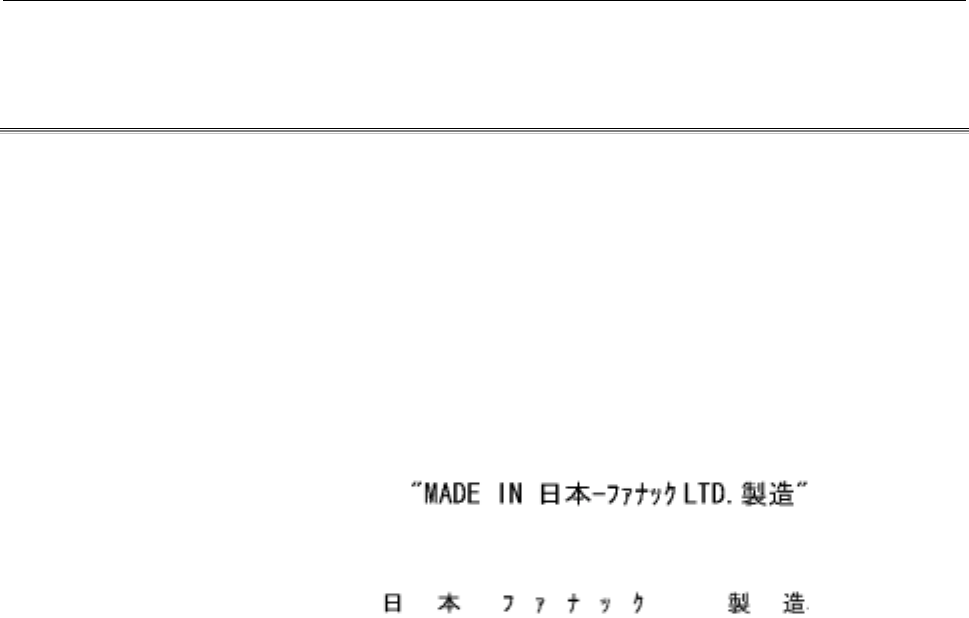 17.CUSTOM MACRO
PROGRAMMING

B-63324EN/03
- 658 -
17.11
DISPLAYING A MACRO ALARM AND MACRO MESSAGE
IN JAPANESE
Explanation
Kanji, katakana and hiragana characters as well as alphanumeric
characters and special characters can be displayed on the alarm screen
and external operator message screen using system variables 3000 and
3006.
To display alphanumeric and special characters, directly enter the
alphanumeric and special characters. To display Japanese characters,
enclose the internal codes of the characters in @ symbols. This is
called internal code input. (The internal codes of kanji and hiragana
characters are represented by four hexadecimal digits. The internal
code of a katakana character is represented by two hexadecimal digits.)
If, for example, the following macro message is to be displayed
specify the following:
#3006=1(MADE IN @867C 8B5C@-@CC A7 C5 AF
B8@LTD.@803D 8224@) ;
Special character "@" cannot be used in the message, because it is used
to identify Japanese internal codes.
In the internal code input state, text display is interrupted if:
-
A character that cannot be recognized as an internal code is
entered.
-
A control-in signal is received.
In the internal code input state, the state terminates if:
-
An odd number of hexadecimal characters are enclosed in @.
For an explanation of the internal codes for Kanji, hiragana, and
katakana characters, see the FANUC internal code table.