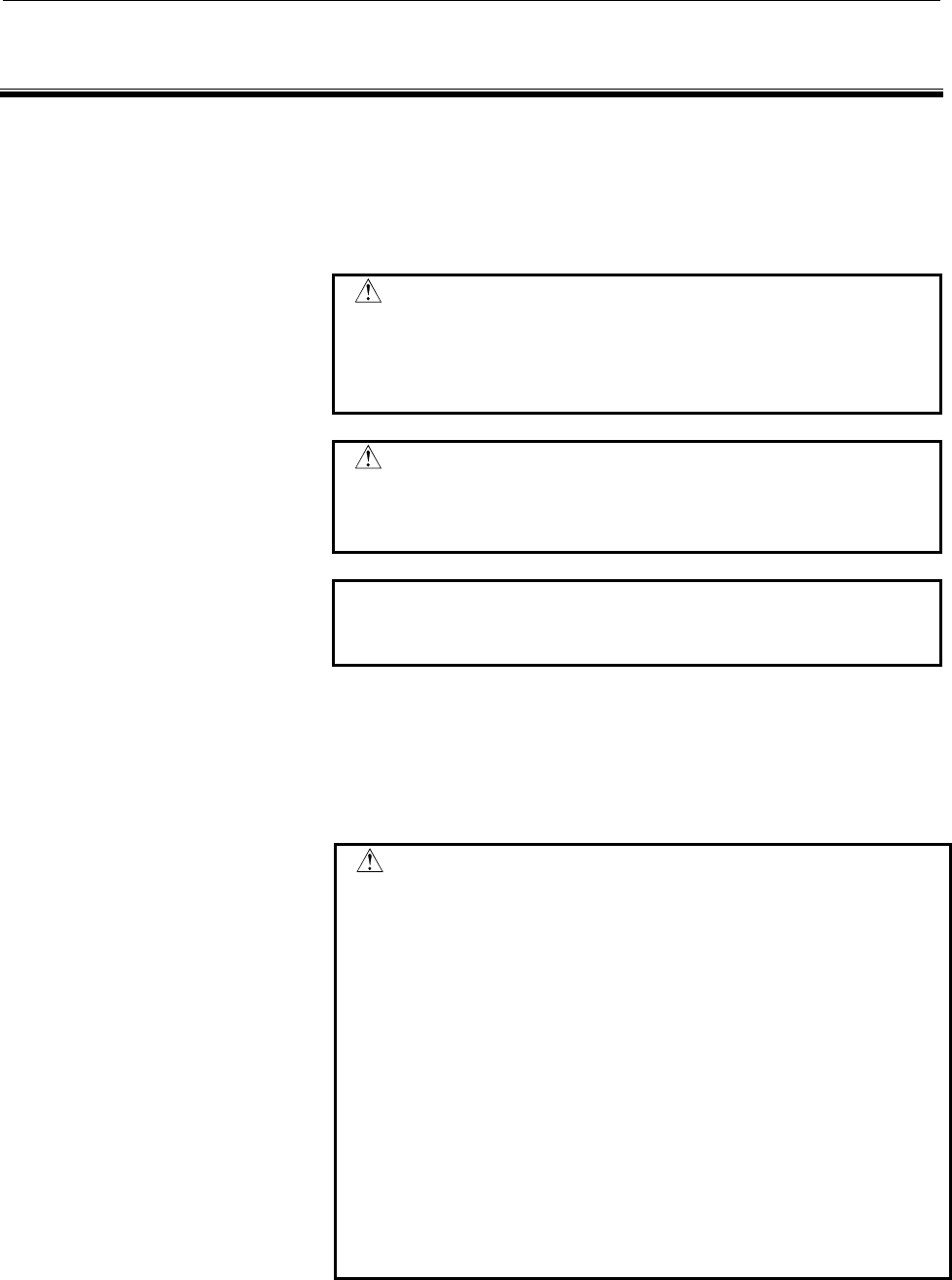 B-63343EN/02
SAFETY PRECAUTIONS
s-1
SAFETY PRECAUTIONS
This manual includes safety precautions for protecting the user and
preventing damage to the machine. Precautions are classified into
Warnings and Cautions according to their bearing on safety. Also,
supplementary information is described as Notes. Read the Warnings,
Cautions, and Notes thoroughly before attempting to use the machine.
WARNING
Applied when there is a danger of the user being
injured or when there is a damage of both the user
being injured and the equipment being damaged if
the approved procedure is not observed.
CAUTION
Applied when there is a danger of the equipment
being damaged, if the approved procedure is not
observed.
NOTE
The Note is used to indicate supplementary
information other than Warning and Caution.
* Read this manual carefully, and store it in a safe place.
To ensure safety while using a machine featuring the MANUAL
GUIDE function that is made according to this programming manual,
observe the following precautions:
WARNING
On MANUAL GUIDE, after adding a new function
onto it, or modifying its standard function by
modifying the sample programs according to this
programming manual, do no run the machine by
using these new or modified functions immediately.
Instead, confirm every step of the resultant machine
motions, and make sure that the tool path and
machining operation are correct and that the tool will
not strike the work-piece or machine. Before starting
production machining, run the machine with no
work-piece attached to the machine to make sure
that the tool will not strike a work-piece or the
machine. If the tool strikes the machine and/or
work-piece, the tool and/or machine may be
damaged, and even injuries the operator.