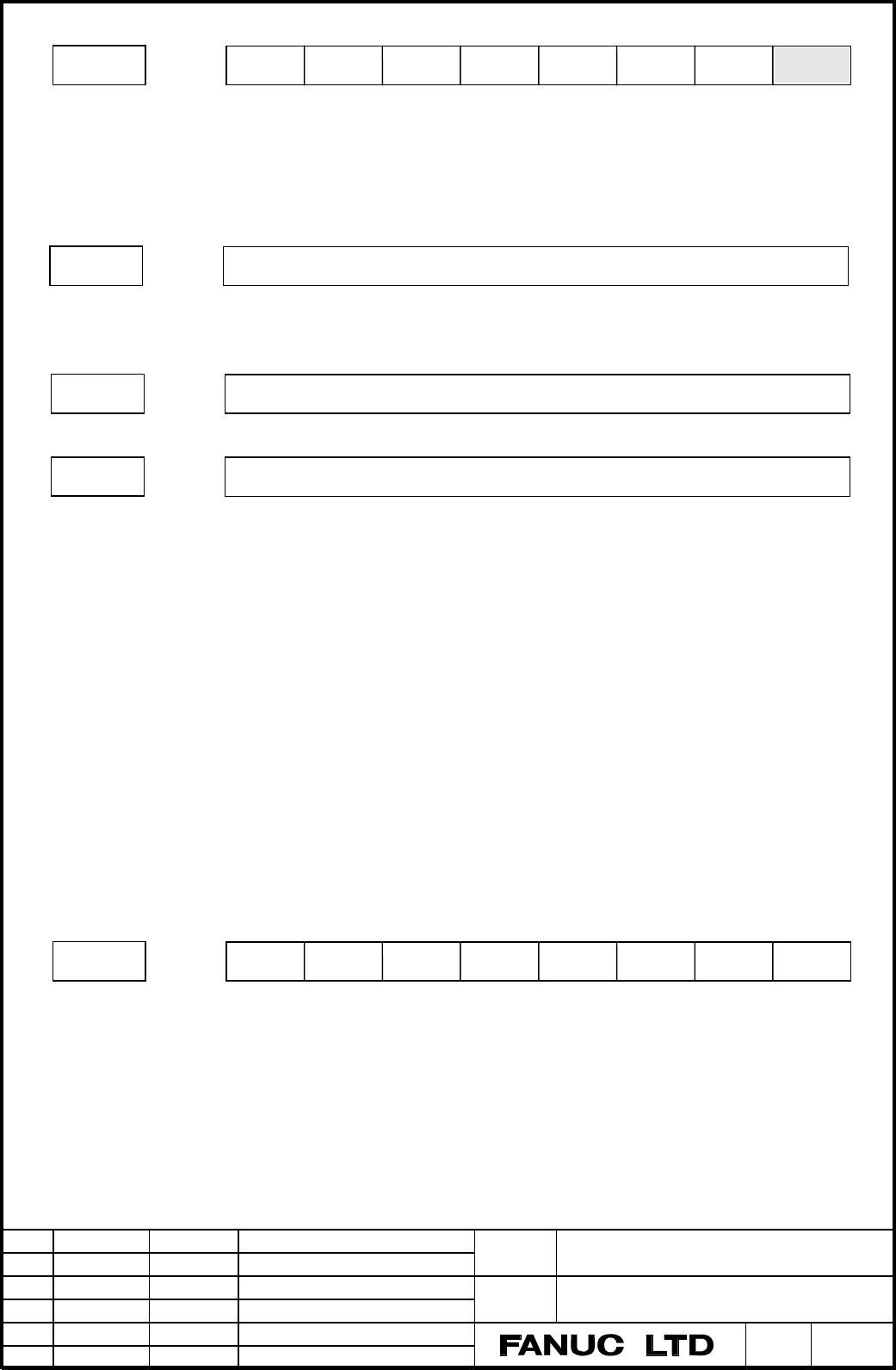 Learning Control Operator's Manual
A - 63639E - 108
01 '05.04.20 N.Sonoda Newly designed
Sheet
047
Edit Date
Design
Description
/ 064
SYNLRN
Synchronous Learning function
(Set
only Main axis

)
0
:
Ignore coupling flag, which is external user signal through PMC
1
:
Learning control for both Main and Sub axes executes by coupling flag.
This bit is used in Position Tandem control. Sy
nchronous Learning function works with Main and Sub
axes connected by work piece driven by the same Learning compensation data.
(
Note)
Set for both Main and Sub axes.
Set zero in case of double coil tandem or the position tandem learning control.
(Note)
Set only to Main axis
.
(Note)
Set only to Sub axis
.

Set zero

usually
Regarding Preload and Damping compensation, and how to tune the Tandem, refer to
4.16 Tandem
control function
in "FANUC AC SERVO MOTOR α

i
series Parameter manual" (B-65270E).
7.4.3
External signal interface
Supposing Main and Sub motors are ready to chuck
the each edge of one work piece. Before chucking
both motor can be driven independently. When both moto
r connected by workpiece for the cutting, you
send Coupling flag to servo software through PMC in advance to enable "Sub axis separate function", then
G05 operation start Torque tandem Learning control.
After cutting of G05 finished, Coupling flag allows the
independent drive of both motors. If you want Posi
tion tandem Learning control instead of Torque tandem,
use "Synchronous Learning function" inst
ead of "Sub axis separate function".
Signal address
The position of above bit means the axis of NC.
For example, bit 0 is first axis of NC.
0 : coupling, 1 : non-coupling
Damping compensation Gain Kc
Damping compensation phase coefficient
α
2228
G321
SVDI21
SVDI23 SVDI22
SVDI25

SVDI28
SVDI24