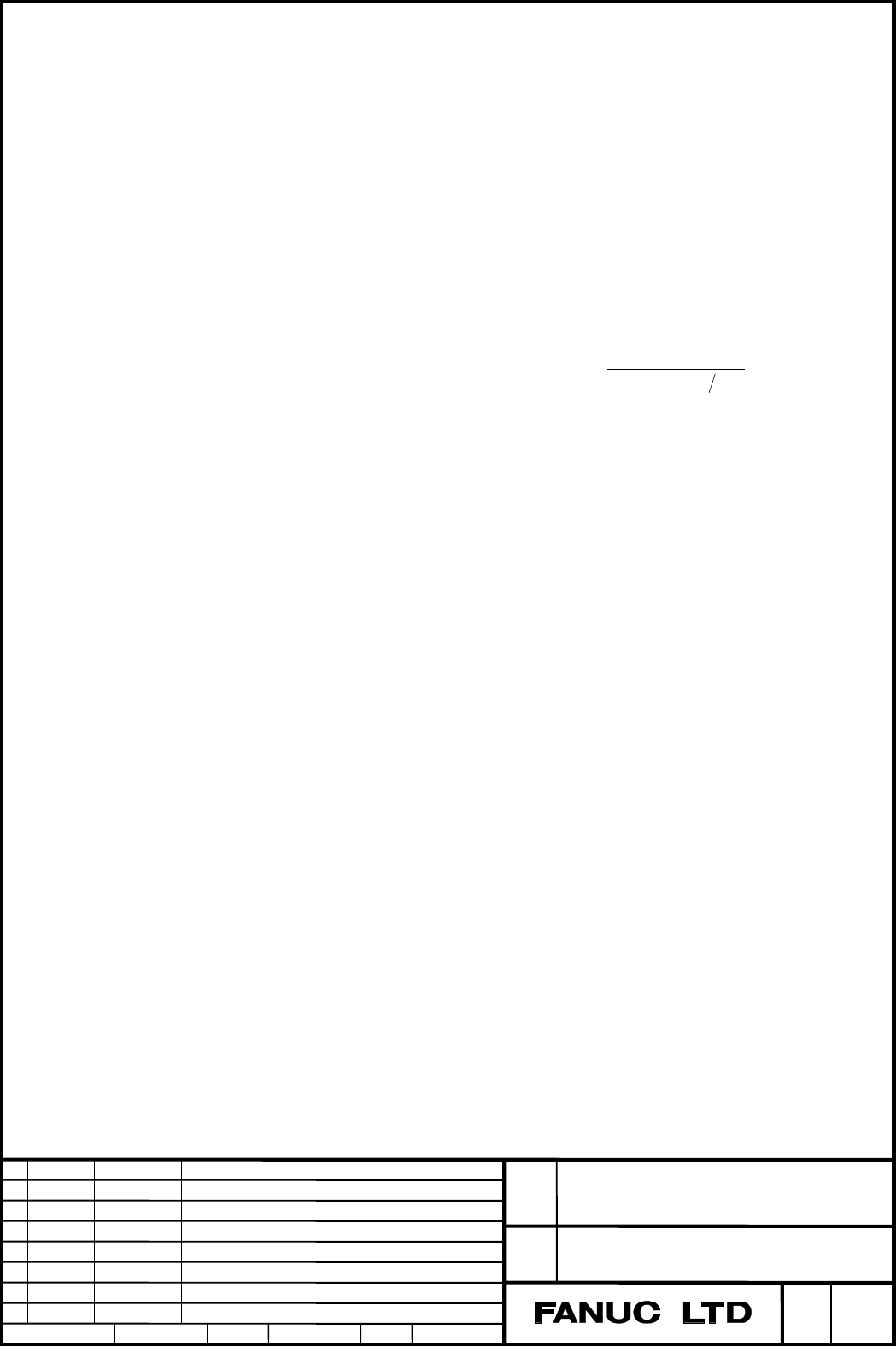 A-79805E
Title
Draw
No.
10/40
Sheet
FANUC Series 30
i
/ 31

i

/ 32

i
Live Tool Control With Servo Motor
Edit
Date
Design
Descri
tion
Date
Oct.26.2004
where
L
:
Tool axis rotation angle per motor rotation (degree),
(360
×
speed increment ratio)
When the servo motor is connected directly to the live tool,
for example, L = 360.
When the tool speed is doubled, L = 720.
Q
:
Number of pulses per pulse coder rotation
(For a serial pulse coder, Q = 1000000.)
The least command increment specified here is specific to the C axis.
It is determined regardless of what is specified in parameter No. 1004
(ISA/ISC).
However, both ISA and ISC must be set to 0 for IS-B setting.
If the servo motor is connected directly to the live tool:
Least command increment =
001.0
100361000000
1360
=
´
´
[deg]
Detection unit = 0.001 [deg]
Angle to rotate through per tool axis rotation =360.0 [deg]
This means the parameters must be set as follows:
No.11011(C) = 360.000 (movement of live tool axis per revolution)
Besides, you must set acceleration/deceleration and other factors for
rotation control in parameters Nos. 11020 to 11032.
The following description assumes that the axis type parameter is set to
the fourth axis.
(2) Servo parameter setting
Set the servo parameters as listed below:
CMR=1, DMR=36/100
(With the above setting, the reference counter capacity is 360000.)
No. 1820 (C)=2 (CMR)
No. 1821 (C)=360000 (reference counter capacity)
No. 2084 (C)=36
(DMR numerator)
No. 2085 (C)=100 (DMR denominator)
If the tool axis and motor gear ratio is 1:1
No. 11015 (C) = 5000 (Maximum motor speed)
No. 3741 (S2) = 5000 (Maximum spindle speed for gear 1)
For the other servo parameters, specify typical values.