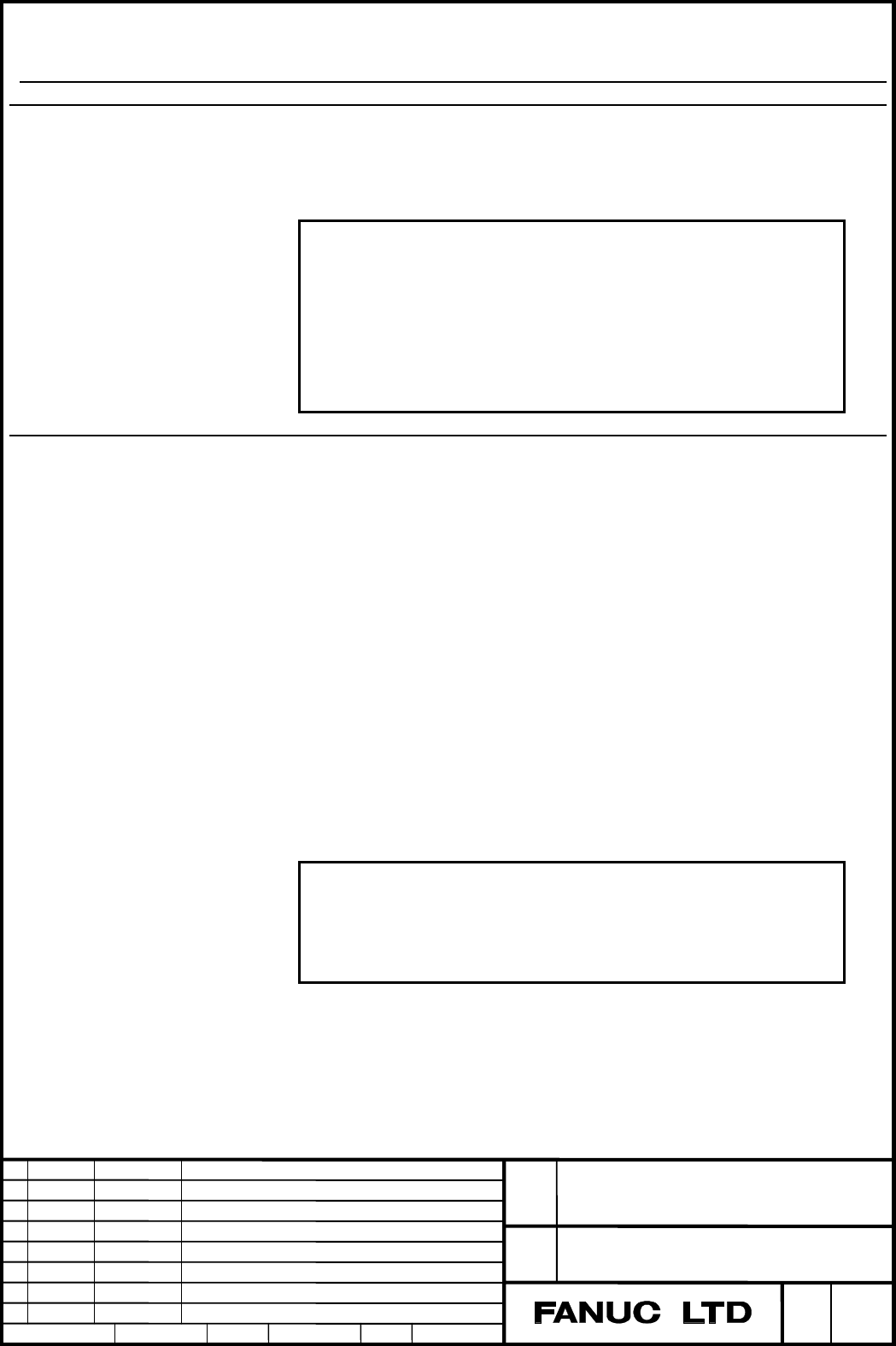 A-79805E
Title
Draw
No.
34/40
Sheet
FANUC Series 30
i
/ 31

i

/ 32

i
Live Tool Control With Servo Motor
Edit
Date
Design
Descri
tion
Date
Oct.26.2004
4.
Rigid tapping with servo motor
Format
The rigid tapping command format is the same as that of conventional rigid
tapping.
For details, see the explanation of conventional "Rigid tapping."
NOTE
Before executing the rigid tapping command, the
servo motor as a rotation axis must be placed in
position control mode; while in rotation, use
G96.1/G96.2 to cancel SV speed control mode.
To check the mode of the servo motor rotation axis,
you can use the SV speed control mode in-progress
signal SVREV (Fn521).
Rigid tapping specification
The tapping axis is fed at a rate specified by F. The spindle speed is
specified by S
×
movement of live tool axis per revolution (deg/min).
(parameter No.11011)
A detailed description of feed per minute and feed per revolution is provided
later.
During rigid tapping, the spindle speed is restricted by the maximum
cutting feedrate, parameter No. 1430 (No. 1432: if acceleration/deceleration
before interpolation is enabled) for the axis used as a live tool axis.
Usually, the maximum cutting feedrate, parameter No. 1430 (No. 1432), can
be set to value up to 999999.999 [deg/min] (equivalent to S2778 [min
-1
].
For the axis set as the live tool axis for use in rigid tapping (IRC, bit 3 of
parameter No. 1408 = 1), however, the maximum feedrate is restricted with
the setting of the maximum cutting feedrate parameter times 10.
Example)
Maximum cutting feedrate parameter No. 1430 = 360000
Maximum feedrate restriction 360000
´
10 = 3600000 [deg/min]
(S10000 [min
-1
])
CAUTION
Make sure that the pitch of the tapping screw is equal to
the pitch specified with a program (F, S).
Otherwise, the tool or the object being machined may
be damaged.