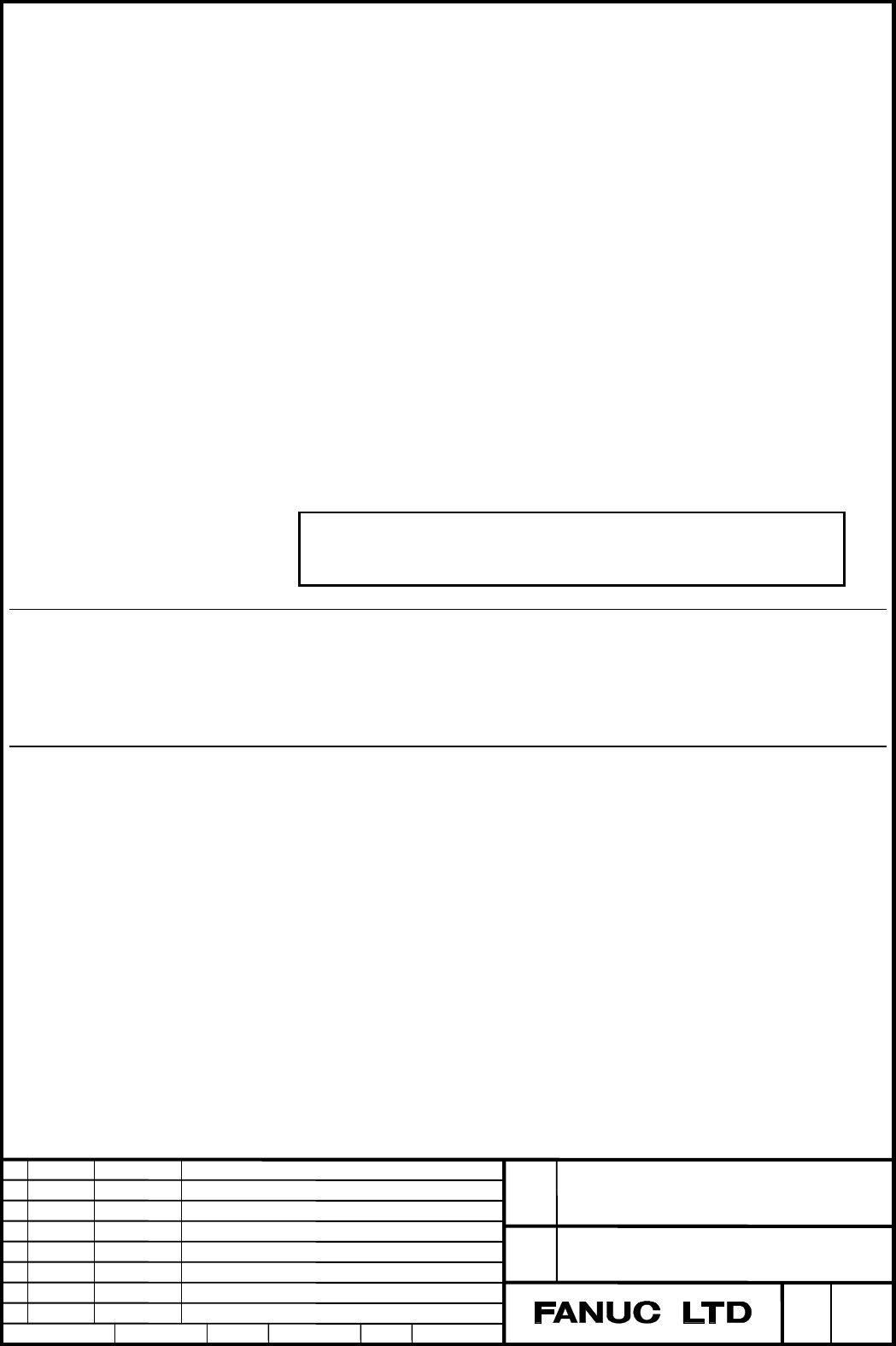 A-79805E
Title
Draw
No.
36/40
Sheet
FANUC Series 30
i
/ 31

i

/ 32

i
Live Tool Control With Servo Motor
Edit
Date
Design
Descri
tion
Date
Oct.26.2004
Acceleration/deceleration before interpolation
In this rigid tapping, if AI contour control I or AI contour control II is
available, by specifying rigid tapping in "acceleration/deceleration before
look ahead interpretation" mode, you can perform acceleration/deceleration
before look ahead interpolation as acceleration/deceleration during rigid
tapping. Acceleration/deceleration before look head interpolation is
effective when AI contour control mode is ON. For details, see the section
on "AI contour control."
The setting of the maximum allowable acceleration for
acceleration/deceleration before interpolation during rigid tapping is
accomplished with parameter No. 11050, and acceleration change time for
bell-shaped acceleration/deceleration before interpolation with parameter
No. 11051.
For the acceleration/deceleration before interpolation used during rigid
tapping, the maximum allowable acceleration is 100000(deg/s
2
). Settings up
to the one that causes S1000 (min
-1
) (equivalent to 360000 (deg/min)) to be
accelerated/decelerated at 60 (ms) are possible.
In "acceleration/deceleration before look ahead interpolation" mode, the
constant-time type is effective as the time constant of acceleration/
deceleration after cutting feed interpolation (parameter No. 11052).
NOTE
Make sure that the time constant settings are the same.
Otherwise, the system does not operate correctly.
Reference pos
ition return
This function does not allow you to execute the spindle orientation function
at the start of rigid tapping. Before specifying rigid tapping, you must
perform live tool indexing or positioning at the position where you want to
start drilling. For details, see Chapter 3, "Live tool indexing function."
Note
If the pitch is very small or if the amount of travel along the drilling axis is
large, the amount of travel along the rotation axis may become large,
causing alarm PS0003 (TOO MANY DIGIT) to be generated.