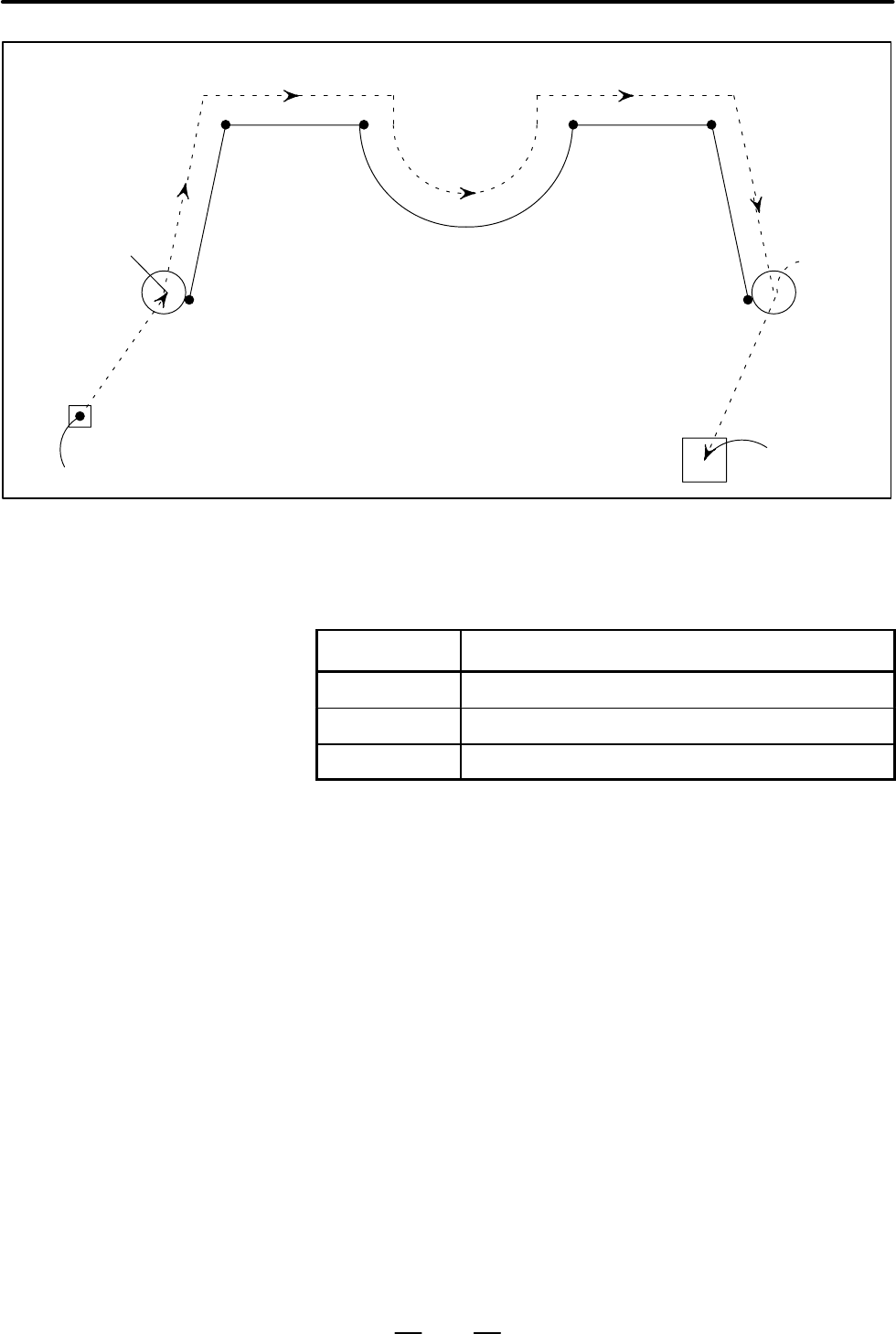 PROGRAMMING
9. PRESSING FUNCTION
99
(x
1
, y
1
)
(x
2
, y
2
)
(x
2
2
(x
3
, y
3
)(x
4
, y
4
)(x
5
, y
5
)(x
6
, y
6
)
(x
7
, y
7
)
(x
7
7
(x
8
, y
8
)
N220
N230
N240
N250
N260
N270
N290
The G40, G41, and G42 codes function as follows.
For details, refer to 13.1 Cutter compensation.
G40
Cutter compensation cancel
G41
Leftward offset for moving direction of tool
G42
Rightward offset for moving direction of tool
Assume that the diameter (radius) of the tool selected by T02 is preset to
offset No. 02.
(1)The first punch point of nibbling and either G41 or G42 to offset the
tool leftwards or rightwards as viewed from the moving direction of
the tool are commanded in the block next to M12 block. The first
punch point is commanded by G00.
The first punch point (x
2
, y
2
) of nibbling is commanded and also
G41 is commanded in the N220 block.
Accordingly, positioning is done at rapid traverse to the point (x
2
y
2
'
) being offset leftwards to the commanded position by the tool
diameter being preset to offset No. 02.
Nibbling is started when the positioning has been completed and
the motion corresponding to T code has been finished.
(2)The straight line is commanded by G01, the circular arc is commanded
by G02, G03, and the pitch is commanded by Q, starting with the block
next to the block where the first punch point was commanded.
Since pitch Q is a modal data, it is no longer needed to designate pitch
Q after pitch Q was designated once.
The axis movement to pitch Q is done at rapid traverse.