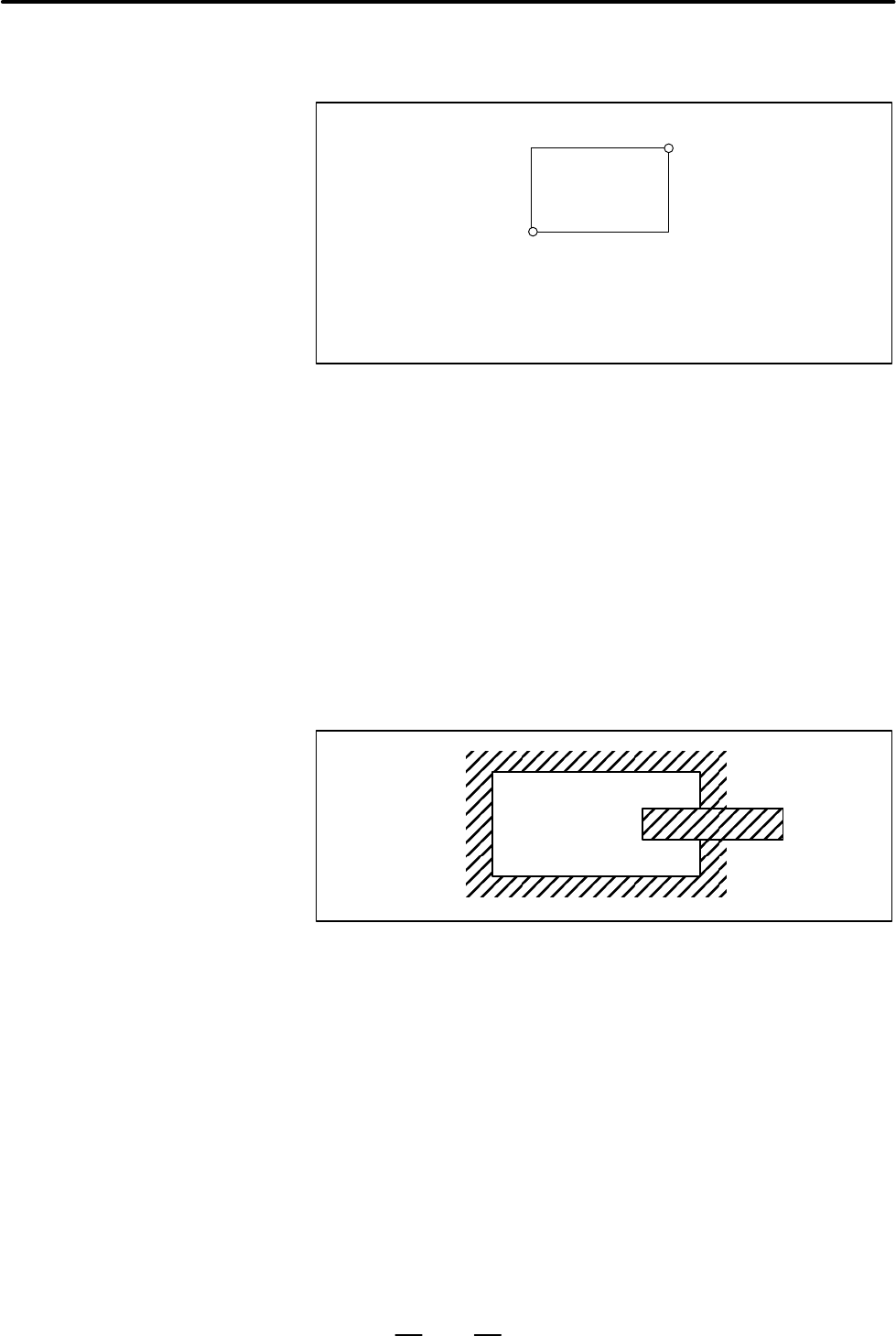 OPERATION
6. SAFETY FUNCTIONS
453
When setting the area by parameters, points A and B in the figure below
must be set.
B (I,J)
A (X,Y)
X>I, Y>J
X
–
I>

2000

(In least command increment)
Y
–
J>

2000

(In least command increment)
Fig. 6.3 (c) Creating or changing the forbidden area using a parameters
In limit 2, even if you mistake the order of the coordinate value of the two
points, a rectangular, with the two points being the apexes, will be set as
the area.
When you set the forbidden area through parameters (Nos. 1322, 1323),
the data should be specified by the distance from the reference position
in the least command increment. (Output increment)
If it is set by a G22 command, specify the data by the distance from the
reference position in the least input increment (Input increment.) The
programmed data are then converted into the numerical values in the least
command increment, and the values are set as the parameters.
Area can be set in piles.
Fig. 6.3 (d) Setting the forbidden area over lapping
Unnecessary limits should be set beyond the machine stroke.
If the maximum rapid traverse rate is F (mm/min), the maximum overrun
amount, L (mm), of the stored stroke limit is obtained from the following
expression:
L (mm) = F/7500
The tool enters the specified inhibited area by up to L (mm). Bit 7 (BFA)
of parameter No. 1300 can be used to stop the tool when it reaches a point
L mm short of the specified area. In this case, the tool will not enter the
inhibited area.
lapping
stored stroke limit