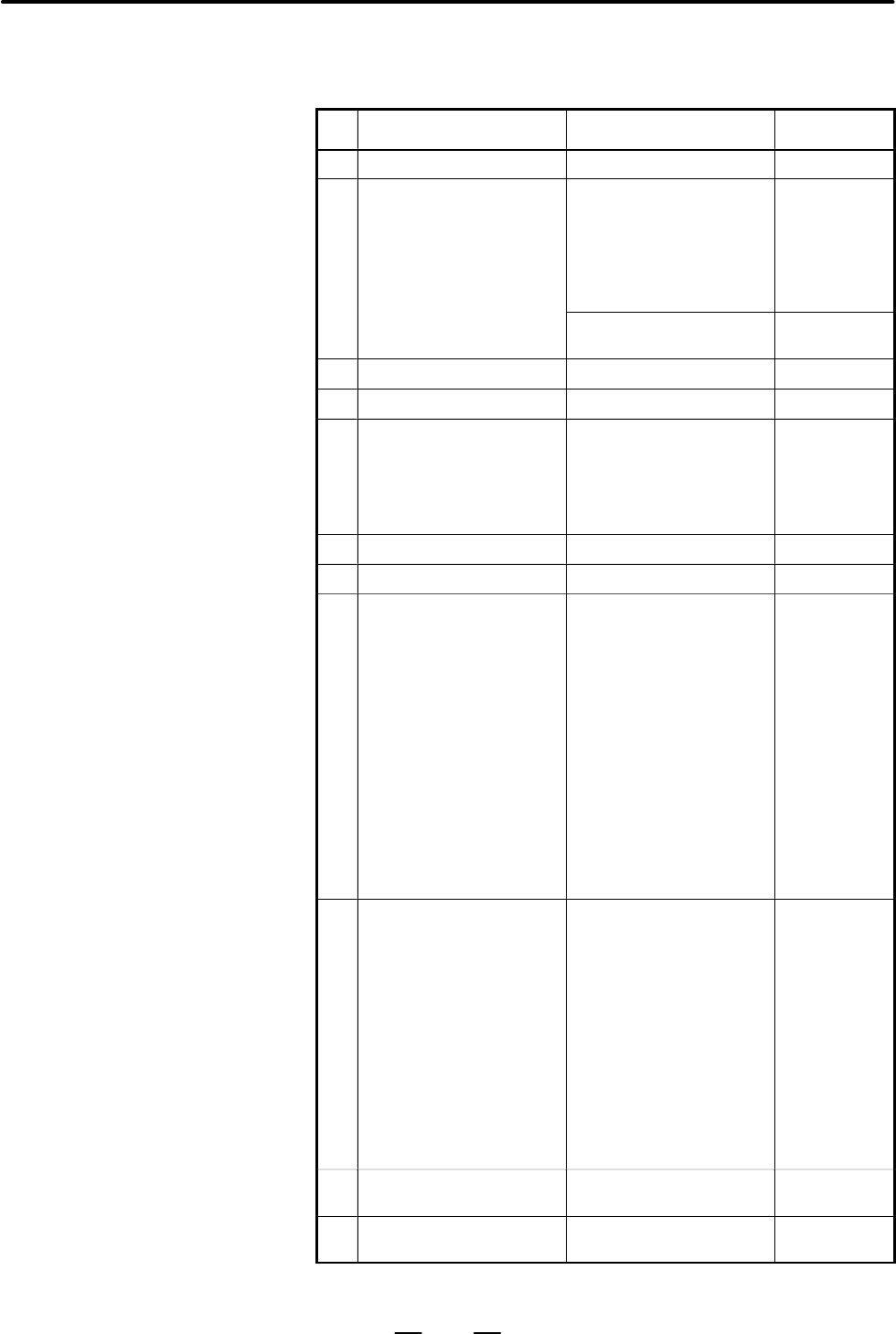 OPERATION
11. SETTING AND DISPLAYING DATA
586
The table below lists the data set on each screen.
Table11 Setting screens and data on them
No.
Setting screen

Contents of setting
Reference
item
1
Tool offset value

Cutter compensation value

Subsec. 11.4.1
2
Setting data(handy)

Parameter write
TV check
Punch code
Input unit (mm/inch)
I/O channel
Automatic insert of Sequence
No.
Subsec. 11.4.2
Sequence number comparison
and stop
Subsec. 11.4.5
3
Setting data (mirror image)

Mirror image

Subsec. 11.4.2
4
Setting data (timer)

Parts required

Subsec. 11.4.6
5
Macro variables

Custom macro common vari-
ables
(#100 to #149) or
(#100 to #199)
(#500 to #531) or
(#500 to #599)
Subsec. 11.4.9
6
Parameter
Parameter
Subsec. 11.5.1
7
Pitch error

Pitch error compensation data

Subsec. 11.5.2
8
software operator
's panel

Mode selection
Jog feed axis selection
Jog rapid traverse
Axis selection for Manual
pulse
generator
Multiplication for manual pulse
generator
Jog feedrate
Feedrate override
Rapid traverse override
Optional block skip
Single block
Machine lock
Dry run
Protect key
Feed hold
Subsec. 11.4.10
9
Tool data

Number of using tools
Number of indexing tools
Zero position tool
Turret per rotation
Total punch count
Tool number
Turret position
X, Y axis offset
Tool change
Punch count
Tool shape for graphic
Multiple tool number
Multiple tool angle
Multiple tool offset
Tool life data
Subsec. 11.4.3
10
Sefety zone data

Safety zone area
Tool zone
Subsec. 11.4.4
11
Work coordinate system set-
ting
Work origin offset value
Subsec. 11.4.7