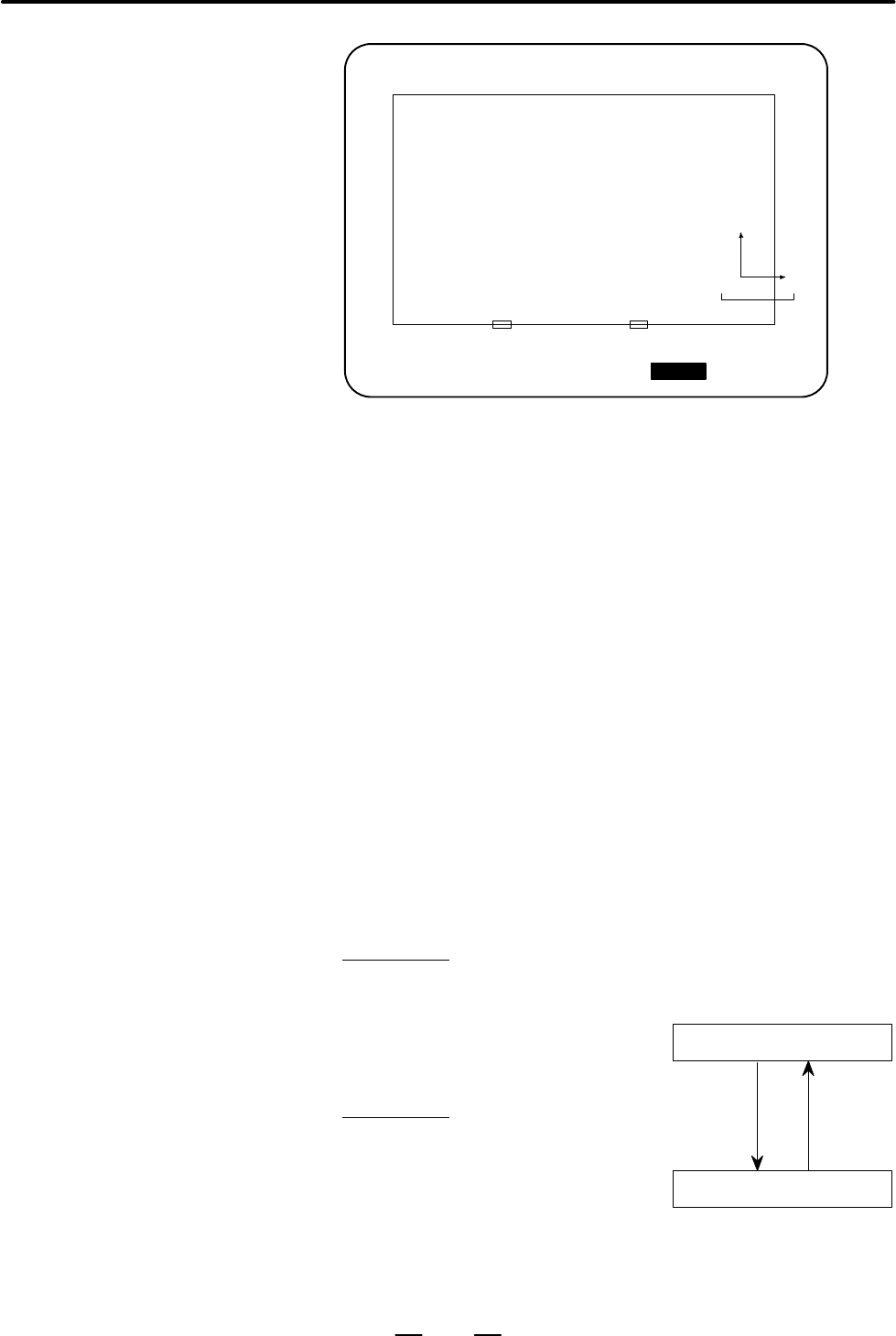 OPERATION
12. GRAPHICS FUNCTION
669
X 0.000
Y 0.000
123.076
MEM **** *** ***
16:24:05
[ START ][ STOP ][ SBK
][

SEQ.

][ ERASE ]
Y
X
3
Depress
[SEQ]
and [START]

keys (continuous drawing). ....
Drawing is started and continued up to the end of the NC program.
4
Depress
[SBK]
and

[*SEQ]

keys (Single block drawing). ....
Operation stops after drawing one block.
Drawing is done every block each time
[START]

key is depressed
hereafter.
The system enters the feed hold state.
Pressing the
[STOP]
key during continuous drawing changes the
operation to single-block drawing, causing the system to enter the
feed hold state.
To perform continuous drawing again, press the
[SEQ]
key, then
(4)Relation between drawing mode and machining operation mode
The drawing mode means a condition which is not the drawing end
condition (that is, drawing in progress or single block drawing stop
condition), while the machining operation mode means the drawing
end condition.
The relation between the drawing mode and the machining operation
mode is illustrated below.
In case of (1)
;
When
[START]

key is depressed in
the MEMORY mode on the drawing
screen, the mode is swtiched to the
drawing mode, and then, drawing is
started.
In case of (2)
;
Drawing terminates and the drawing
mode is switched to the machining
operation mode in the following
cases.
·
Reset button or external reset button was depressed.
·
M02 or M30 was commanded on an NC program.
Machining operation mode
12
Drawing mode