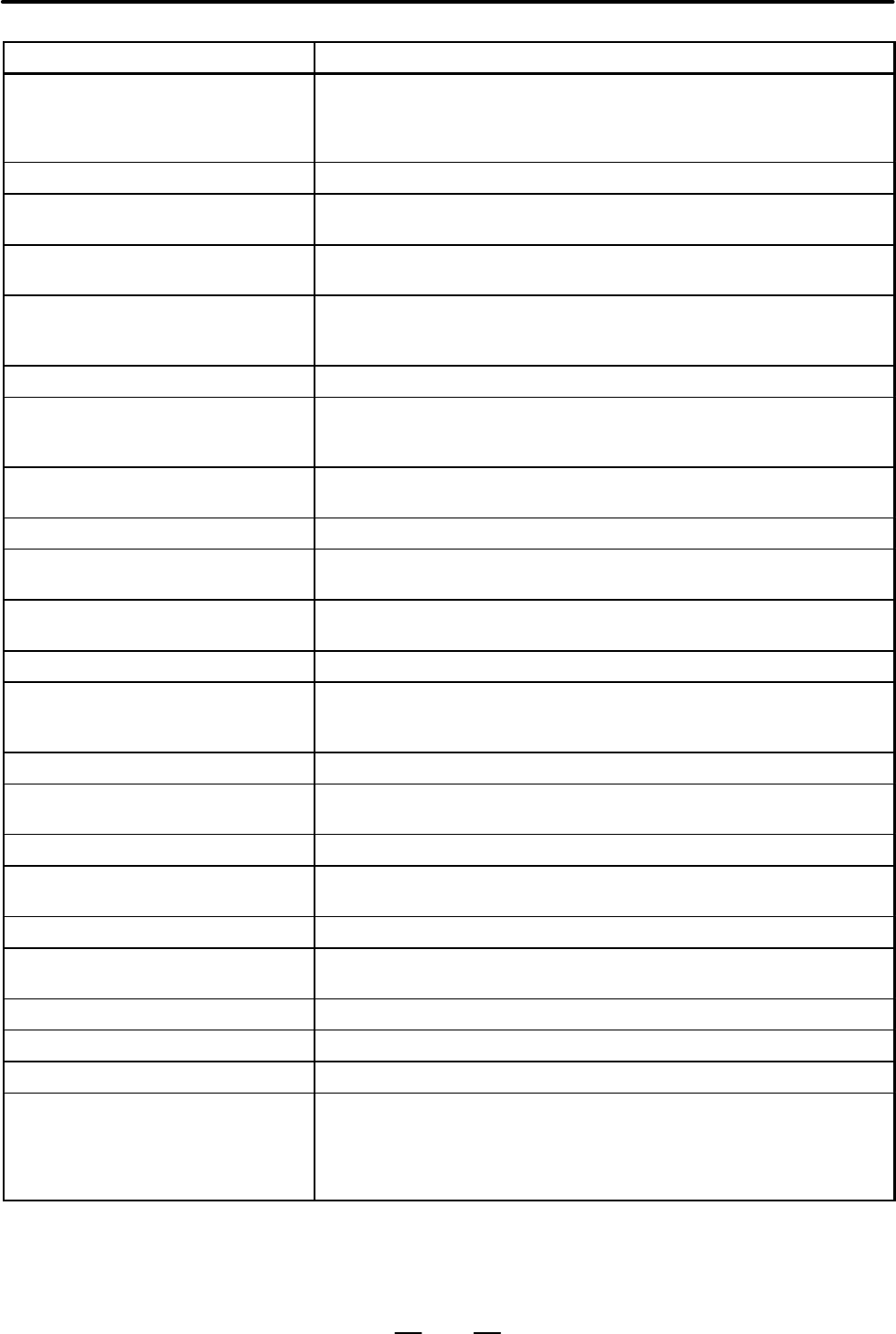 APPENDIX
H. GLOSSARY
741
Continuous threading
Threading in which threading command blocks are specified continuously so
that spindle synchronization is not lost between blocks. This method is useful
for producing special threads such as one for which the lead changes mid-
way.
Controlled axis
Axis controlled by the CNC or PMC.
Conversational automatic programming
function
Programming by entering data in response to figures and guidance displayed
on the screen,
Conversational programming with
graphic function
Interactively programming blocks, one at a time, based on a G code menu
displayed on the screen.
Coordinate system
Right

–

hand orthogonal coordinate system in which three linear axes, X, Y,
and Z, are normal to one another. This is used to define coordinates for
informing the CNC of the position to which the tool is to be fed.
Coordinate system rotation
Rotating a figure, specified in a program, around a specified point.
Corner circular interpolation
Circular interpolation performed at a corner of the tool path by using the tool
offset values as the corner radius in offset mode for tool nose radius com-
pensation.
Corner offset circular interpolation
Circular interpolation performed at a corner between blocks by using the tool
offset value as the corner radius during cutter compensation.
Corner R
Grinding the outer or inner corner of a workpiece to make it round.
CRT/MDI
Panel which incorporates both a cathode ray tube (CRT) and a manual data
input (MDI) keyboard. Used to display and set program and data in the CNC.
Cs axis control switching function
Program

–

controlled switching between Cs axes (spindles subjected to con-
tour control) controlled by each tool part.
Current position display
Displaying the current tool position using coordinates.
Custom macro
A program or sub

–

program which, in addition to commanding motion and giv-
ing commands to the machine, can also communicate with the PMC, do cal-
culations, and do conditional executions, branches and loops.
Custom macro Interrupt signal
Interrupt signal used to execute an interruption type custom macro.
Cutter compensation
Shifting a tool path programmed for a tool by the offset value (radius) of the
tool in a direction normal to the tool path.
Cutting feed
Feeding a tool at a speed (cutting feedrate) specified in a program.
Cutting feedrate clamp
Clamping the cutting feedrate to the upper limit specified with the CNC if a
command specifies a value greater than the upper limit.
Cutting feedrate override
Manual control in which the operator can change the cutting feedrate.
Cutting mode
Operation mode in which the tool moves to the next block without being
decelerated at the end of the current block.
Cutting speed
Tool feedrate relative to the feedrate for the workpiece being cut.
Cycle start
Starting an automatic operation.
Cycle time
Duration of one automatic operation session (excluding stop and pause).
Cylindrical interpolation
Converting the rotation angle of a rotary axis into a displacement on a linear
axis on the circumference of a circle in the CNC, performing linear interpola-
tion or circular interpolation between the linear axis and another axis, then
converting the interpolated distance to an angle. Cylindrical interpolation is
used to simplify programming for grooving in a cylindrical cam.