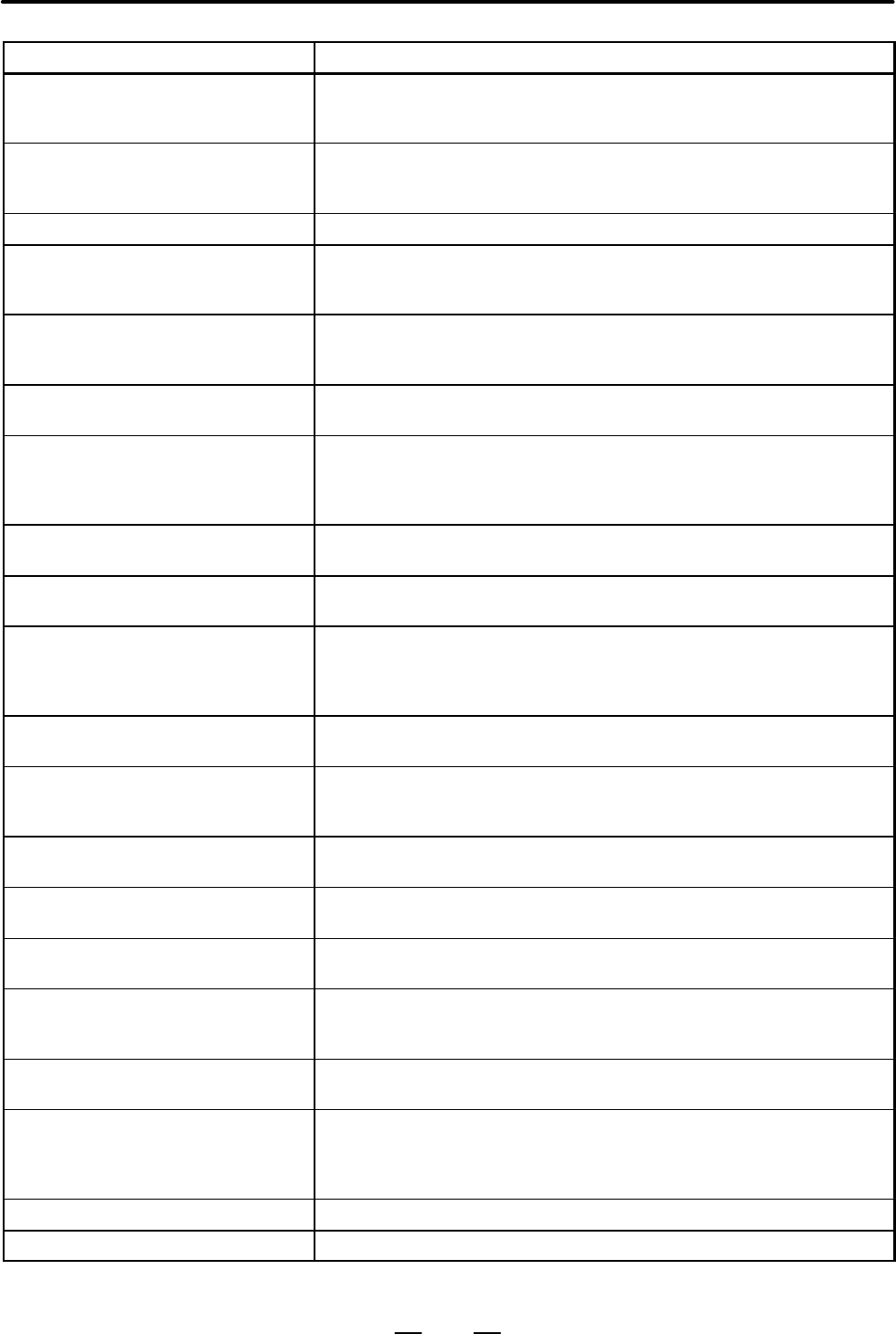 750
Pattern storage and recall
Pattern function in which codes A1 to A5 are assigned to patterns of the same
figure, storing them, and restoring them using codes B1 to B5 when neces-
sary.
PDP/MDI
Panel which incorporates both a plasma display panel (PDP) and a manual
data input (MDI) keyboard. Used to display and set programs and data in the
CNC.
Pitch error compensation
Compensating for pitch errors in a mechanical feed section.
Plane conversion function
Machining in which a machining program created on a G17 plane is con-
verted so that the resulting figure looks the same when viewed from another
plane in an orthogonal coordinate system.
Plane selection
Selecting a plane for circular interpolation, a plane for cutter compensation, a
plane for coordinate system rotation, or a plane for hole machining, using a
preparatory function.
Playback function
Programming in which a command assumes that a position to which the tool
is moved manually is that command
'
s target tool position.
PMC
Sequence controller configured in the CNC and used to execute ladder pro-
gram. The term PMC stands for programmable machine controller. The PMC
is placed between the CNC and machine to control the input/output of signals
between them.
Pocket calculator type decimal point pro-
gramming
Decimal number input in which the values are input in units of mm, inches, or
degrees.
Polar coordinate command
Program command that specifies the end point of tool movement in a polar
coordinate system (using a radius and angle).
Polar coordinate interpolation
Interpolation performed by converting a command programmed in an orthogo-
nal coordinate system into a combination of a linear axis movement (tool
movement) and rotary axis movement (workpiece rotation). This is used, for
example, when grinding a cam shaft.
Polygon turning
Machining a polygon by changing the rotation ratio between the workpiece
and tool, and the number of cutters used.
Position coder
Device, connected to the spindle by means of a belt, that detects and outputs
the rotation angle of the spindle as a pulse train. It is used to detect the tool
exchange position and to perform threading.
Positioning
Feeding a tool to the target position at a traverse feedrate previously specified
in the CNC.
Preparatory function
Command that determines a machine and/or CNC function mode, such as
interpolation type, canned cycle, threading, and coordinate selection.
Press start lock
Preventing a press from starting. The press is prevented from starting by
inputting a press start lock signal to the CNC.
Press start waiting
Deferring the start of a press according to the machine conditions. The press
is prevented from starting until a press start waiting signal applied from the
machine is released.
Pressing (Punch)
Using a punch press to punch out a product from a workpiece or mold a prod-
uct.
Program
In the CNC operator
'

s manual, a sequence of instructions created using a
language and format enabling direct manipulation of the CNC. In many
cases, other types of programs are identified using qualifiers, as in
"

conversa-
Program encryption
Protecting programmed information by mean of encryption.
Program end
Miscellaneous function indicating the end of a main program.