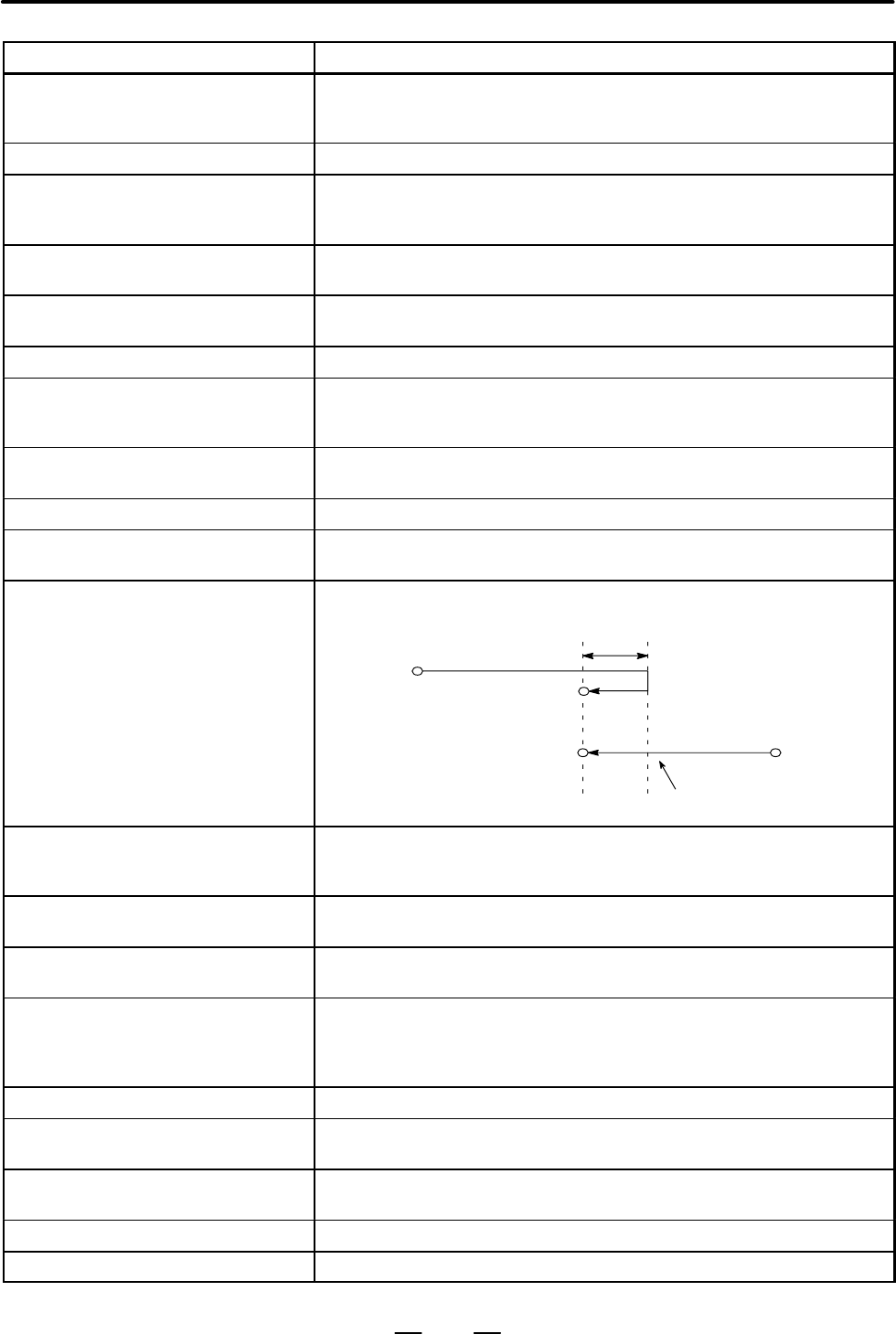 APPENDIX
H. GLOSSARY
753
Servo off
Shutting down the power supply for a servo motor. This function is enabled
by inputting a signal to the CNC. It can be used to clamp a controlled axis
mechanically and to prevent a servo motor from being overloaded.
Setting a workpiece coordinate system
Defining a workpiece coordinate system in the CNC.
Setting data
Data that is selected and set by the user in the CNC to determine the CNC
specifications, such as output data code setting, command format setting, and
input/output device selection setting.
Significant information section
The part of a program which begins at the program number and ends at the
end of the program, and from which all comments have been executed.
Simple call
Custom macro program calling in which a call instruction is issued each time
the program is to be executed.
Simple conversational programming
Creating a program according to a menu displayed on a screen.
Simple synchronous control
Controlling two axes with one command, in some CNCs ignoring any differ-
ence in lag between the axes. The axes can be synchronized or separately
controlled based on machine input in some CNCs.
Simultaneous automatic and manual
operation
Simultaneously executing automatic and manual operations.
Simultaneously controlled axes
Axis that can be controlled simultaneously with another.
Single block
Automatic operation in which one program block is executed each time
CYCLE START is initiated.
Single direction positioning
Final positioning performed in a single direction to accurately position a tool or
workpiece by excluding play, or lost motion, in the mechanical section.
Start point
Overtravel
Endpoint
Endpoint
Temporary stop
Start point
Skip function
Linear interpolation (G31) in which the commanded motion and remaining
distance
–
to
–
go is discarded when a signal (skip signal) is received from out-
side the CNC. The position is saved in a system variable.
Skip signal
Input signal received from outside the CNC, informing the CNC of the move-
ment end point during the execution of a skip motion command.
Slave axis
Axis whose movement is synchronized with the master axis during synchro-
nous operation.
Smooth interpolation
Interpolation in which a figure requiring a high degree of accuracy, such as a
corner, is machined based on programmed commands, and in which a figure
having a large radius requiring a smooth finish is machined by generating a
curve from a sequence of specified points and subsequently interpolating it.
Soft key
Key displayed on the CNC display unit. Used to select a menu or command.
Software operator
'
s panel

Software

–

implemented operator

'

s panel that enables the CRT/MDI panel to
take the place of the indicators and switches of the machine operator
'
s panel.
Spindle control switch function
Program

–

controlled switching between the spindles controlled by each tool
post on a two
–
spindle, two

–

tool post machine.
Spindle orientation
Stopping the spindle at a preset position.
Spindle positioning
Orienting a workpiece, attached to the spindle, to a certain angle.