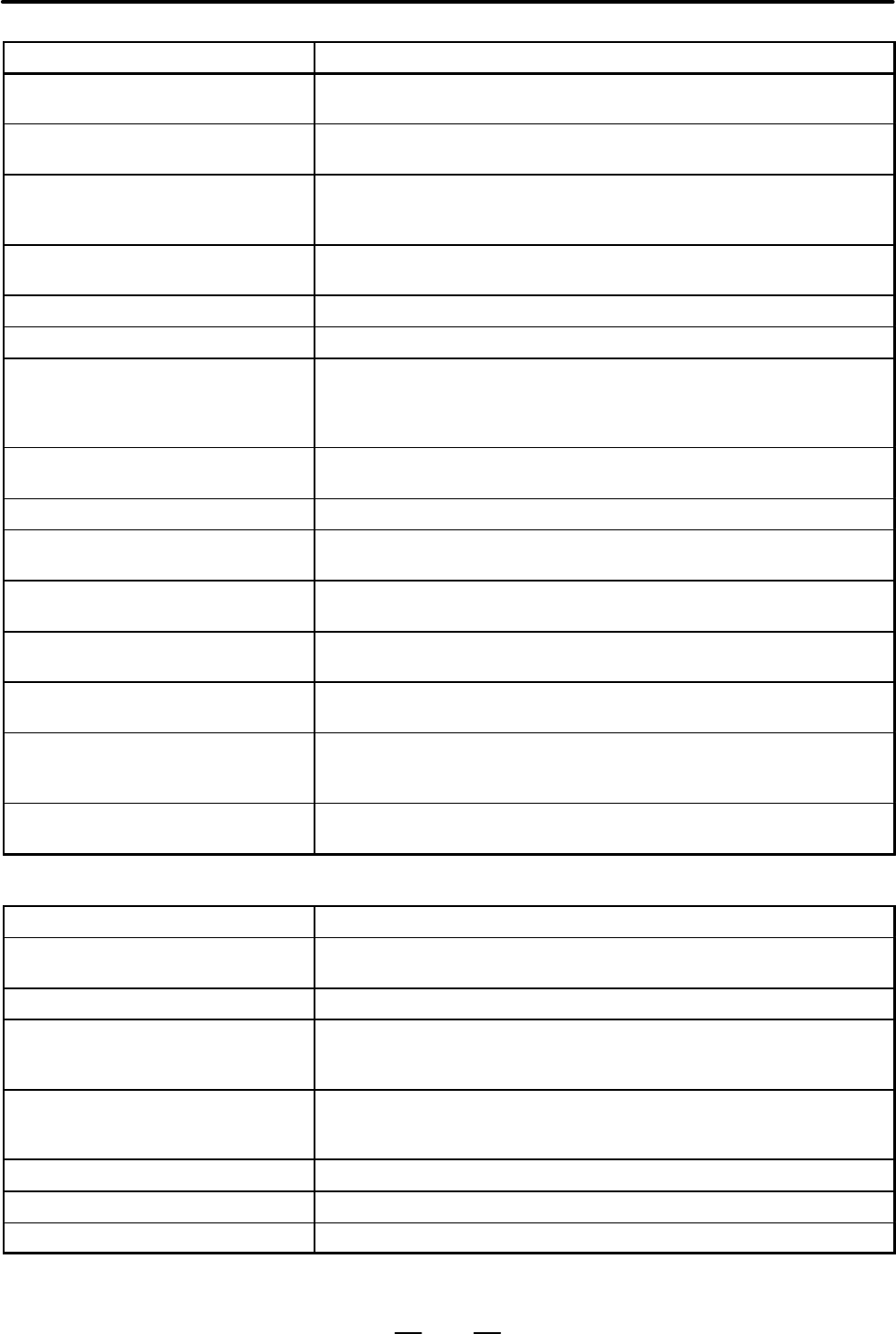 754
Spindle speed fluctuation detection func-
tion
Issuing an alarm when the actual spindle speed becomes a value higher or
lower than that specified because of a condition existing in the machine.
Spindle speed function
Controlling the rotation speed of the spindle by specifying a number after the
S address.
Spiral interpolation
Determining a spiral path by specifying an increment or decrement in the
number of rotations or a radius per rotation, as well as a circular interpolation
command.
Spline interpolation
Determining a path for a spline curve that passes through a series of specified
points.
Start
–
up
Tool movement when cutter compensation is started in offset cancel mode.
Status display
Displaying the status of the CNC operation.
Storage of macro
Registering a macro by placing the U address, followed by a two

–

digit num-
ber, before two or more block commands to be stored, and by closing the
commands with a V address followed by the same two
–
digit number used
with the U address.
Stored stroke check
Setting a forbidden area in the CNC for a tool, decelerating the tool to a stop,
and issuing an alarm if the tool is about to enter the forbidden area.
Stored stroke limit
(See

"

Stored stroke check.

"

)
Stroke limit check before move
Stroke limit check performed before the movement specified in a block is
started.
Subprogram
Program that can be called repeatedly by the control section of another pro-
gram.
Superposition control (Two
–
path control
function)
Two
–

path control in which a move command for an axis in one of the paths is
superimposed on an axis in the other path.
Synchronization control (Two
–
path con-
trol function)
Two
–

path control in which a move command for an axis in one of the paths is
used to control an axis in the other path so that they are synchronized.
Synchronous operation
Operation in which an axis is controlled using a move command for another
axis so that both axes are synchronized. This is used to machine extremely
large workpieces that extend over two tables.
System variable
Macro variable used to read or write CNC data, such as a tool offset value
and current position.
[T]
T code
Coded number, following the T address, that specifies a tool function.
T command neglect
Ignoring T commands. This function is enabled by supplying an ignore T
command signal to the CNC.
T function
Specifying a tool or data related to the specified tool.
T
–
axis control

In a turret punch press machine, causing the CNC to calculate the required
amount of movement relative to the current turret position and the turret posi-
tion corresponding to a T command, thereby indexing the turret.
Tandem control
Control in which two motors are used to drive a single axis. This is used to
drive, for example, a table that would be too large for a single motor to supply
sufficient torque.
Tangential speed constant control
Maintaining a constant feedrate tangential to the tool path.
Tape code
Information interchange code used for numerical control.
Tape end
Symbol indicating the end of a program file.