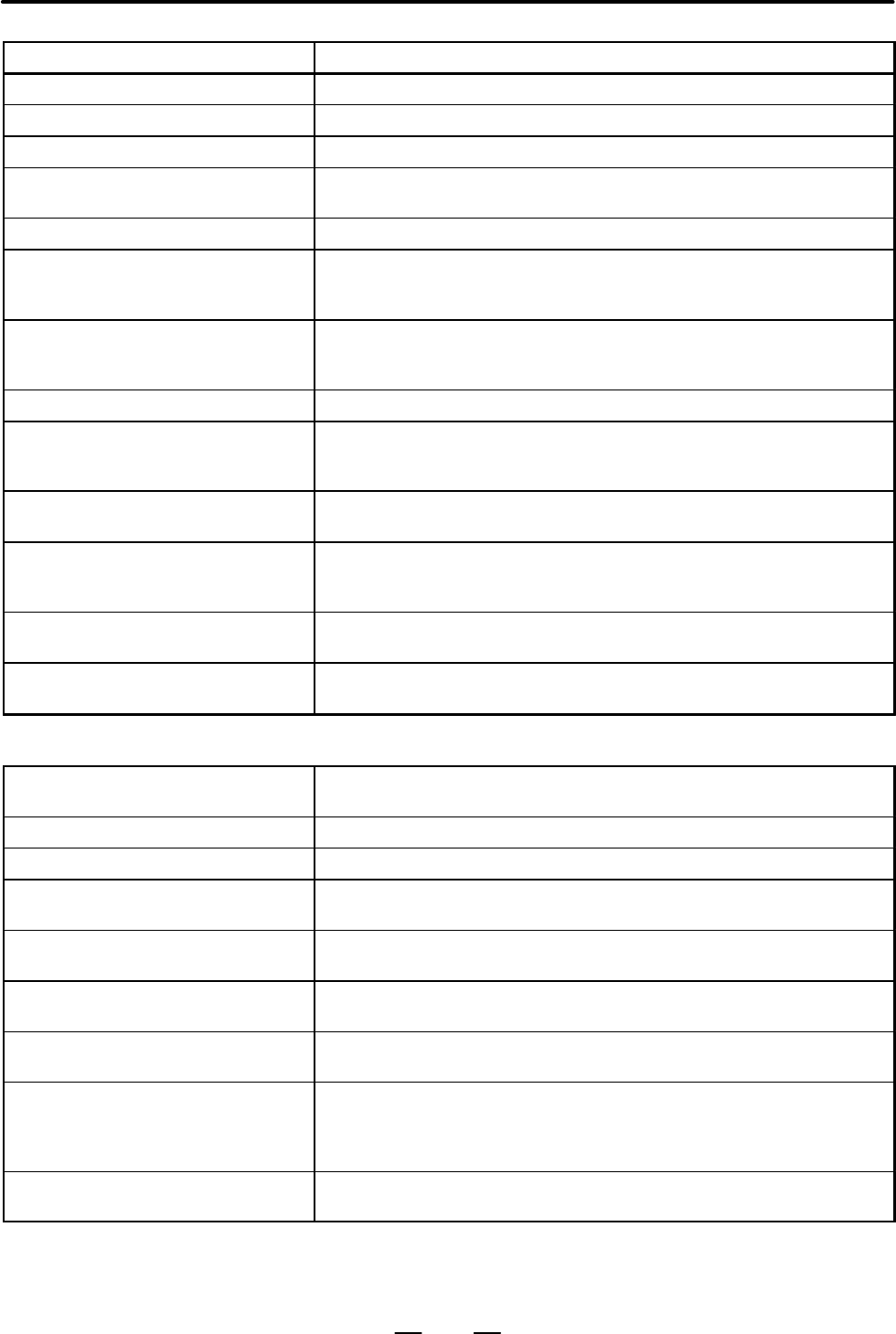 756
Tool offset
Shifting a specified tool along the controlled axis.
Tool offset memory
CNC memory used to store tool offset values.
Tool offset number
Number preceded by the H or D address to specify a tool offset value.
Tool offset value
Offset value used by the tool length compensation, cutter compensation, and
tool offset functions.
Tool path
Tool path drawn using a specific point on a cutting tool.
Tool post interference check
Operation in which the CNC detects a command that may cause the two tool
posts of the CNC lathe to interfere with each other and stops the tool posts
before they can collide.
Tool retract and recover
Retracting a tool from the workpiece, allowing the tool to be exchanged during
machining (if broken) or the state of machining to be checked, and subse-
quently repositioning the tool to restart machining.
Tool selection function
Number that follows the T address, used to select a tool on the machine.
Tool side compensation
Offsetting, by the tool radius, a tool (tool axis) that is oriented in an arbitrary
direction in three
–
dimensional space, so that the side of the tool coincides
with the programmed tool path.
Traverse inhibit limit function
Stopping an axis and continuing automatic operation if an absolute value
related to that axis exceeds a preset value.
TV check
Checking whether the total number of characters in a block (starting immedi-
ately after an end
–

of

–
block code and ending at the next end
–

of

–
block code)
is even or odd.
Twin table control
Switching between synchronous, independent, and normal operation for two
or more specified axes.
Two
–path control function

Controlling the two tool posts on the CNC lathe simultaneously and indepen-
dently.
[W]
Warning message
Message displayed on the screen to indicate when incorrect data has been
entered or an invalid operation has been performed from the CRT/MDI panel.
Waveform diagnosis function
Displaying data relating to servo and spindle motor movement graphically.
Wear offset value
The part of a tool offset value used to compensate for tool wear.
Word
Set consisting of an address followed by a multiple
–
digit number. A word is a
component of a block.
Workpiece coordiate system shift
Shifting a workpiece coordinate system set in the CNC as required so that it
matches a workpiece coordinate system assumed during programming.
Workpiece coordinate system
Coordinate system that is fixed for a workpiece and is used to machine that
workpiece.
Workpiece coordinate system preset
Returning a workpiece coordinate system to its initial position if it has been
shifted manually.
Workpiece origin offset value
Offset of the origin of a workpiece coordinate system from the machine zero
point. If an external workpiece origin offset value is given, an offset from the
machine zero point is defined by combining the external workpiece origin off-
set and the workpiece origin offset.
Workpiece zero point manual setting
function
Specifying the workpiece origin offset on the workpiece origin offset screen so
that the current position matches the specified origin.