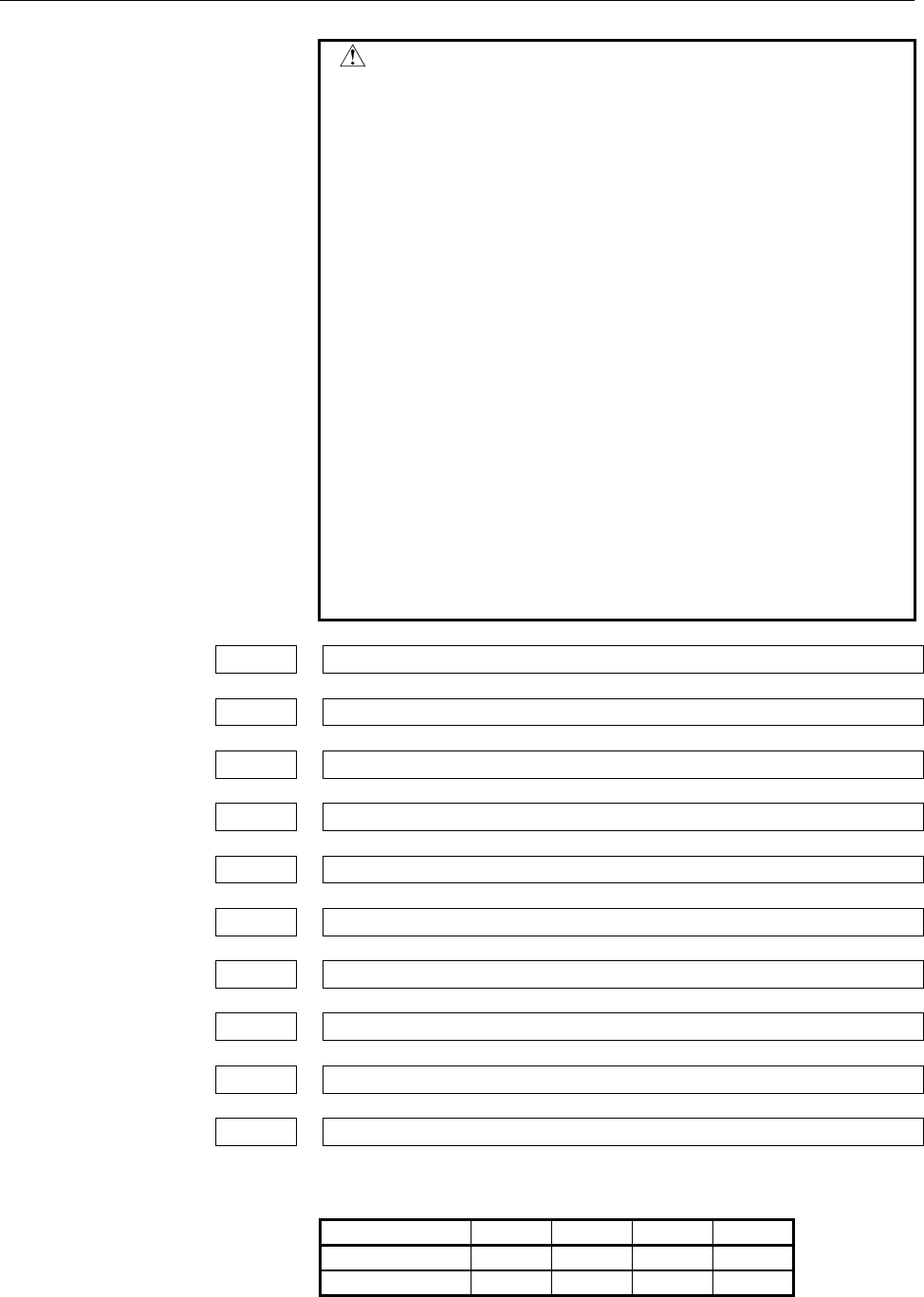 CAUTION
1
When bit 1 (TR2x) of parameter No. 13802 is set to
0, a speed command check is made in terms of the
detection unit. So, a calculation error can result.
2
Safety speed parameter No. 1942, and No. 13821
through No. 13824 are safety parameters, so that
these parameters are prot
ected using the key and
code of Dual Check Safety. To modify a safety
speed parameter, set a code for safety parameters
as the key for safety parameters (parameter No.
3226).
3
When the value of a safety speed parameter (No.
1942, No. 13821 through No. 13824) has been
changed, the power must be turned off before
operation is continued.
4
When motor speed is chosen to make a safety
speed check (by setting bit 1 (TR2x) of parameter
No. 13802 to 1), a setting must be made not to
make a safe machine position check (by setting bit
0 (NP2x) of parameter No. 13802 to 1).
5
When diameter specification is used, set a speed
based on diameter specification.
1943
Safe machine position of each axis (+ direction)
1944
Safe machine position of each axis (- direction)
13831
Safe machine position 1 of each axis (+ direction)
13832
Safe machine position 1 of each axis (- direction)
13833
Safe machine position 2 of each axis (+ direction)
13834
Safe machine position 2 of each axis (- direction)
13835
Safe machine position 3 of each axis (+ direction)
13836
Safe machine position 3 of each axis (- direction)
13837
Safe machine position 4 of each axis (+ direction)
13838
Safe machine position 5 of each axis (- direction)
Increment system
IS-A
IS-B
IS-C
Unit
Millimeter machine
0.01
0.001
0.0001
Mm
Inch machine
0.001
0.0001
0.00001
Inch
GFKE-0218-EN/02
- 108 -