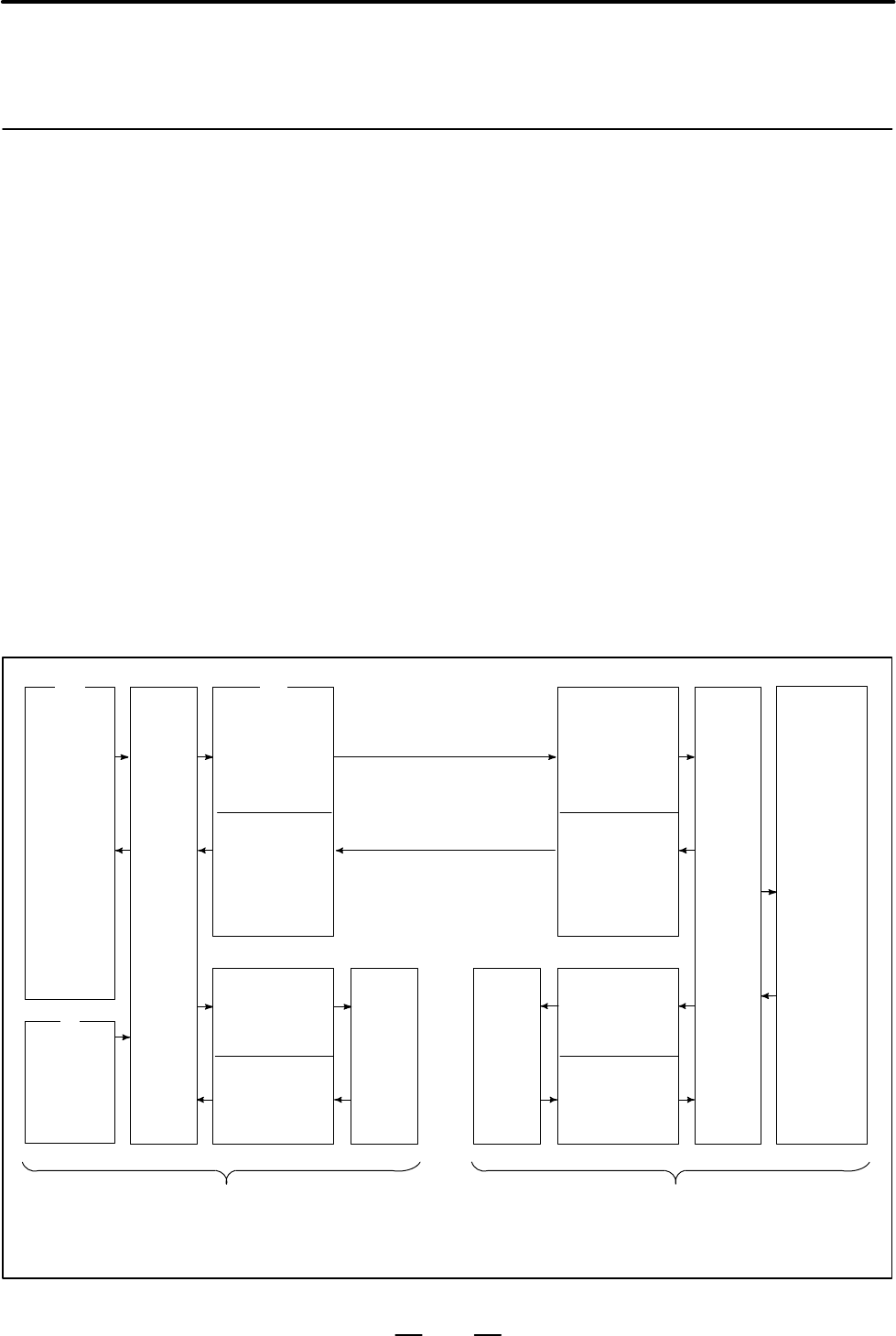 B–62443EN–2/03
2. CONNECTION
45
A PMC for loader control is built into the loader control board. The PMC
has functions equivalent to PMC–RA1 of the Series 18/21. The
development environment used with the PMC–RA1 is used. The I/O
signals handled by the PMC are classified into three groups.
1
Loader control board built–in I/O signals
2
Signals for interfacing with the machine PMC
3
I/O signals connected, through an I/O link, to the loader control board
The signals of 1 are stored in the X/Y area, which is directly accessed by
the PMC.
The signals of 2 are periodically transferred by system software from
within the G/F area of the machine PMC to the G/F area of the loader
PMC, or vice versa.
The signals of 3 are used as additional I/O signals, transferred using the
FANUC I/O link when the signals of 1 alone are insufficient to configure
a system.
The figure below illustrates the relationships between these I/O signals
and PMCs. As shown below, the loader control PMC and machine control
PMC operate independently of each other. In addition, the PMCs share
signals for synchronous operation.
Other F area
1
G0212 to 0219
G0252 to 0255
G1212 to 1219
G1252 to 1255
F0212 to 0219
F0252 to 0255
F1212 to 1219
F1252 to 1255
Other G area
Loader
control
PMC
Loader
control
board
Built–in
I/O
F0212 to 0219
F0252 to 0255
F1212 to 1219
F1252 to 1255
G0212 to 0219
G0252 to 0255
G1212 to 1219
G1252 to 1255
Other G area
Other F area
Machine
control
PMC
I/O card
or
I/O Link
of I/O
Loader side control
Machine side control
Loader
control
CNC
Machine
control
CNC
I/O Link
increase
I/O
(option)
3
2
2.8
DI/DO INTERFACE
2.8.1
Outline