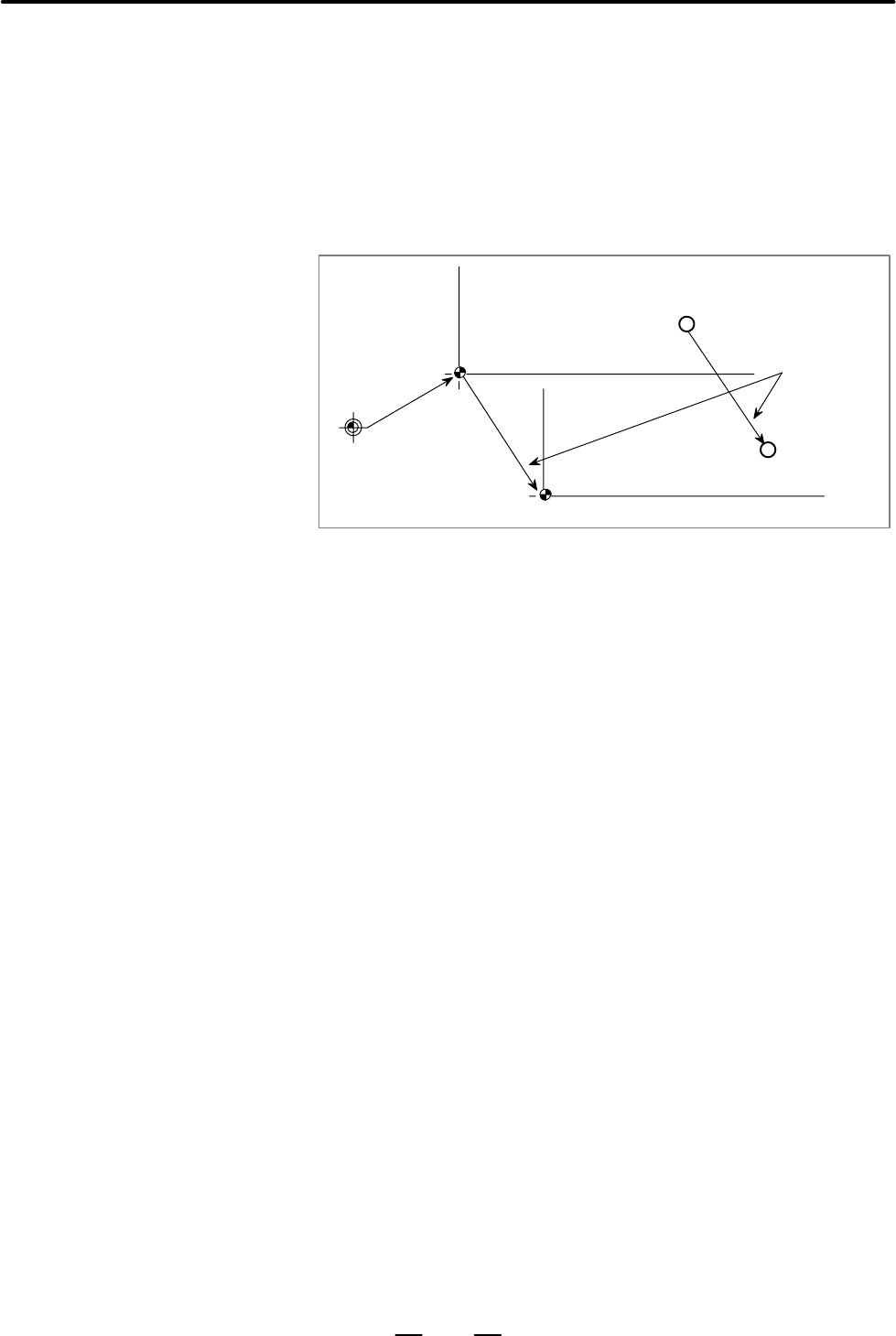 PROGRAMMING
7. COORDINATE SYSTEM
B–63664EN/02
96
(a)
Manual intervention performed when the manual absolute signal is off
(b)
Move command executed in the machine lock state
(c)
Movement by handle interrupt
(d)
Operation using the mirror image function
(e)
Setting the local coordinate system using G52, or shifting the
workpiece coordinate system using G92
In the case of (a) above, the workpiece coordinate system is shifted by the
amount of movement during manual intervention.
Po
Pn
WZn
WZo
G54 workpiece coordinate
system before manual
intervention
Workpiece zero
point offset
value
G54 workpiece coordinate
system after manual intervention
Amount of movement
during manual
intervention
Machine zero point
In the operation above, a workpiece coordinate system once shifted can
be preset using G code specification or MDI operation to a workpiece
coordinate system displaced by a workpiece zero point offset value from
the machine zero point. This is the same as when manual reference
position return operation is performed on a workpiece coordinate system
that has been shifted. In this example, such G code specification or MDI
operation has the effect of returning workpiece coordinate system zero
point WZn to the original zero point WZo, and the distance from WZo to
Pn is used to represent the current position in the workpiece coordinate
system.
Bit 3 (PPD) of parameter No. 3104 specifies whether to preset relative
coordinates (RELATIVE) as well as absolute coordinates.
When no workpiece coordinate system option (G54 to G59) is selected,
the workpiece coordinate system is preset to the coordinate system set by
automatic workpiece coordinate system setting. When automatic
workpiece coordinate system setting is not selected, the workpiece
coordinate system is preset with its zero point placed at the reference
position.
When using the workpiece coordinate system preset function, cancel
compensation modes: cutter compensation and tool offset. If the function
is executed without cancelling these modes, compensation vectors are
temporarily cancelled.
The workpiece coordinate system preset function is not executed during
program restart.
Do not use the workpiece coordinate system preset function when the
scaling, coordinate system rotation, programmable image, or drawing
copy mode is set.
Limitations
tool offset