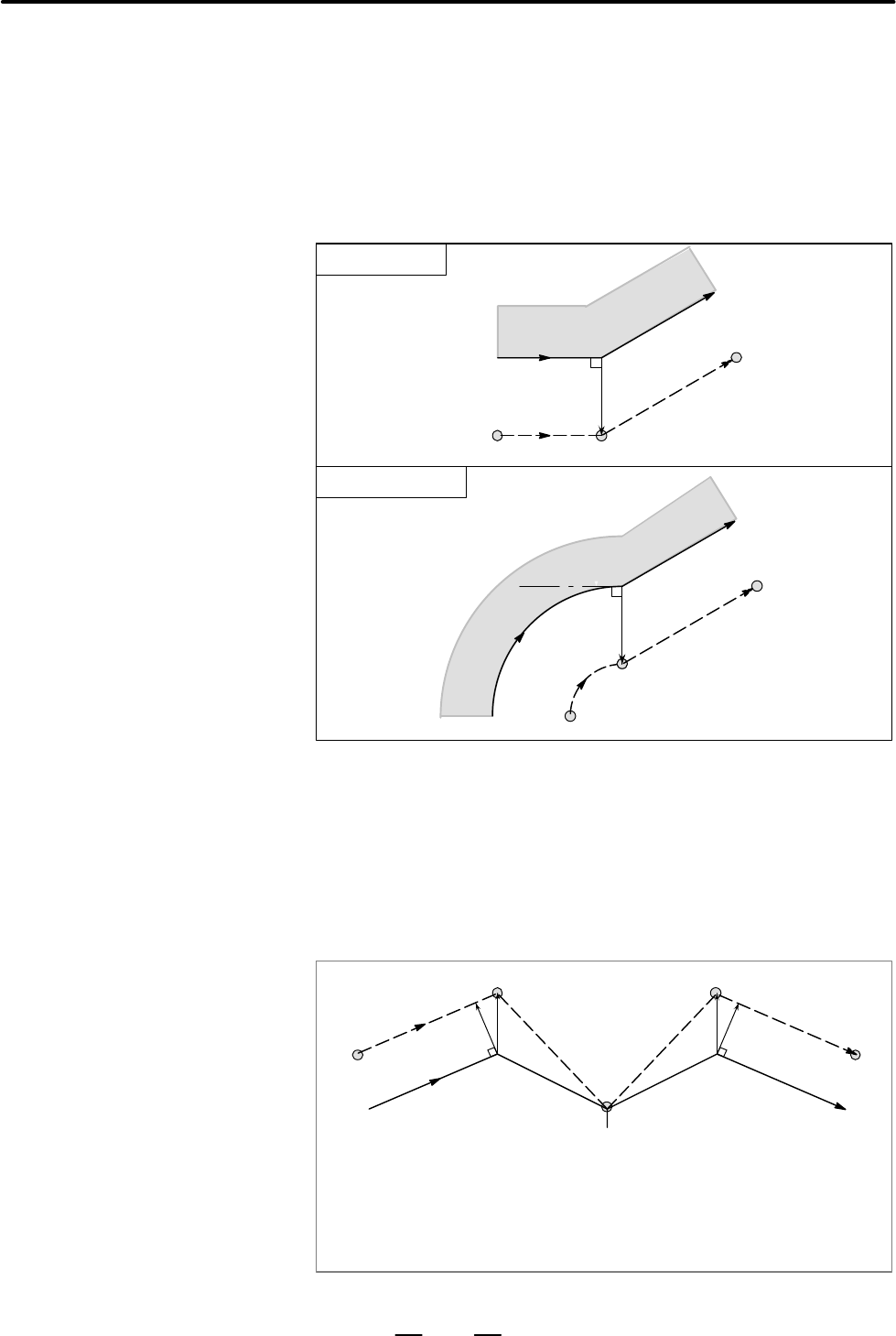 PROGRAMMING
B–63664EN/02
12. COMPENSATION FUNCTION
169
The offset vector can be set to form a right angle to the moving direction
in the previous block, irrespective of machining inner or outer side, by
commanding the cutter compensation G code (G41, G42) in the offset
mode, independently. If this code is specified in a circular command,
correct circular motion will not be obtained.
When the direction of offset is expected to be changed by the command
of cutter compensation G code (G41, G42), refer to Subsec. "Changing
in the offset direction in the offset mode".
r
A block specified by G42
G42 mode
r
C
Intersection
S
L
L
S
L
A block specified by G42
Intersection
Programmed path
G42 mode
Beam center path
During offset mode, if G92 (absolute zero point programming) is
commanded,the offset vector is temporarily cancelled and thereafter
offset mode is automatically restored.
In this case, without movement of offset cancel, the beam moves directly
from the intersecting point to the commanded point where offset vector
is canceled. Also when restored to offset mode, the beam moves directly
to the intersecting point.
S
L
LL
L
S
S
N5
N6
N7
N8
G92 block
(G41)
N5 G91 G01 X300.0 Y700.0 ;
N6 X–300.0 Y600.0 ;
N7 G92 X100.0 Y200.0 ;
N8 G90 G01 X400.0 Y800.0 ;
Beam center path
Programmed path
code in the offset mode
offset vector temporarily