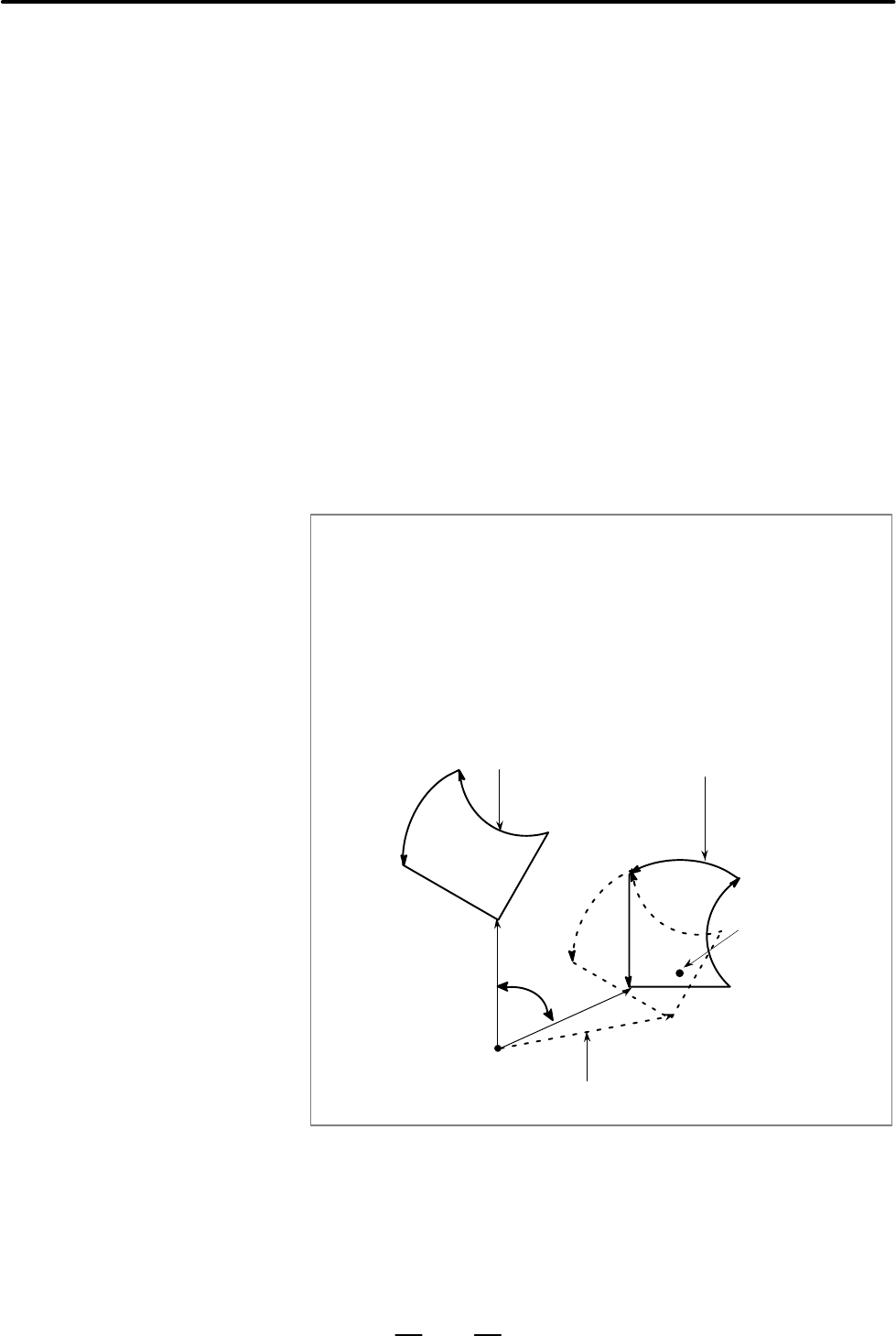 PROGRAMMING
12. COMPENSATION FUNCTION
B–63664EN/02
218
In coordinate system rotation mode, G codes related to reference position
return (G27, G28, G29, G30, etc.) and those for changing the coordinate
system (G52 to G59, G92, etc.) must not be specified. If any of these G
codes is necessary, specify it only after canceling coordinate system
rotation mode.
In coordinate conversion, the two axes on the selected plane are rotated.
When this function is used with a three–dimensional machine, rotation is
not applied to the nozzle attitude. To convert the coordinate system for
the nozzle attitude, use the three–dimensional conversion function.
The first move command after the coordinate system rotation cancel
command (G69) must be specified with absolute values. If an incremental
move command is specified, correct movement will not be performed.
N1 G92 X
*

500.0 Y

*

500.0 G69 G17 ;
N2 G68 X700.0 Y300.0 R60.0 ;
N3 G90 G01 X0 Y0 F200 ;
(G91X500.0Y500.0)
N4 G91 X1000.0 ;
N5 G02 Y1000.0 R1000.0 ;
N6 G03 X
*
1000.0 I*

500.0 J

*

500.0 ;
N8 G69 G90 X
*
500.0 Y

*

500.0 M02 ;
Beam path when the incremental
command is designated in the N3
block (in parenthesis)
Originally programmed beam path
Center of rotation
(700.0,300.0)
Beam path after rotation
(–500.0,–500.0)
(0,0)
Fig.12.6 (c) Absolute/incremental command during
coordinate system rotation
Limitations
reference position return
and the coordinate
system
conversion
Explanations
Absolute/Incremental
position commands