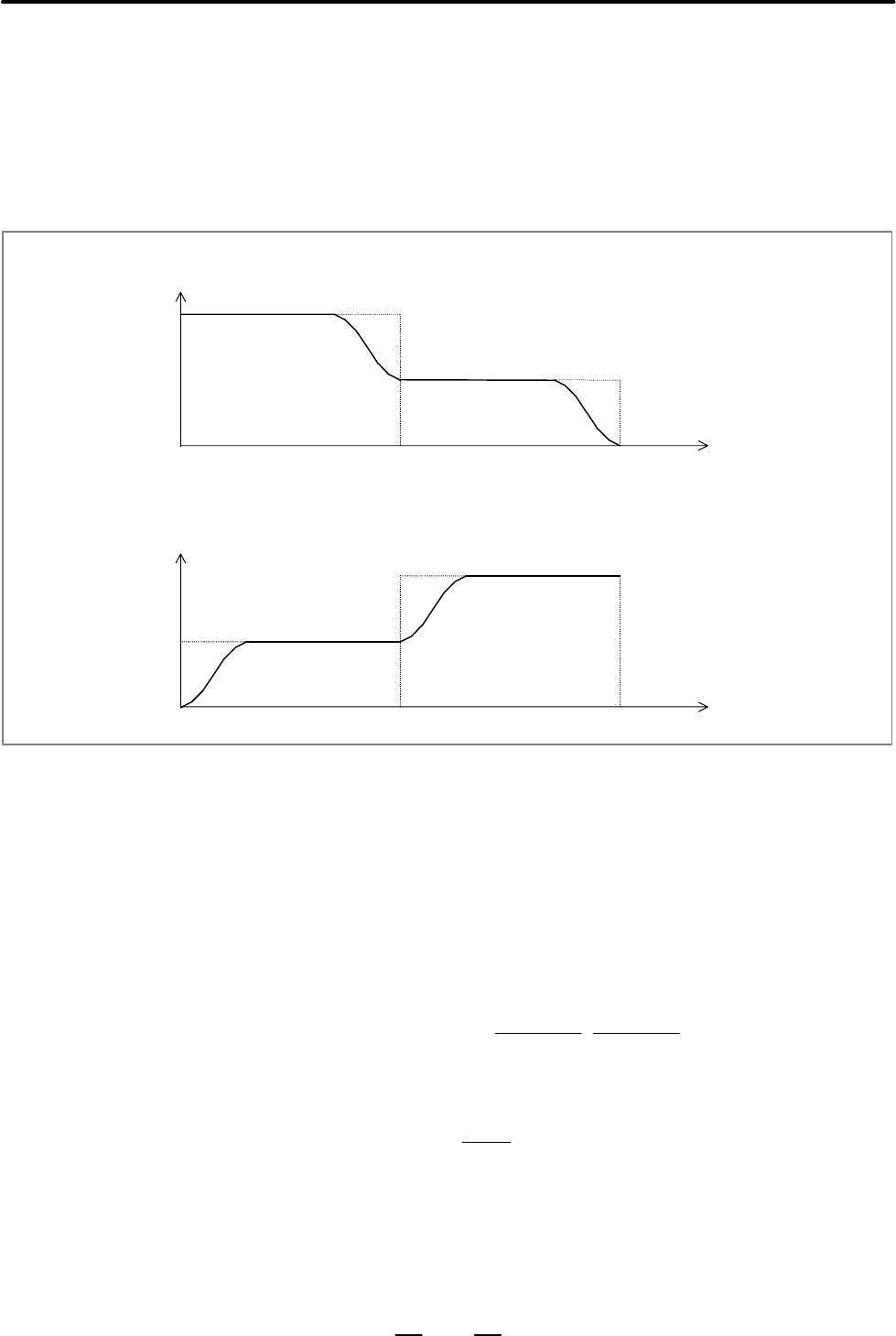 PROGRAMMING
16. HIGH SPEED CUTTING FUNCTIONS
B–63664EN/02
312
When the feedrate is changed, deceleration and acceleration are
performed as follows:
For deceleration:Bell–shaped deceleration is started in the preceding
block so that deceleration terminates by the beginning of the block in
which the feedrate is changed.
For acceleration:
Bell–shaped acceleration is started after the
beginning of the block in which the feedrate is changed.
Deceleration
Fa
Fb
Time
N2N1
Acceleration
Feedrate
Fb
Fa
Time
N2N1
Between contiguous two blocks, the feedrate difference for an axis may
exceed the setting (parameter No. 1783). In this case, the feedrate at the
corner is calculated as follows based on the axis for which the ratio of the
actual feedrate difference to the allowable feedrate difference is the
largest. Deceleration is performed so that the feedrate is reached at the
interface of the blocks.
The change in the feedrate for each axis (Vx, Vy, ...) during movement at
the specified feedrate F is compared with the setting of parameter No.
1783 (Vprm–x, Vprm–y, ...). If the change in the feedrate for any axis
exceeds the setting of the parameter, the following expression is used:
ƪ
Vx
,
Vy
,,,
ƫ
The required feedrate (Fc) is obtained as follows and deceleration is
performed at the corner:
1
Rmax
For example, assume that the tool move direction changes by 90 degrees
from movement along the X–axis to that along the Y–axis. Also assume
that the specified feedrate is 1000 mm/min and the allowable feedrate
difference (parameter No. 1783) is 500 mm/min. Deceleration is
performed as shown in the figure below:
deceleration