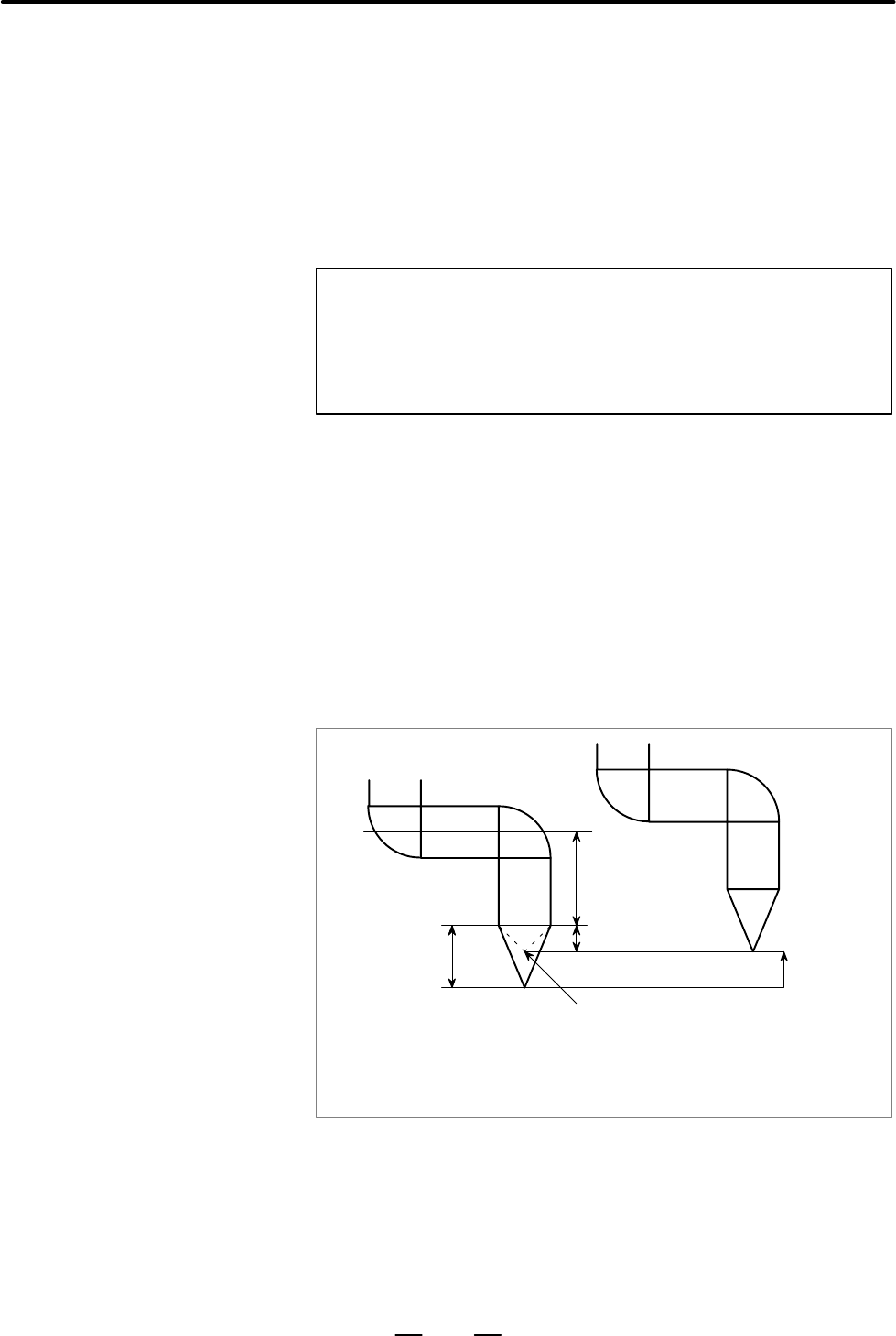 PROGRAMMING
19. THREE–DIMENSIONAL
CUTTING FUNCTION
B–63664EN/02
393
The length of the second arm of a three–dimensional offset–type machine
may be changed due to replacement of the processing head. In this case,
nozzle tip fixing control cannot operate normally without reference
position return.
This function enables tip fixing control to be performed with the current
position without reference position return by entering the length of the
replaced nozzle from a program when a processing head is replaced.
R__
:
Length of the replaced nozzle
Unit
:
0.001mm (metric output)
0.0001inch (inch output)
When G71 is executed, parameter 15619 (nozzle length) is rewritten with
the value specified by address R, and the nozzle is positioned to the nozzle
tip position before replacement at a rapid traverse rate by movement along
the X, Y, and Z axes. At this time, the position along the fourth and fifth
axes does not change. Movement by G71 is the same as positioning by
G00. The feedrate and other settings specified for G00 are used.
The length of the arm used for tip fixing control is indicated by the value
obtained by adding the length of the second arm set for parameter No.
15616.
Travel
distance
Second arm
length Parameter
No. 15616
Nozzle length before
replacement
Nozzle tip fixing control is
executed at this position.
Before G71 is
issued
Nozzle length af-
ter replacement
(specify this value
for R.)
After G71 is issued
(The nozzle is posi-
tioned at the nozzle
position before re-
placement.)
19.5
PROCESSING HEAD
A–AXIS LENGTH
COMPENSATION
FUNCTION (G71)
Format
Explanations