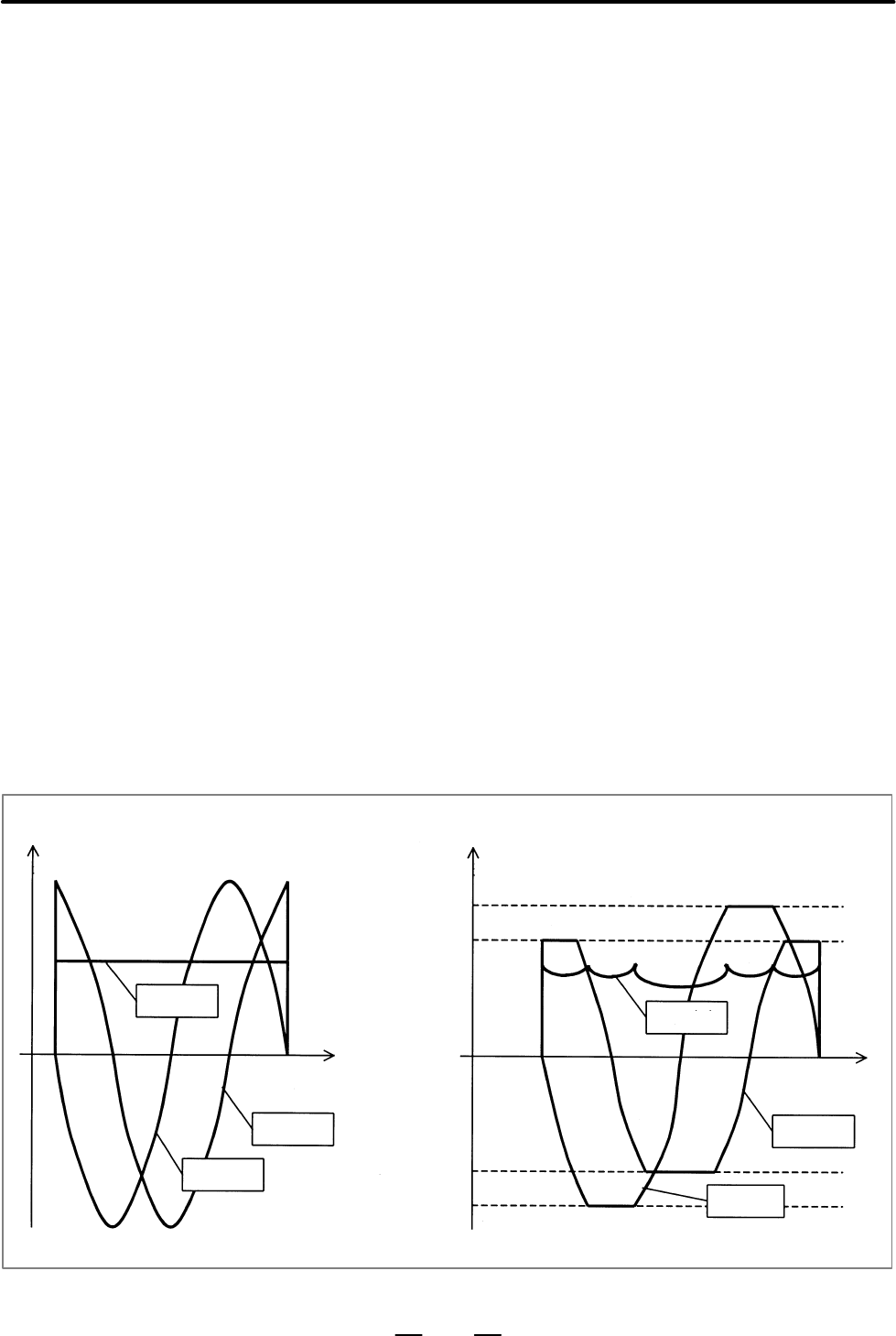 PROGRAMMING
19. THREE–DIMENSIONAL
CUTTING FUNCTION
B–63664EN/02
405
If a specified feedrate output to the motor of each axis exceeds the
parameter–specified feedrate, this function applies automatic overriding
instantly so that the output feedrate is lowered to within the
parameter–specified feedrate. This way, it is possible to clamp, on an
execution level, the X–, Y–, and Z–axis feedrate with position control B
compensation applied.
If the feedrate of any axis exceeds the feedrate specified in parameter No.
15621 during axis movement, automatic overriding is applied instantly
to lower it to within the parameter–specified feedrate. Because this
function works for all axes in common, no deviation from the specified
tool path will occur during interpolation. Moreover, the override value
can increase automatically so that the actual feedrate will not become
lower than necessary. However, the override value will not exceed 100%,
so the actual feedrate does not become higher than specified.
This function works in the cycle next to the one in which a feedrate higher
than the limit is detected. So, the parameter–specified feedrate may be
exceeded a little.
If a command–specified feedrate becomes higher than the feedrate
specified in parameter No. 15621, the override value always changes. So,
the nozzle tip feedrate does not become constant even within the same
command block. Therefore, it is necessary to set parameter No. 15621
with a value that will not cause overriding during usual cutting.
This function works not only in automatic operation but also in all other
modes such as jog and handle feed.
Block "G91 G01 X4. A360. F10000" causes overriding shown below.
The A–axis is the fourth axis.
[If this function is disabled]
[If this function is enabled]
Feedrate
A–axis feedrate
A–axis feedrate
Y–axis feedrate
Y–axis feedrate
X–axis feedrate
X–axis feedrate
Maximum X–axis
feedrate
Maximum Y–axis
feedrate
00
Feedrate
Maximum Y–axis
feedrate
Maximum X–axis
feedrate
19.9
AUTOMATIC
FEEDRATE
OVERRIDE UNDER
POSITION
CONTROL B
Explanations