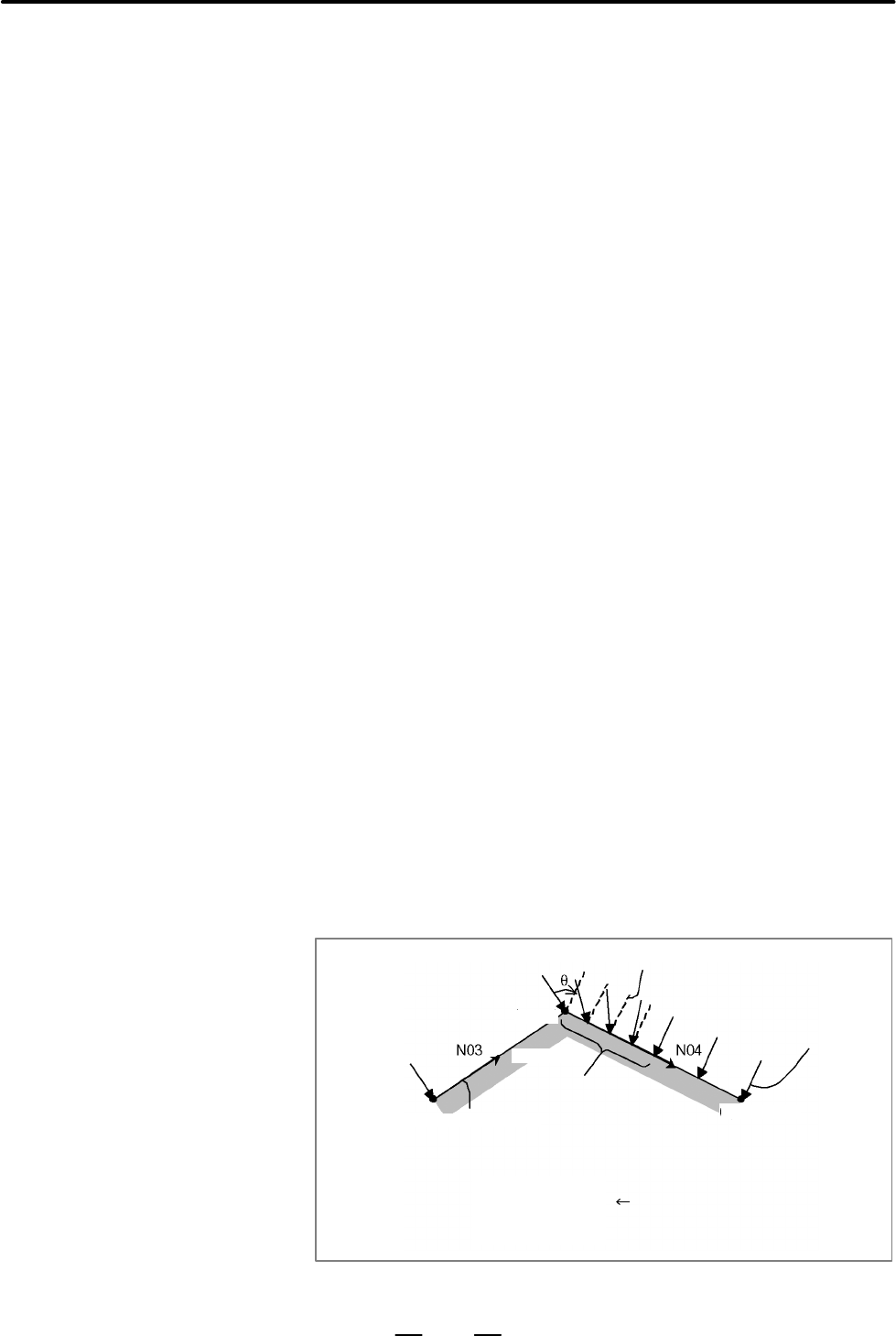 PROGRAMMING
CUTTING FUNCTION
B–63664EN/02
408
Torch turning control is specified with the following G codes:
G41.1 (G151)
: Turn torch left
G42.1 (G152)
: Turn torch right
G40.1 (G150)
: Cancel torch turning
These G codes are the same as for normal direction control. Whether to
use these G codes for torch turning control or normal direction control is
selected by the TRTENB (G0201#6) signal.
G0201#6 = 1
: Torch turning control
G0201#6 = 0
: Normal direction control
For details of this signal, see "Signal" described later.
Torch turning control can be used for the positioning and interpolation
commands listed below. For other interpolation commands, torch turning
control is not performed.
G01
: Linear interpolation
G02, G03
: Circular interpolation
Torch turning control controls the bevel torch so that it is positioned in
the normal direction to a specified straight line or arc without stopping the
operation of the torch end at a point between adjacent blocks.
For a straight line, while linear interpolation is being performed, the
rotary axis of the bevel torch is fed at a constant feedrate to position the
rotary axis in the direction normal to the straight line.
For an arc, while circular interpolation is being performed, the rotary axis
of the bevel torch is positioned in the normal direction to the arc, which
changes from time to time.
In G01, G02, and G03 blocks, positioning to the normal direction in torch
turning control is performed at a feedrate set in parameter No. 1430. In
a G00 block, the positioning feedrate is set in parameter No. 1420. For
positioning, the rotary axis always turns 180
°
or less (control for the
shorter amount).
Examples of torch turning control operation are given in Figs. 19.10 (b)
and 19.10 (c). For an acute–angled corner, create a machining program
as shown in Fig. 19.10 (c).
Programmed command
Workpiece
Turned while moved
Normal direction
Torch orientation
Turn torch left
(Sample program)
N01 G90
N02 G41.1
N03 G01X
x1
Y
y1
N04 G01X
x2
Y
y2
Fig. 19.10 (b) Turning the torch left
D
G codes for torch turning
control
commands