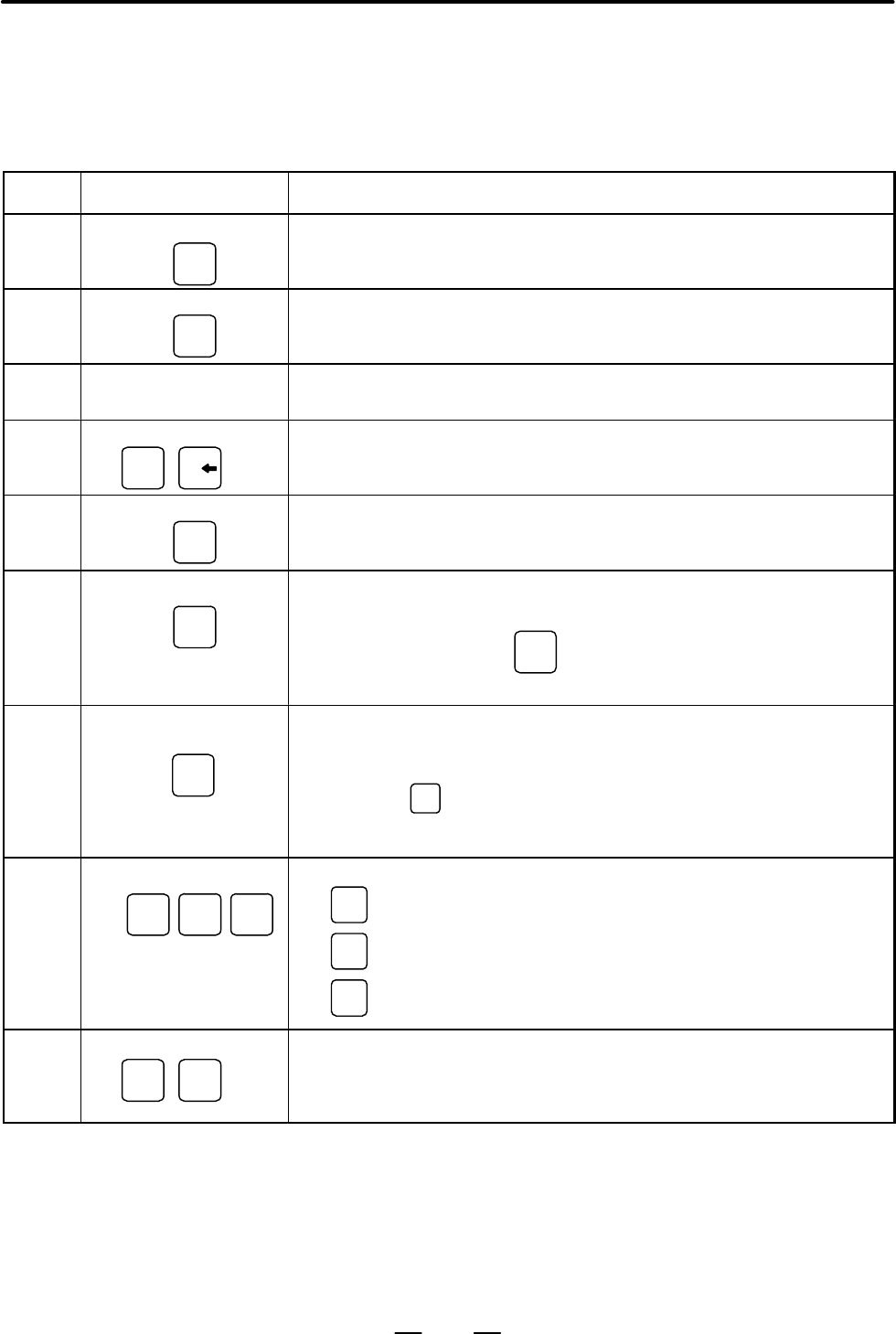 OPERATION
2. OPERATIONAL DEVICES
B–63664EN/02
438
Table 2.2 Explanation of the MDI keyboard
Number
1
RESET key

Press this key to reset the CNC, to cancel an alarm, etc.
2
HELP key

Press this button to use the help function when uncertain about the operation of
an MDI key (help function).
In case of 160
i
, this key is assigned to "Esc" key of the personal computer.
3
Soft keys

The soft keys have various functions, according to the Applications. The soft key
functions are displayed at the bottom of the screen.
4
Address and numeric keys

Press these keys to input alphabetic, numeric, and other characters.
5
SHIFT key

Some keys have two characters on their keytop. Pressing the <SHIFT> key
switches the characters. Special character
Ê
is displayed on the screen when a
character indicated at the bottom right corner on the keytop can be entered.
6
INPUT key

When an address or a numerical key is pressed, the data is input to the buffer,
and it is displayed on the screen. To copy the data in the key input buffer to the
offset register, etc., press the
key. This key is equivalent to the [INPUT]
key of the soft keys, and either can be pressed to produce the same result.
INPUT
7
Cancel key

Press this key to delete the last character or symbol input to the key input buffer.
When the key input buffer displays
>N001X100Z_
and the cancel key is pressed, Z is canceled and
>N001X100_
is displayed.
8
Program edit keys

Press these keys when editing the program.
9
Function keys

Press theses keys to switch display screens for each function.
See lll – 2.3 for detailas of the function keys.
2.2
EXPLANATION OF
THE KEYBOARD
RESET
HELP
(
N
4
…
SHIFT
INPUT
CAN
CAN
ALTER
: Alteration
(In case of 160
i
, this key is assigned to "Tab" key
of the personal computer.)
: Insertion
: Deletion
ALTER
DELETE
INSERT
…