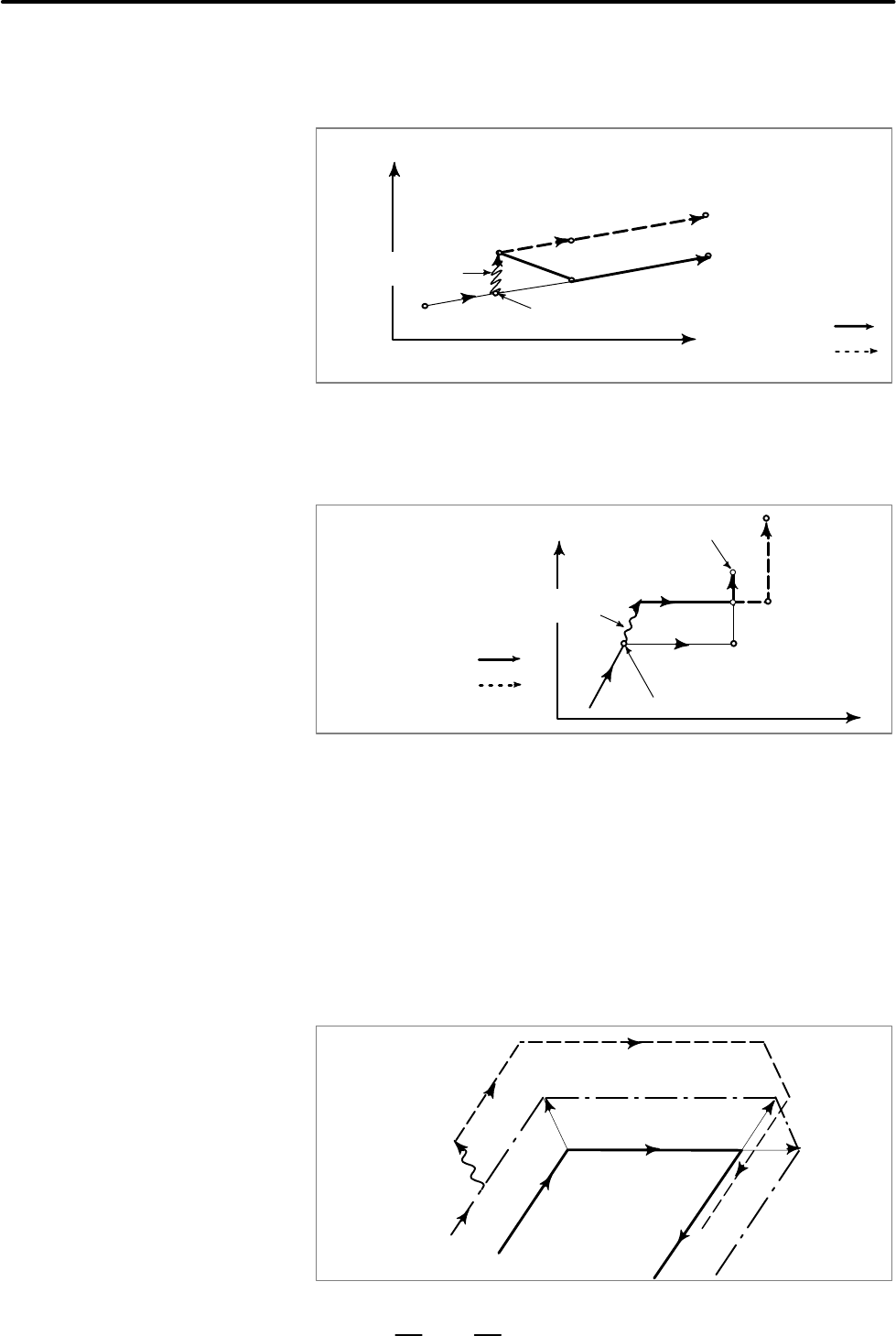 OPERATION
3.

MANUAL OPERATION
B–63664EN/02
480
Coordinates when the feed hold button is pressed while block

is being
executed, manual operation (Y–axis +75.0) is performed, the control unit
is reset with the RESET button, and block

is read again
(300.0 , 275.0)
(200.0,150.0)
(300.0 , 200.0)
(150.0 , 200.0)
(200.0,225.0)
(150.0 , 125.0)(100.0 , 100.0)
Y
X
Switch OFF
Switch ON
Manual
operation
When there is only one axis in the following command, only the
commanded axis returns.
Manual
operation
N2
N1
N3
N1G01X100.0Y100.0F500;
N2X200.0;
N3Y150.0;
Y
X
(100.0 , 100.0)
(200.0 , 100.0)
(200.0 , 150.0)
Switch OFF
Switch ON
When the following commands are incremental commands, operation is
the same as when the switch is OFF.
When the switch is OFF
After manual operation is performed with the switch OFF during cutter
compensation, automatic operation is restarted then the nozzle moves
parallel to the movement that would have been performed if manual
movement had not been performed. The amount of separation equals to
the amount that was performed manually.
Manual
operation
Beam path
Programmed path
Beam path after
manual operation
manual operation
following a feed hold
command in the next
block is only one axis
block is an incremental
D
Manual operation during
cutter compensation