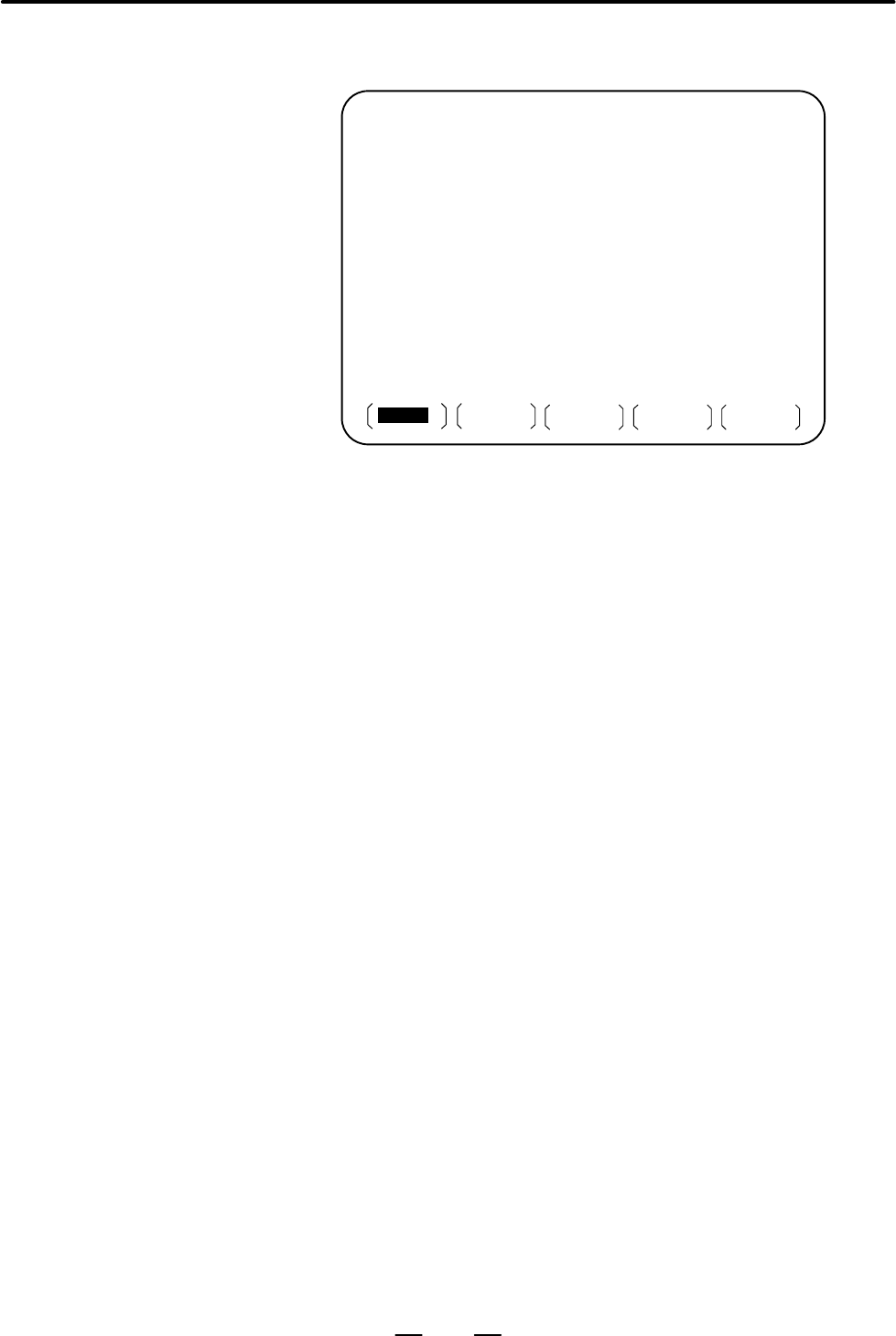 OPERATION
B–63664EN/02
4. AUTOMATIC OPERATION
497
5
A search is made for the sequence number, and the program restart
screen appears on the screen.
PROGRAM RESTART
DESTINATION
X 57. 096
Y 56. 877
Z 56. 943
12
12
12
12
*
*
*
*

* *

* **

*

*

*

*

*

*

*
T*
*
*

*

*

*

*

**

*

*

*

*

*

*

*
O0002 0N0100
S 0 T0000
MEM
10 : 10 : 40
FL.SDL
(OPRT)
RSTR
DISTANCE TO GO
DESTINATION indicates the position at which processing is to restart.
DISTANCE TO GO indicates the distance from the current nozzle
position to the position where processing is to restart. The number to the
left of each axis name indicates the order of the axis (determined by
parameter setting) along which the nozzle moves to the restart position.
The coordinates and amount of travel for restarting the program can be
displayed for up to five axes. If y
our system supports six or more axes,
pressing the
[RSTR]
soft key again displays the data for the sixth and
subsequent axes. (The program restart screen displays only the data for
CNC–controlled axes.)
M: Fourteen most recently specified M codes
T: Two most recently specified T codes
B: Most recently specified B code
Codes are displayed in the order in which they are specified. All codes
are cleared by a program restart command or cycle start in the reset state.
6
Set the program restart switch to the OFF position. At this time, the
number to the left of each axis name under DISTANCE TO GO
blinks.
7
Check the screen for the M, T, and B codes to be executed. When M,
T, and B codes are to be executed, place the CNC in
MDI
mode, then
execute the M, T, and B functions in MDI mode. After execution,
restore the CNC to the previous mode. These codes are not displayed
on the program restart screen.
8
Check that the distance indicated under DISTANCE TO GO is
correct. Also check whether the nozzle will hit the workpiece or other
object when it moves to the processing restart position. If the nozzle
will hit an object, move the nozzle manually to a position from which
the nozzle can move to the processing restart position without
encountering any obstacles.
9
Press the cycle start button. The nozzle moves to the processing
restart position at the dry run feedrate sequentially along axes in the
order specified by parameter settings (No. 7310). Processing is then
restarted.