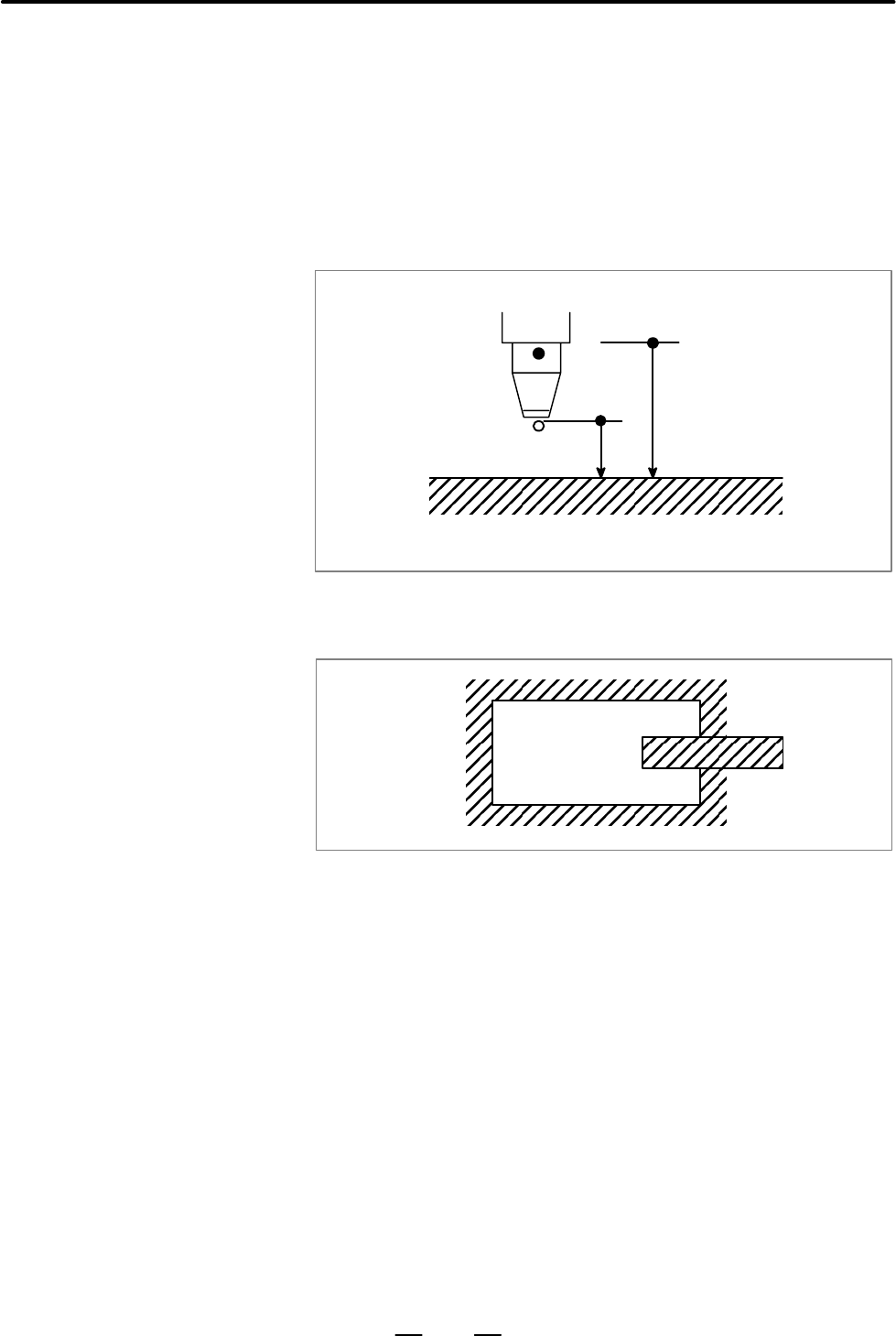 OPERATION
6. SAFETY FUNCTIONS
B–63664EN/02
544
Depending on the result of checking whether the nozzle enters the
forbidden area or which part of the nozzle enters the forbidden area, the
way of measuring X, Y, Z, I, J, and K varies.
If point A (The top of the nozzle) is checked in Fig.6.3 (d) , the distance
"a" should be set as the data for the stored stroke limit function. If point
B (The nozzle chuck) is checked, the distance "b" must be set. When
checking the nozzle tip (like point A), and if the nozzle length varies for
each nozzle, setting the forbidden area for the longest nozzle requires no
re–setting and results in safe operation.
A
B
a
b
Position of the
nozzle after
reference posi-
tion return
Area boundary
Fig.6.3 (d) Setting the forbidden area
Area can be set in piles.
Fig.6.3 (e) Setting the forbidden area over lapping
Unnecessary limits should be set beyond the machine stroke.
If the maximum rapid traverse rate is F (mm/min), the maximum overrun
amount, L (mm), of the stored stroke limit is obtained from the following
expression:
L (mm) = F/7500
The nozzle enters the specified inhibited area by up to L (mm). Bit 7
(BFA) of parameter No. 1300 can be used to stop the nozzle when it
reaches a point L mm short of the specified area. In this case, the nozzle
will not enter the inhibited area.
Each limit becomes effective after the power is turned on and manual
reference position return or automatic reference position return by G28
has been performed.
After the power is turned on, if the reference position is in the forbidden
area of each limit, an alarm is generated immediately. (Only in G22 mode
for stored stroke limit 2).
forbidden area
over lapping
stored stroke limit
forbidden area