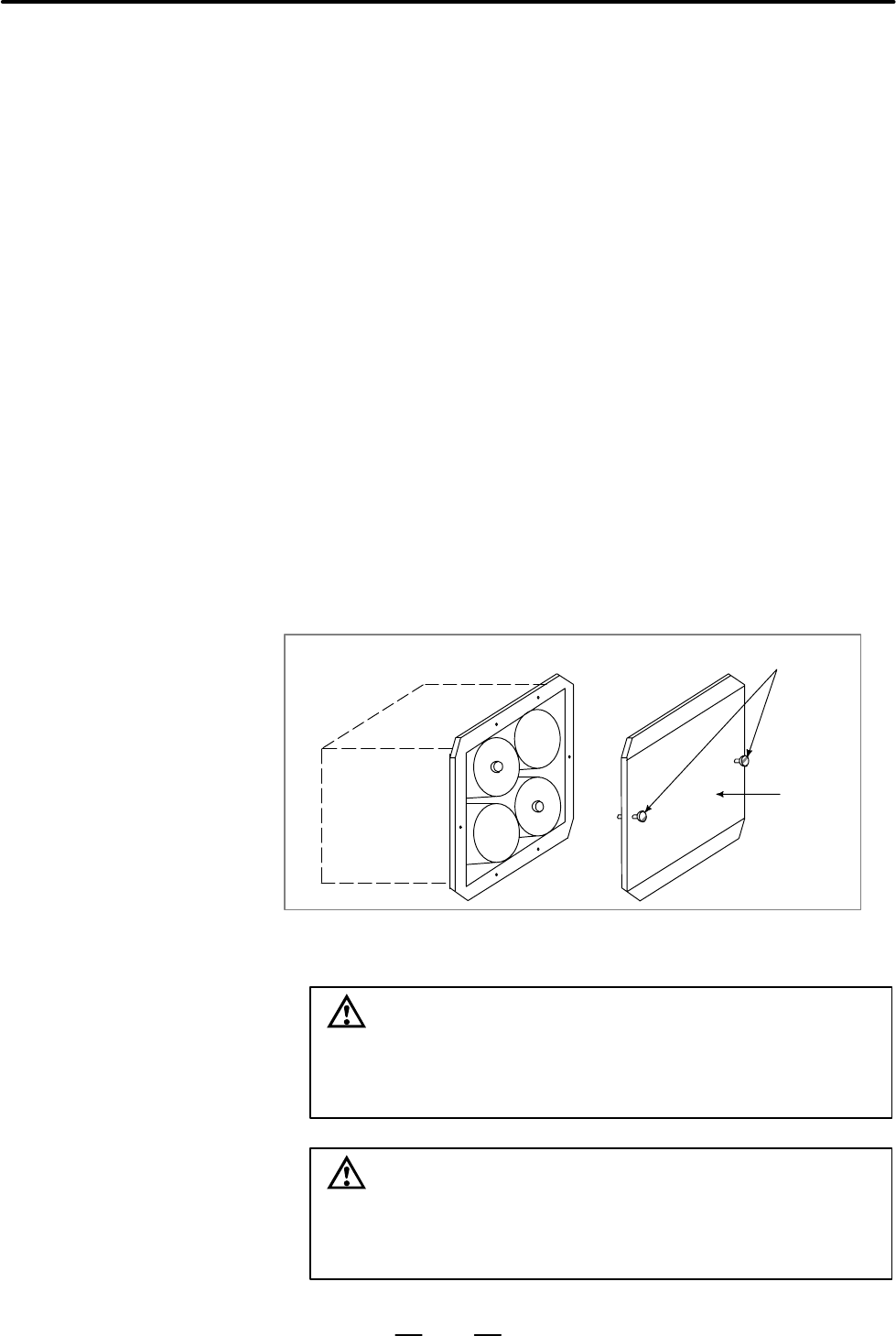 MAINTENANCE
1. METHOD OF REPLACING BATTERY
B–63664EN/02
810
One battery unit can maintain current position data for six absolute pulse
coders for a year.
When the voltage of the battery becomes low, APC alarms 306 to 308 (+
axis name) are displayed on the CRT display. When APC alarm 307 is
displayed, replace the battery as soon as possible. In general, the battery
should be replaced within one or two weeks, however, this depends on the
number of pulse coders used.
If the voltage of the battery becomes any lower, the current positions for
the pulse coders can no longer be maintained. Turning on the power to
the control unit in this state causes APC alarm 300 (reference position
return request alarm) to occur. Return the tool to the reference position
after replacing the battery.
See Section 7.1.3 for details of connecting the battery to separate absolute
pulse coders. The battery for the built–in absolute pulse coder is installed
in the servo amplifier. For an explanation of the replacement procedure,
refer to the FANUC SERVO MOTOR
a
Series Maintenance Manual.
Obtain four commercially available alkaline batteries (size D).
(1)Turn on the power to the machine (
i
Series CNC).
(2)Loosen the screws on the battery case connected to the interface unit
of the detector separately installed, and remove the cover.
(3)Replace the dry batteries in the case.
Note the polarity of the batteries as shown in the figure below (orient
two batteries one way and the other two in the opposite direction).
Screws
Cover
(4)After installing the new batteries, replace the cover.
(5)Turn off the power to the machine (
i
Series CNC).
WARNING
If the batteries are installed incorrectly, an explosion may
occur. Never use batteries other than the specified type
(Size D alkaline batteries).
CAUTION
Replace batteries while the power to the
i
Series CNC is on.
Note that, if batteries are replaced while no power is
supplied to the CNC, the recorded absolute position is lost.
1.4
BATTERY FOR
SEPARATE
ABSOLUTE PULSE
CODERS (6 VDC)
Replacing batteries