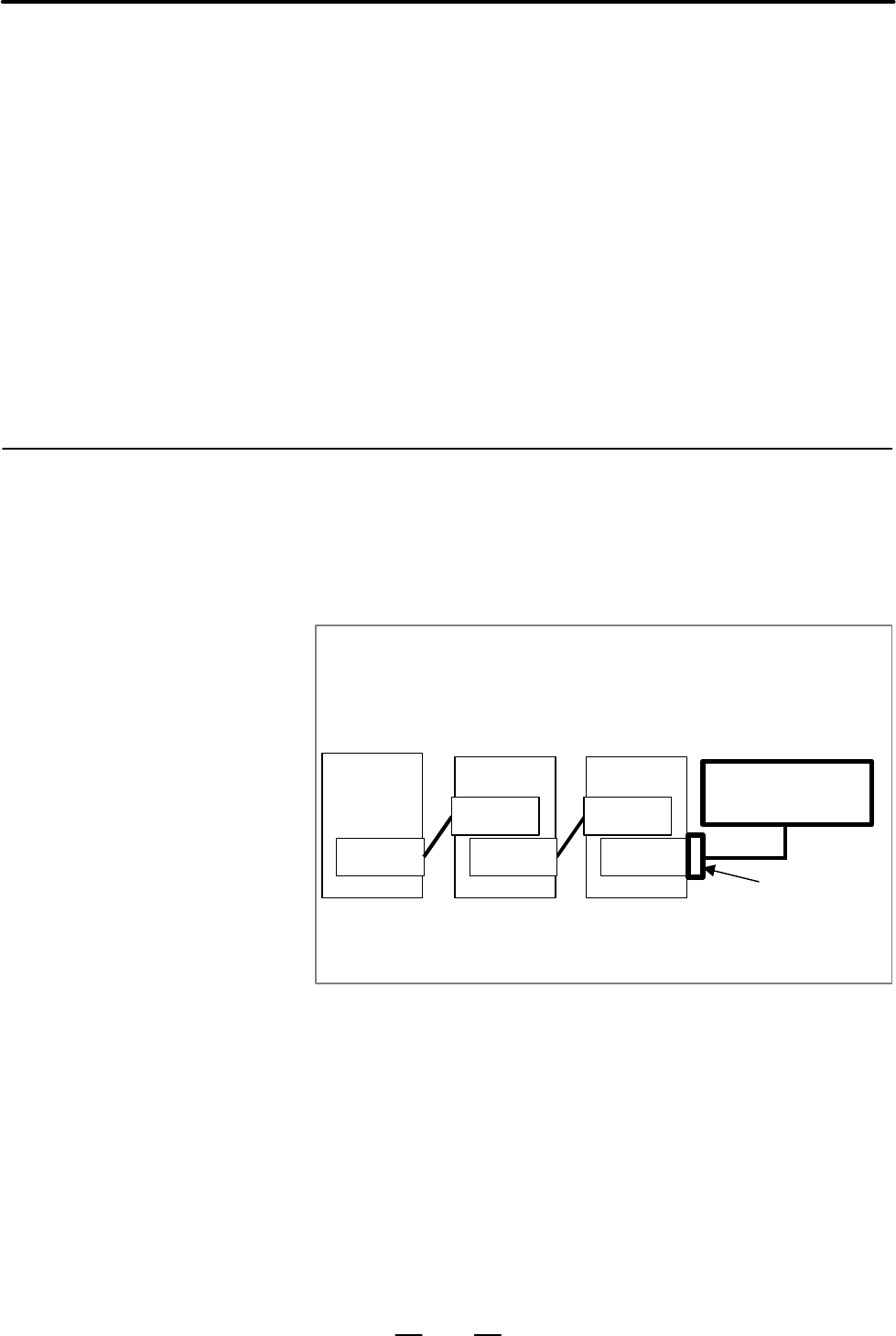 MAINTENANCE
B–63664EN/02
1. METHOD OF REPLACING BATTERY
811
When the battery voltage falls, APC alarms 306 to 308 are displayed on
the screen. When APC alarm 307 is displayed, replace the battery as soon
as possible. In general, the battery should be replaced within one or two
weeks of the alarm first appearing. This, however, depends on the number
of pulse coders being used.
If the battery voltage drops any further, the current positions for the pulse
coders will be lost. Turning on the power to the control unit in this state.
(1)APC alarm 306 (battery zero alarm) and APC alarm 300 (reference
position return request alarm) occur. Return the tool to the reference
position after replacing the battery.
(2)The battery for the built–in absolute pulse coder is connected with the
servo amplifier.
(3)Note that the attachment methods of the battery and ordering
specifications of battery are different from SERVO AMPLIFIER
a

i
series (SVM) to SERVO AMPLIFIER
b
series.
The battery unit for the absolute pulse coder can be connected using
[Connection scheme 1] and [Connection scheme 2] explained below.
Refer to Subsection 9.3.2.6, "Battery" in "FANUC SERVO AMPLIFIER
a
i

series Descriptions (B–63282EN)" for details.
PSM
CXA2A
Battery case
A06B–6050–K060
Battery
A06B–6050–K061
Connector
A06B–6110–K211
–
If a low battery voltage or a battery voltage of 0 V is indicated by an
APC (absolute pulse coder) alarm, replace the battery.
If a battery voltage of 0 V is indicated, you need to make a zero point
return.
–
The absolute pulse coder of the ai series servo motor is incorporated
with a backup capacitor as standard. This backup capacitor enables an
absolute position detection to be continued for about 10 minutes.
Therefore, no zero point return need be performed if the time during
which servo amplifier power is kept off for battery replacement is
within 10 minutes.
–
When the replacing of the battery takes more than 10 minutes, replace
the battery after see Item [Caution No.1 for battery replacement].
1.5
BATTERY FOR
BUILT–IN ABSOLUTE
PULSE CODERS
(6 VDC)
1.5.1
Method of Replacing
Battery for Servo
[Connection scheme 1]
Supplying power from
one battery unit to more
than one SVM