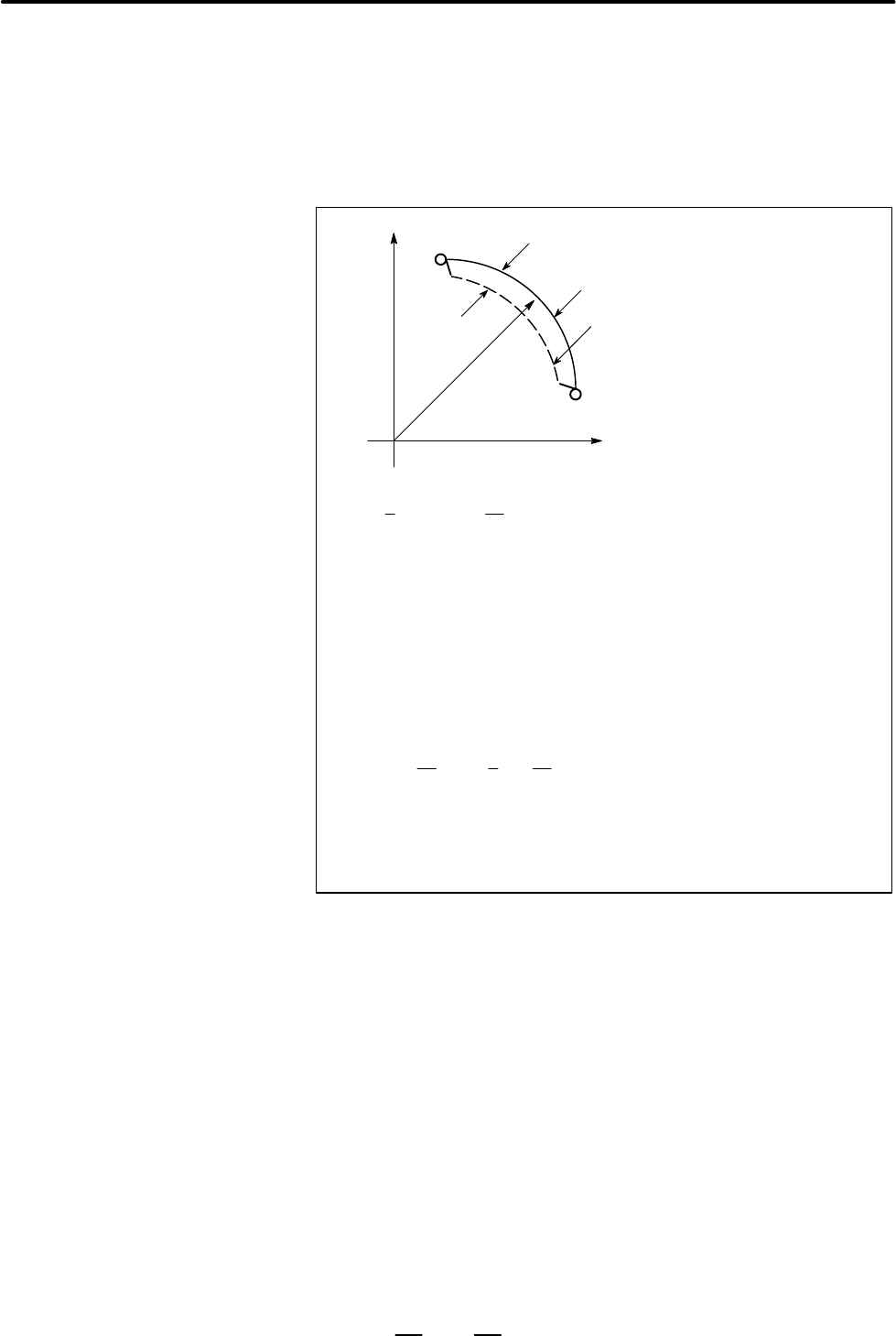 APPENDIX
B–63664EN/02
D. NOMOGRAPHS
839
When a servo motor is used, the positioning system causes an error
between input commands and output results. Since the beam advances
along the specified segment, an error is not produced in linear
interpolation. In circular interpolation, however, radial errors may be
produced, sepecially for circular cutting at high speeds.
This error can be obtained as follows:
1
2
1
2
2
2
)
V
2
r
Y
X
Command path
Actual path
D
r

:

Maximum radius error (mm)
T
1
:
Exponential acceleration/deceleration time constant (sec) at cuttin
(T=0)
T
2
:
Time constant of positoning system (sec).
(Inverse of positon loop gain)
r
In the case of bell–shaped acceleration/deceleration and linear accelera-
tion/deceleration after cutting feed interpolation, an approximation of this
radius error can be obtained with the following expression:
Thus, the radius error in the case of bell–shaped acceleration/deceleration
and linear acceleration/deceleration after interpolation is smaller than in
case of exponential acceleration/deceleration by a factor of 12, excluding
any error caused by a servo loop time constant.
1
24
T
1
2
)
1
2
T
2
2
)
V
2
r
Since the machining radius r (mm) and allowable error
∆

r (mm) of the
workpiece is given in actual machining, the allowable limit feedrate
(mm/sec) is determined by equation (1).
Since the acceleration/deceleration time constant at cutting which is set
by this equipment varies with the machine tool, refer to the manual issued
by the machine tool builder.
D.2
RADIUS DIRECTION
ERROR AT CIRCLE
CUTTING