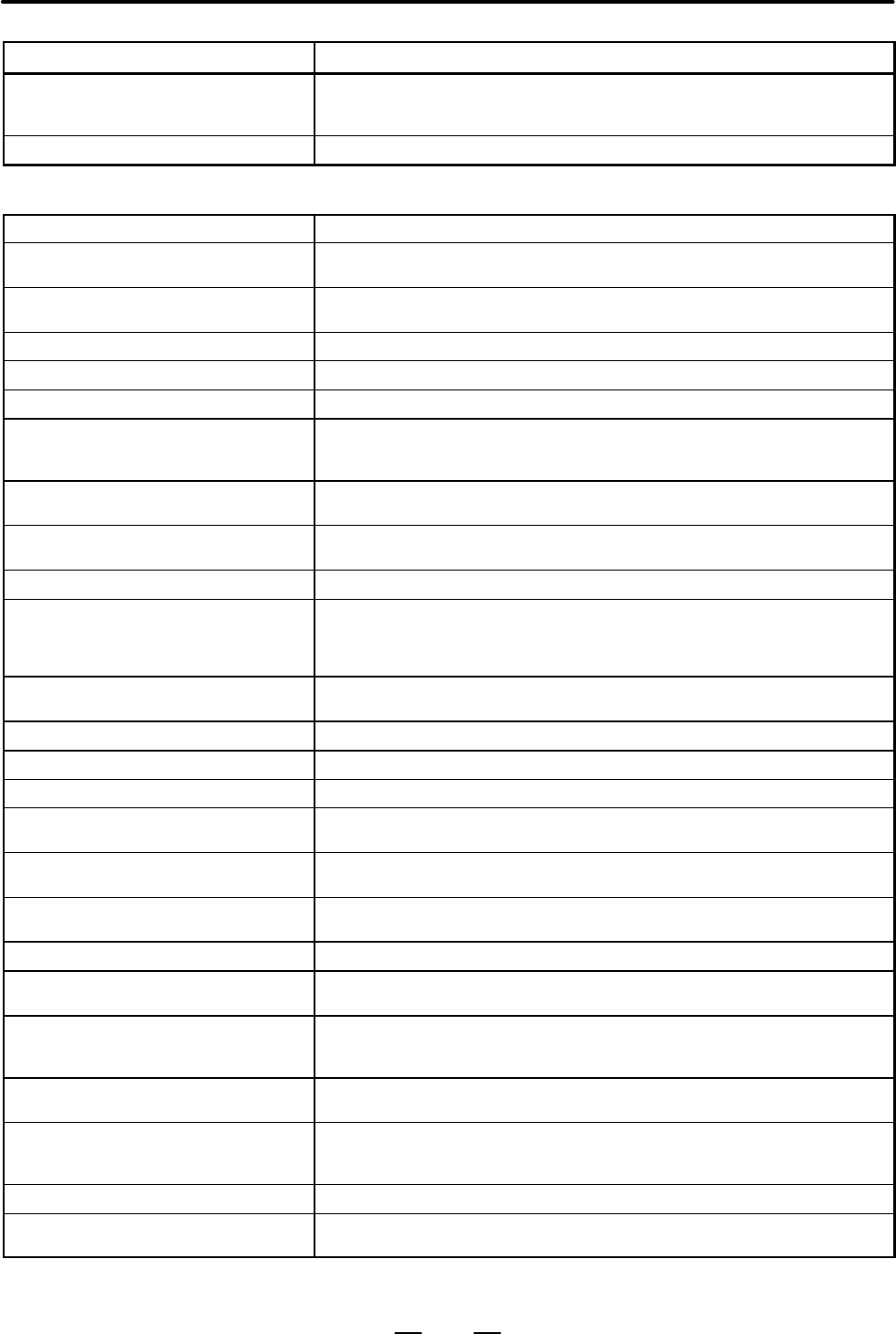 APPENDIX
B–63664EN/02
H. GLOSSARY
865
Block restart
Resuming automatic operation from the start, or an intermediate point, of a block
if automatic operation has been interrupted in that block due, for example, to tool
breakage.
Buffering
Standby state set up before a command is executed.
[C]
C–axis control
Controlling a tool angle using a C command.
C–axis synchronous control
Using two motors to synchronously control the punch and die of a tool under
C–axis control.
Calling a subprogram stored in external
memory
Calling and executing a subprogram from an external input/output device such
as a floppy cassette or program File Mate during memory operation.
Canned cycle
Set of predefined sequences prepared for boring, drilling, and/or tapping.
Chamfering
Obliquely cutting an inner or outer corner of a workpiece.
Changing workpiece coordinate system
Relocating the origin of a workpiece coordinate system.
Chopping function
Grinding the side surface of a workpiece by executing a contour program for an
axis other than the grinding axis while constantly moving the grinding axis back
and forth.
Chuck and tail stock barrier
Checking for interference between the chuck, tail stock, and tool to prevent dam-
age to the machine.
Circle cutting function
Simplified machining method for producing a true circle by moving a tool along
the circumference of a target circle from the center of the circle.
Circular interpolation
Obtaining a path necessary to move the tool along an arc in a specified plane.
Circular threading
Combination of two–axis circular interpolation and linear interpolation for up to
two axes, one of which is the major axis in circular interpolation while the other
is any axis. Circular threading can be used for constant–pitch threading, groov-
ing, and tool grinding on a barrel–shaped surface.
Clamp of maximum spindle speed
Specifying a rotation speed per minute as the maximum spindle speed during
constant surface speed control.
Cleared state
Initially specified device state.
Command format
Array of program component enabling direct manipulation of the CNC.
Comment section
Information such as comments and directions output to the operator.
Common variable
Macro variable that can be used by two or more different custom macro pro-
grams.
Compensating backlash along C–axis for
each tool group
Compensating the position of tools that can be controlled using the C–axis for
C–axis backlash.
Compensating position of C–axis
Correcting mechanical error when a tool that can be controlled using the C–axis
is mounted.
Compensation function
Generic term applied to tool path, backlash, and pitch error compensation.
Composite control (Two– path control
function)
Two–path control in which a move command for an axis in one of the paths is
exchanged with a move command for an axis in the other path.
Conical interpolation
Obtaining a conical path by adding a one–axis movement command to a spiral
interpolation command to specify an increment/decrement per spiral turn for the
added axis.
Constant surface speed control
Controlling the spindle speed during turning so that the cutting feedrate remains
constant despite changes in the target radius.
Continuous threading
Threading in which threading command blocks are specified continuously so
that spindle synchronization is not lost between blocks. This method is useful
for producing special threads such as one for which the lead changes midway.
Controlled axis
Axis controlled by the CNC or PMC.
Conversational automatic programming
function
Programming by entering data in response to figures and guidance displayed on
the screen,