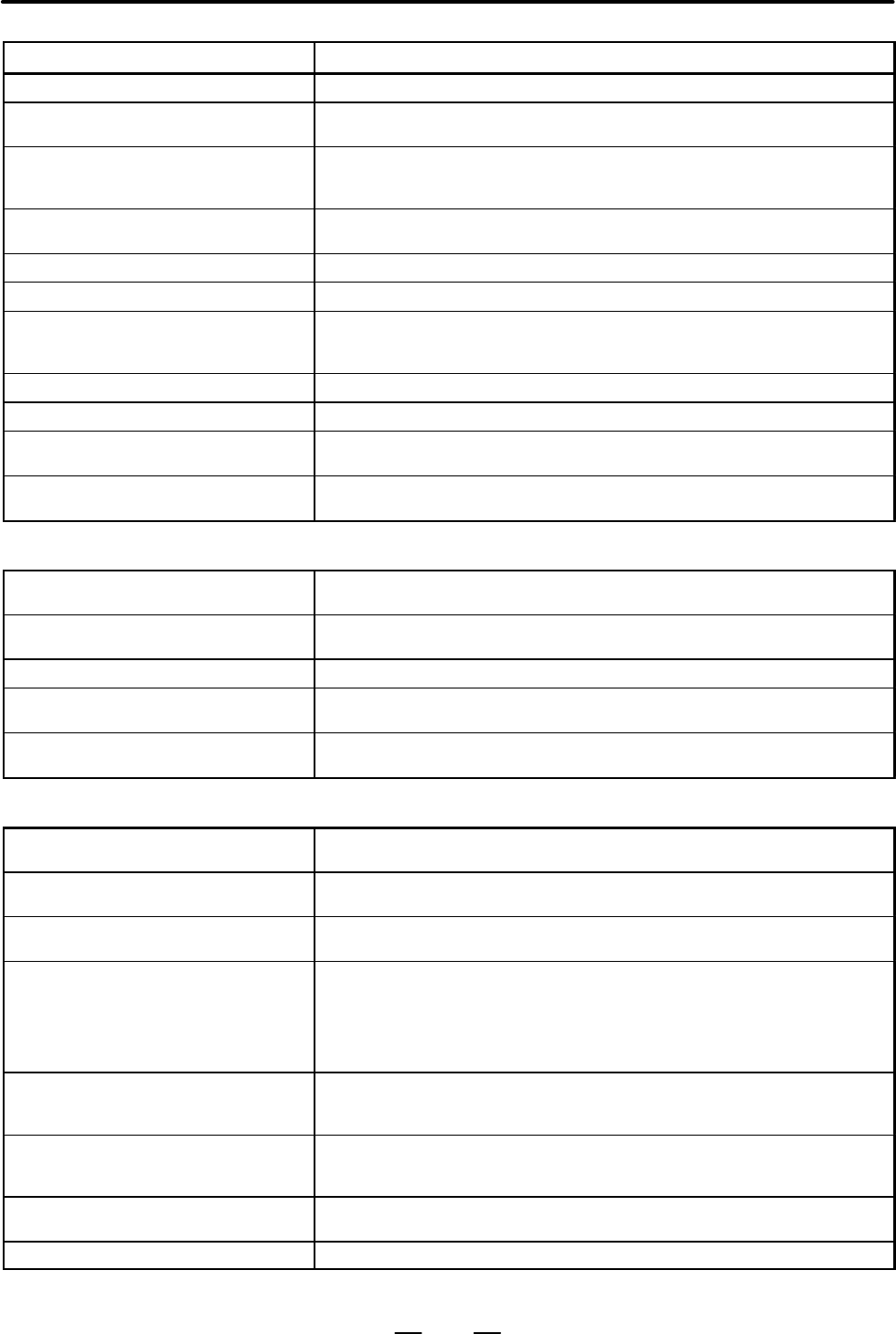 B–63664EN/02
868
Feed per minute
Cutting feed in which the distance the tool is to advance is specified per minute.
Feed per revolution
Cutting feed in which the distance the tool is to advance is specified per spindle
rotation.
Feedrate clamp based on arc radius
Automatically clamping a circular cutting feedrate so that an arc radius error due
to post–interpolation acceleration/deceleration and servo delay does not exceed
an allowable error.
Figure copy
Repetitive machining performed by rotating a figure specified by a subprogram,
or shifting it in parallel.
File
Named set that is stored or processed as a single unit.
File heading
Specifying a file that is to be manipulated (for example, to be input to the CNC).
Floating reference position return
Returning a tool to a floating reference position. The floating reference position
serves as a reference position for a specified mechanical operation. It is not nec-
essarily a fixed position. It may be relocated.
Forbidden area
Area where a tool is forbidden to enter.
Format guidance
Displaying program creation guidance in a specified format on the screen.
Function for switching between diameter
and radius programming
Preparatory function for switching between diameter and radius specifications.
Function key
Key on the MDI keyboard used to select a screen to be displayed on the CNC
display unit. Function keys are classified by function.
[G]
G code
Code that represents a preparatory instruction. A number that allows the G
address.
G function
Command that determines a machine and/or CNC function mode, such as inter-
polation type , canned cycle, threading, and coordinate system selection.
Geometric offset value
That part of a tool offset value which compensates for the geometry of the tool.
Graphic function
Drawing the trajectory of a tool, being driven by the current machining program,
on the CNC screen.
Group number
Common number assigned to G codes having similar functions. For example,
group number 00 is assigned to one–shot G codes such as G04, G05 and G45.
[H]
H code
Coded number, following the H address, that specifies a tool offset number in a
machining center.
Helical interpolation
Obtaining a path for moving the tool along a spiral by feeding another axis in syn-
chronization with circular interpolation.
Help function
Displaying detail information relating to alarm detected by the CNC, or operating
instructions for the CNC, on the screen.
High precision contour control
The following functions, executed at high speed to eliminate machining error due
to post–interpolation acceleration/deceleration. (1) Pre–interpolation error– free
acceleration/deceleration based on multiple blocks read in advance. (2) Smooth
acceleration/deceleration in which changes in shape and speed are accommo-
dated and the allowable acceleration of the machine is observed by reading mul-
tiple blocks in advance.
High–speed cycle cutting
Converting a figure to be machined to a group of data items that can be distrib-
uted as high–speed pulses, saving the conversion results to memory, and
executing the CNC command to call the data group in a machining cycle.
High–speed machining function
Executing preprocessing for a machining program before actual machining, sav-
ing the preprocessing results into memory, and performing actual machining
based on the preprocessing results retrieved from memory.
High–speed remote buffer
Enabling the supply of a large amount of data to the CNC both at high speed and
continuously via a serial interface.
High–speed remote buffer A
High–speed remote buffer for supplying movement data in binary.