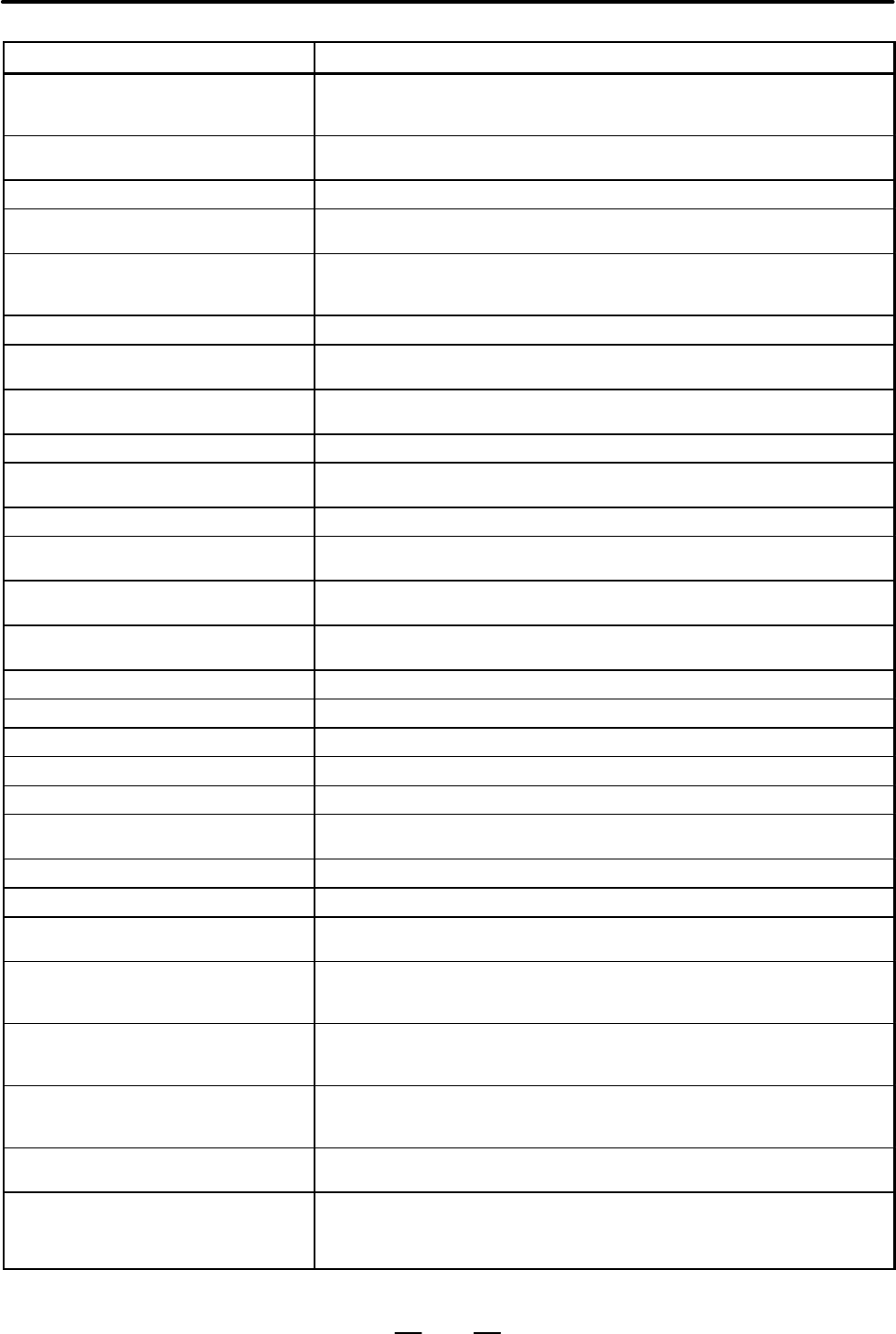 APPENDIX
B–63664EN/02
H. GLOSSARY
871
Macro compiler/macro executer
Programs used to convert a custom macro source to an executable form (macro
compiler), save the conversion results into ROM, and execute them (macro exe-
cuter).
Macro statement
Block containing a calculation command, control command, or macro call com-
mand.
Macro variable
Variable used in a custom macro program.
Main program
Set of instructions that form the main part of a program. This term is used in con-
trast to the term subprogram.
Manual absolute on and off
Manual intervention for selecting whether to add the amount of movement
caused by manual operation to the coordinates (current position in a workpiece
coordinate system) handled by the CNC.
Manual feed in specified direction
Feeding a controlled axis manually in any specified direction.
Manual handle feed
Feeding a specified controlled axis by rotating the handle to generate command
pulses.
Manual handle interruption
Manual handle feed performed during automatic operation, in such a way that
the manual–feed amount is added to the automatic–feed amount.
Manual intervention
Pausing automatic operation and starting manual operation.
Manual numeric command
Feeding a controlled axis in jog mode by executing the data specified in program
form.
Manual operation
Feeding a controlled axis manually.
Manual per revolution feed
Jog feed in which the feedrate is obtained by multiplying the feedrate per rotation,
set in the CNC, by the spindle speed. Used to override the jog feedrate.
Manual pressing
Manual control in which the operator presses a button on the machine operator's
panel to start punching.
Manual pulse generator
Unit that converts rotation to pulse train when its handle is rotated manually.
Used for manual handle speed.
Manual rapid traverse
Feeding a controlled axis at the rapid traverse rate in jog mode.
Manual reference position return
Manual feeding a specified controlled axis to a reference position.
Master axis
Axis for which move commands can be specified during synchronous operation.
Maximum Stroke
Maximum range of movement that can be controlled by the CNC or PMC.
MDI mode
Mode in which MDI operation is possible.
MDI operation
Automatic operation based on a program input to the CNC from the MDI key-
board. The program is erased upon the completion of MDI operation.
Memory mode
Mode in which memory operation can be performed.
Memory operation
Automatic operation based on a program previously stored into CNC memory.
Menu switch
Use of the CRT/MDI, LCD/MDI or PDP/MDI panel to emulate some switches on
the machine operator's panel.
Mirror images
Inverting an incremental value for a programmed dimension word along a speci-
fied coordinate axis from positive to negative, or vice versa, with respect to a spe-
cified reference point.
Miscellaneous function Auxiliary function
Specifying start or stop of the spindle, or the end of a program. Spindle and tool
functions may sometimes be included, in which case the term auxiliary function
is used.
Modal call
Calling a custom macro program (once an instruction to call it is specified) each
time a block having an axis movement command is executed. The calling is
repeated until the call instruction is canceled.
Modal G code
G code which, once issued, remains valid until another G code in the same group
is issued.
Mode
Holding a specified function in the CNC. For example, once a cutter compensa-
tion preparatory function is issued, the CNC stays in the state in which cutter
compensation is possible until a cutter compensation cancel preparatory func-
tion is issued (cutter compensation mode).