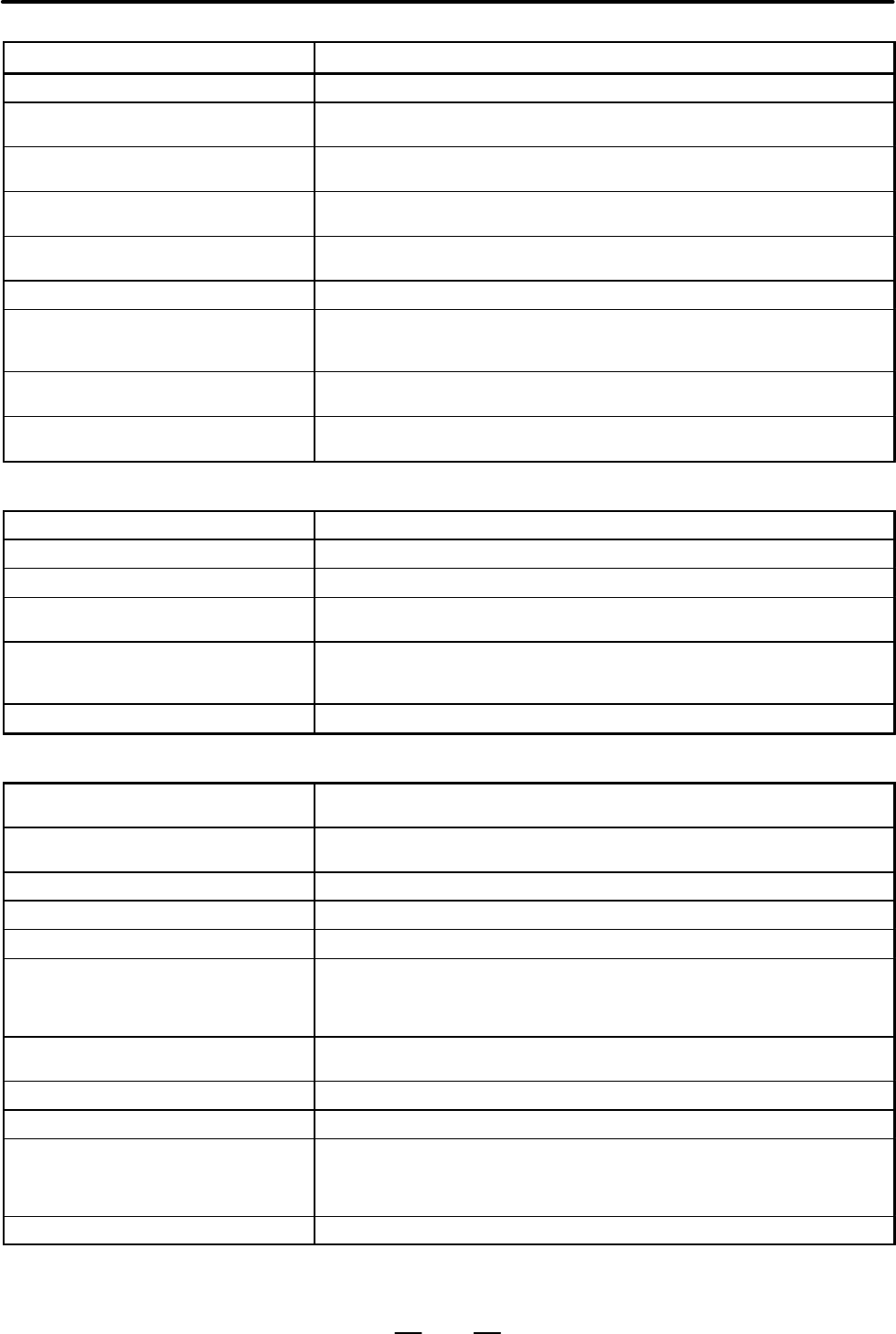 B–63664EN/02
872
Mode selection
Selecting an operation mode.
Move command calling
Calling a specific custom program from a block containing a move command,
after the move command has been executed.
Multi–edit function
Displaying two programs side–by–side so that they can be edited simulta-
neously.
Multi–piece machining function
Using simplified commands to punch out two or more products of the same
shape from a workpiece.
Multibuffer
Preventing interpolation from being stopped between blocks by buffering multi-
ple blocks.
Multiple M commands in a single block
Enabling the issue of more than one M code in a single block.
Multiple repetitive cycle
Canned cycle that is repeated until a program–specified target figure is attained.
By means of this method, the specification of only a final figure, for example,
enables the automatic determination of intermediate tool paths.
Multiple subscreens
Displaying information about the current position and a program being executed
on a subscreen (window placed on the main screen).
Multiple tool control
Automatically indexing tools in a multiple–tool unit, which consists of two or more
different tools in a single tool holder.
[N]
NC statement
Non–macro statement block that directly controls the CNC.
Nibbling
Punching performed by running the press continuously and repetitively.
Nonlinear interpolation type positioning
Positioning individual axes independently.
Normal direction control
Controlling a rotary axis so that the tool is oriented in a direction normal to that
of its forward motion.
Normal operation
Operation in which the movements of the master and slave axes are specified
using separate axis addresses. This is equivalent to normal CNC operation and
is used to machine workpieces on different tables independently.
Number of registerable programs
Number of programs that can be saved to CNC memory.
[O]
Offset
Deviation from a true tool path or coordinate system origin to compensate for tool
size. Synonymous with "compensation".
Offset memory
CNC memory used for storing tool offset values, workpiece origin offset values,
and external workpiece origin offset values.
Offset mode
CNC state in which tool path offset is allowed.
Offset plane
Plane in which tool path offset is active.
Offset space
Space in which tool path offset is allowed.
Offset vector
Vector whose direction and size are the same as those of a specified tool offset.
As the tool advances, the vector direction is rewritten for individual blocks
according to calculations within the CNC so that it is always held normal to the
tool path.
One–digit F code feed
Cutting feed in which the tool is fed at the feedrate set in the CNC, and which cor-
responds to the digit (from 1 to 9) immediately after the F address.
One–shot G code
G code that remains valid only within the block in which it is listed ( such as G31).
Operating monitor display
Display of the servo axis load meter, spindle load meter, and speed meter.
Operation in the tape mode
Automatic operation based on a program loaded into the CNC via an interface.
In this operation, the program to be loaded can be specified, and the CNC can
be operated based on the specified execution sequence and specified execu-
tion count.
Operation mode
Mode in which automatic or manual operation is possible.