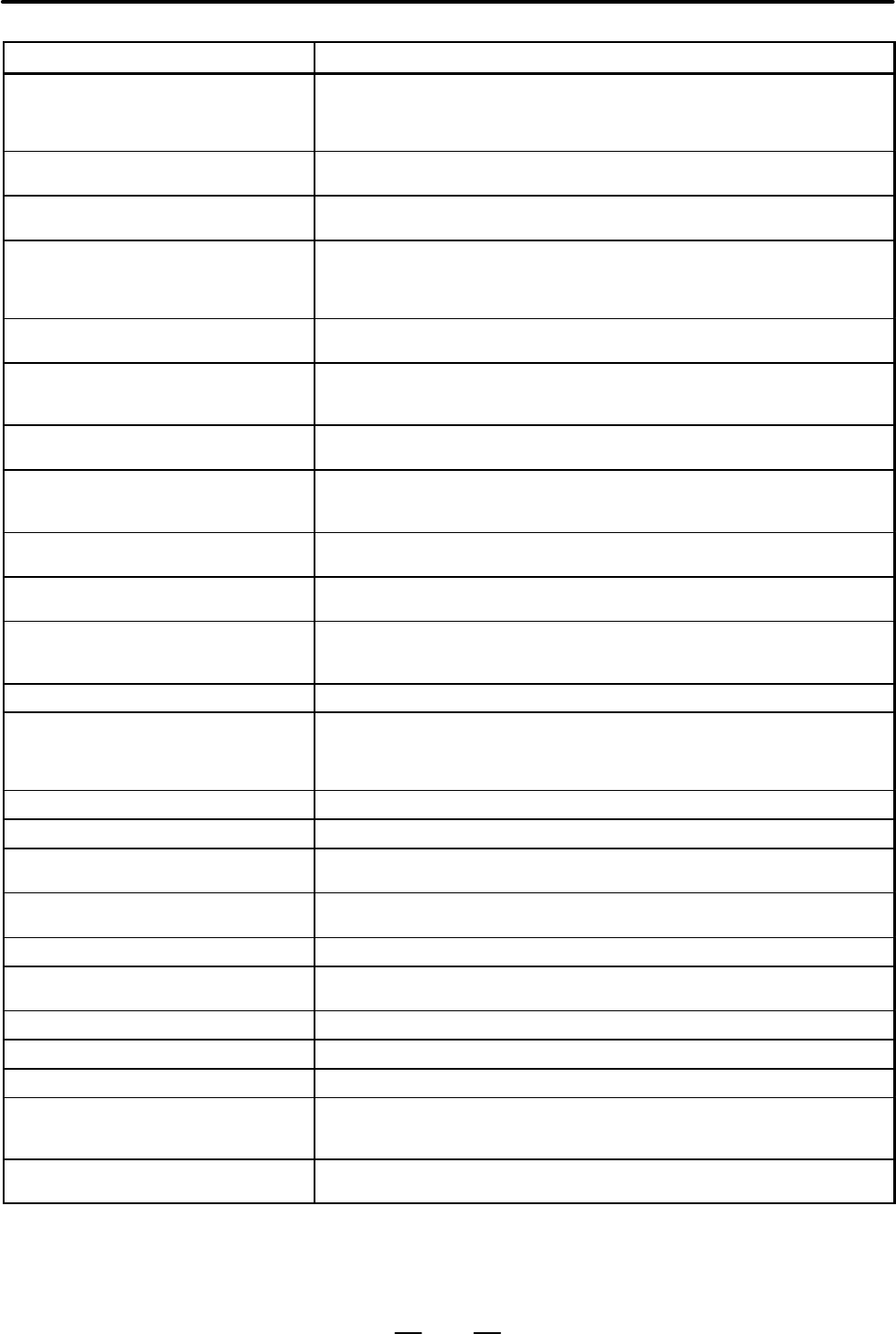 B–63664EN/02
874
PMC
Sequence controller configured in the CNC and used to execute ladder program.
The term PMC stands for programmable machine controller. The PMC is placed
between the CNC and machine to control the input/output of signals between
them.
Pocket calculator type decimal point pro-
gramming
Decimal number input in which the values are input in units of mm, inches, or
degrees.
Polar coordinate command
Program command that specifies the end point of tool movement in a polar coor-
dinate system (using a radius and angle).
Polar coordinate interpolation
Interpolation performed by converting a command programmed in an orthogonal
coordinate system into a combination of a linear axis movement (tool movement)
and rotary axis movement (workpiece rotation). This is used, for example, when
grinding a cam shaft.
Polygon turning
Machining a polygon by changing the rotation ratio between the workpiece and
tool, and the number of cutters used.
Position coder
Device, connected to the spindle by means of a belt, that detects and outputs the
rotation angle of the spindle as a pulse train. It is used to detect the tool exchange
position and to perform threading.
Positioning
Feeding a tool to the target position at a traverse feedrate previously specified
in the CNC.
Power output command
Command for specifying the peak power when outputting a laser. The peak pow-
er is specified with the value immediately after the S address in the block which
contains G01 (G02, G03, or G24).
Preparatory function
Command that determines a machine and/or CNC function mode, such as inter-
polation type, canned cycle, threading, and coordinate selection.
Press start lock
Preventing a press from starting. The press is prevented from starting by input-
ting a press start lock signal to the CNC.
Press start waiting
Deferring the start of a press according to the machine conditions. The press is
prevented from starting until a press start waiting signal applied from the machine
is released.
Pressing (Punch)
Using a punch press to punch out a product from a workpiece or mold a product.
Program
In the CNC operator's manual, a sequence of instructions created using a lan-
guage and format enabling direct manipulation of the CNC. In many cases, other
types of programs are identified using qualifiers, as in "conversational pro-
grams."
Program encryption
Protecting programmed information by mean of encryption.
Program end
Miscellaneous function indicating the end of a main program.
Program number
Number following the O address that is added to the beginning of a program to
discriminate it from others.
Program number search
Searching through programs for one identified by a specified number, and calling
that program once located.
Program restart
Resuming automatic operation from an intermediate block of the program.
Program section
The part of a program between a program number and an end–of–program
code.
Program start
Symbol signifying the start of a program.
Program stop
Miscellaneous function for temporarily stopping program execution.
Programmable mirror image
The ability, in the part program, to command mirror image of axes(is).
Programmable parameter input
Enabling a program to change parameter values. This function is used to set
pitch error compensation data, or change the maximum cutting feedrate or cut-
ting constants according to the machining condition.
Programmable rapid traverse override
Overriding a rapid traverse rate during automatic operation by specifying the F
address followed by a number from 1 to 4 that corresponds to the override ratio.