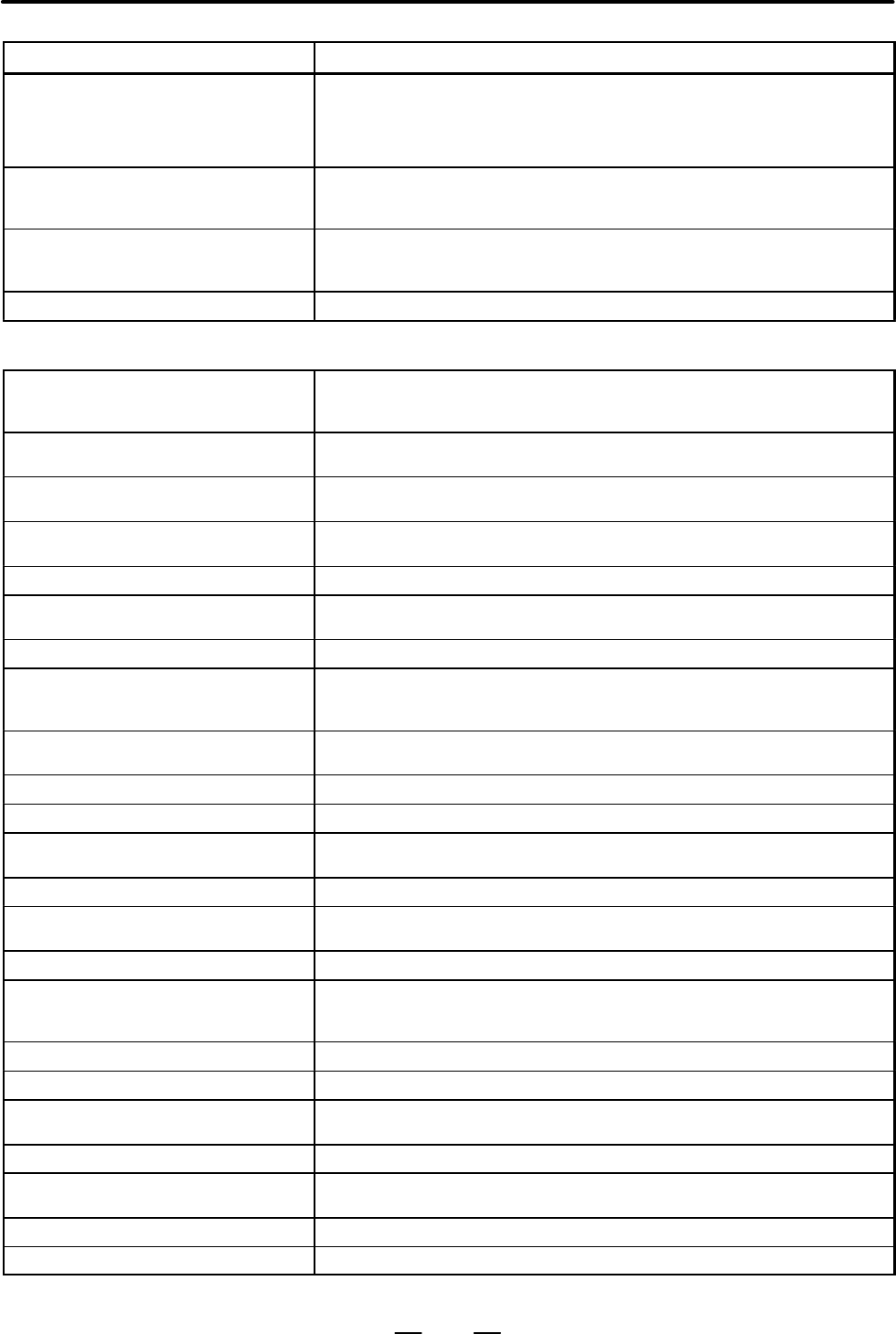 APPENDIX
B–63664EN/02
H. GLOSSARY
875
Programmed path
Tool path drawn using a specific point on a cutting tool when compensation has
not been applied for that tool. In a program, a programmed tool path and com-
pensation (such as tool length compensation or cutter compensation) are speci-
fied independently. The CNC determines the actual tool path by correcting the
programmed path according to a compensation command.
Pulse distribution
Converting the amount of movement specified for each axis to a number of
pulses, according to a command issued for a tool path, and distributing the
pulses to each controlled axis.
Pulse frequency override
Manual control in which the operator can temporarily change the laser pulse fre-
quency during operation, to vary the laser output power. This function is used to
create the same figure with different materials or stock thicknesses.
Punch forbidden area
Disabling punch commands (if any) in a safety zone.
[R]
R Plane
Return position level in a hole axial direction, set up in the immediate vicinity of
a workpiece, in order to quicken hole machining operations when a canned cycle
is used repeatedly to machine holes.
Radius programming
Programming for turning in which the amount of movement along the X–axis (or
coordinates) is represented using radiuses.
Rapid traverse
Feeding the tool at a speed (rapid traverse rate) specified in the CNC when a
positioning command is issued.
Rapid traverse override
Manual control in which the operator can change the rapid traverse rate during
machining.
Reader/puncher interface
Interface between an input/output device and the CNC.
Reference position
Specific position on the machine along an axis, relative to the origin of a machine
coordinate system.
Reference position return
Moving a specified axis to the reference position.
Reference position return check
Checking that the tool has been successfully returned to the reference position.
This check is used by a program that is designed to return a tool to the reference
position.
Relative coordinate system
Coordinate system established in reference to the coordinates set by the opera-
tor using the CNC.
Repeat search
Searching for an address or word again by using the repeat key.
Reset state
Initial state defined for a device.
Retrace function
Causing a tool to move back along a path which it previously traversed (reverse),
then retracing the same path again (re–forward).
Retract
Automatic operation in which the tool is retracted by a programmed amount.
Return point level
R Plane
Level to which a tool is retracted from the bottom of a hole being created during
the execution of a canned cycle. This is either the point R level or initial level.
Rewinding a program
Locating the beginning of a program.
Rigid tapping
High–precision tapping achieved by controlling spindle rotation and drill axis
feed as two–axis linear interpolation so that no tapping pitch error occurs at the
bottom of the hole during acceleration/deceleration.
Rotary axis
Axis (such as A, B, or C) that rotates about a linear axis in a machine.
Rotary axis roll–over function
Rounding off a rotary axis coordinate to within 360.
Rotary table dynamic fixture offset
Automatically calculating an offset from a rotation center when the rotary table
rotates, thereby defining a workpiece coordinate system.
Rotational copy
Repetitive machining performed by rotating a subprogram–specified shape.
Rotational handle feed around tool tip
Manually feeding a tool using a handle in such a way that, when the tool direction
is changed, the tool tip is held in the same position.
RS–232–C
EIA standard specifying a binary serial data interface for input/output devices.
RS–422
EIA standard specifying a binary serial data interface for input/output devices.