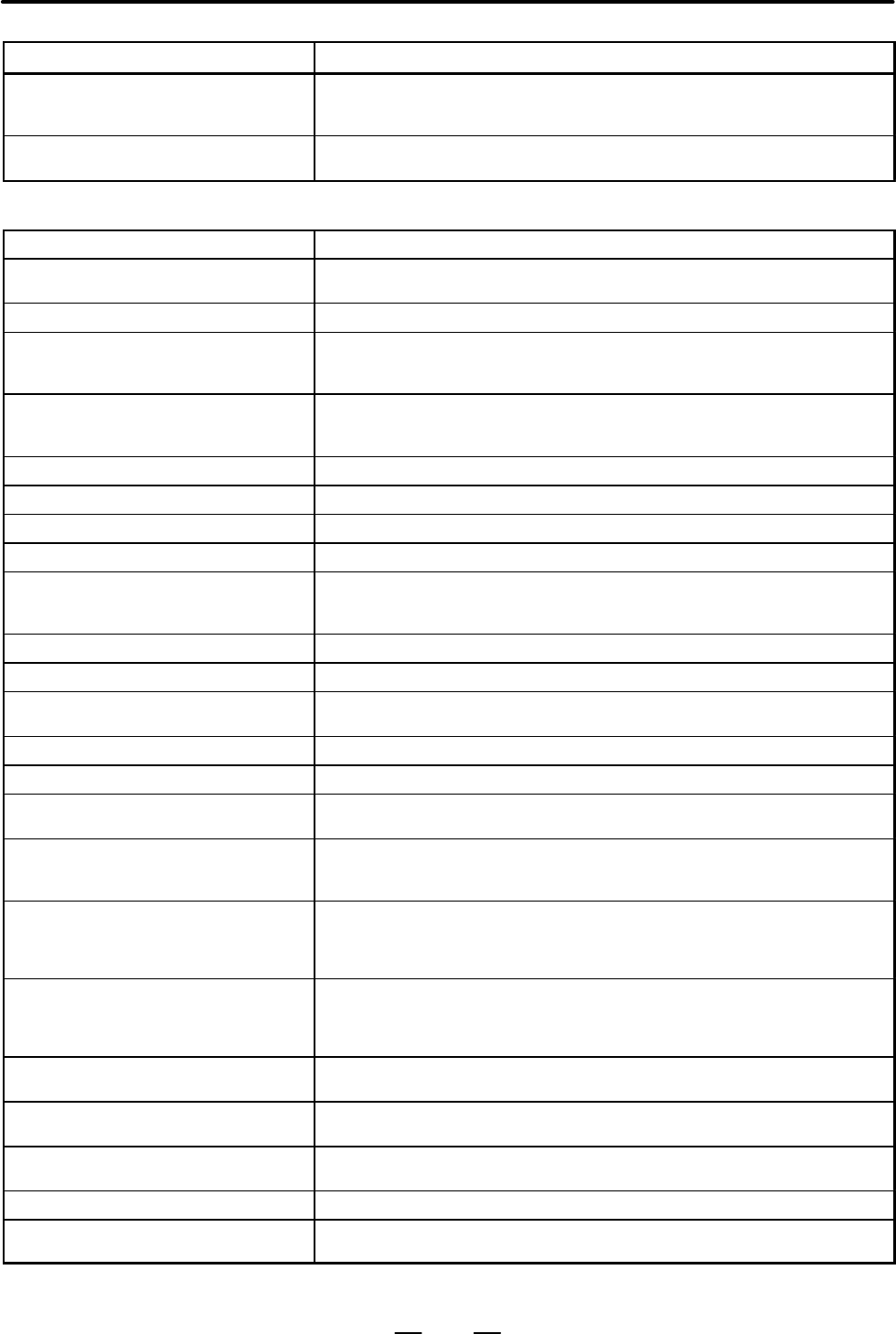 B–63664EN/02
878
Synchronous operation
Operation in which an axis is controlled using a move command for another axis
so that both axes are synchronized. This is used to machine extremely large
workpieces that extend over two tables.
System variable
Macro variable used to read or write CNC data, such as a tool offset value and
current position.
[T]
T code
Coded number, following the T address, that specifies a tool function.
T command neglect
Ignoring T commands. This function is enabled by supplying an ignore T com-
mand signal to the CNC.
T function
Specifying a tool or data related to the specified tool.
T–axis control
In a turret punch press machine, causing the CNC to calculate the required
amount of movement relative to the current turret position and the turret position
corresponding to a T command, thereby indexing the turret.
Tandem control
Control in which two motors are used to drive a single axis. This is used to drive,
for example, a table that would be too large for a single motor to supply sufficient
torque.
Tangential speed constant control
Maintaining a constant feedrate tangential to the tool path.
Tape code
Information interchange code used for numerical control.
Tape end
Symbol indicating the end of a program file.
Tape start
Symbol indicating the beginning of a program file.
Tapping mode
?? mixture of continuous threading and
???
Operation mode in which the tool moves to the next block without being deceler-
ated at the end of the current block. Cutting feedrate override and feed hold are
disable in this operation mode.
TEACH IN HANDLE mode
TEACH–IN mode where the manual operation is manual handle feed.
TEACH IN JOG mode
TEACH–IN mode where the manual operation is jog feed.
TEACH IN mode
Mode used to store information about the position of a controlled axis, obtained
by manual operation, into the CNC memory for program creation.
Test operation
Confirming that a program operates as intended.
TH check
Checking whether the total number of 1 bits in a character is even or odd.
Thread cutting
Threading performed by feeding the tool at the cutting feedrate, per minute,
determined from spindle speeds that are read at constant intervals.
Three–dimensional coordinate conver-
sion
Three–dimensional coordinate conversion around a rotation center axis per-
formed by specifying the center of rotation, the direction of the rotation center
axis, and rotation angle.
Three–dimensional cutter compensation
Offsetting, by the tool radius, a tool (tool axis) that is oriented in an arbitrary direc-
tion in three–dimensional space by using a plane normal to the tool axis as a
compensation plane. Instances of three–dimensional cutter compensation
include tool side compensation and leading edge compensation.
Three–dimensional handle feed
Operation performed on a tool tilted around a rotary axis by using the manual
handle. Instances of three–dimensional handle feed include tool direction han-
dle feed, tool normal direction handle feed, and rotational handle feed around the
tool tip.
Three–dimensional rigid tapping
Rigid tapping performed using a tool (tool axis) that is oriented in an arbitrary
direction in three–dimensional space along the tool axis.
Three–dimensional tool compensation
Offsetting a tool path by the tool offset value in a three–dimensional direction spe-
cified in a program.
Tool direction handle feed
Manually feeding a tool tilted by the rotation of a rotary axis in a direction parallel
to the tool axis of that tool.
Tool function
Specifying a tool or data related to the specific tool.
Tool length compensation
Compensating for the difference in length between the tool assumed during pro-
gramming and the tool to be used for actual machining.