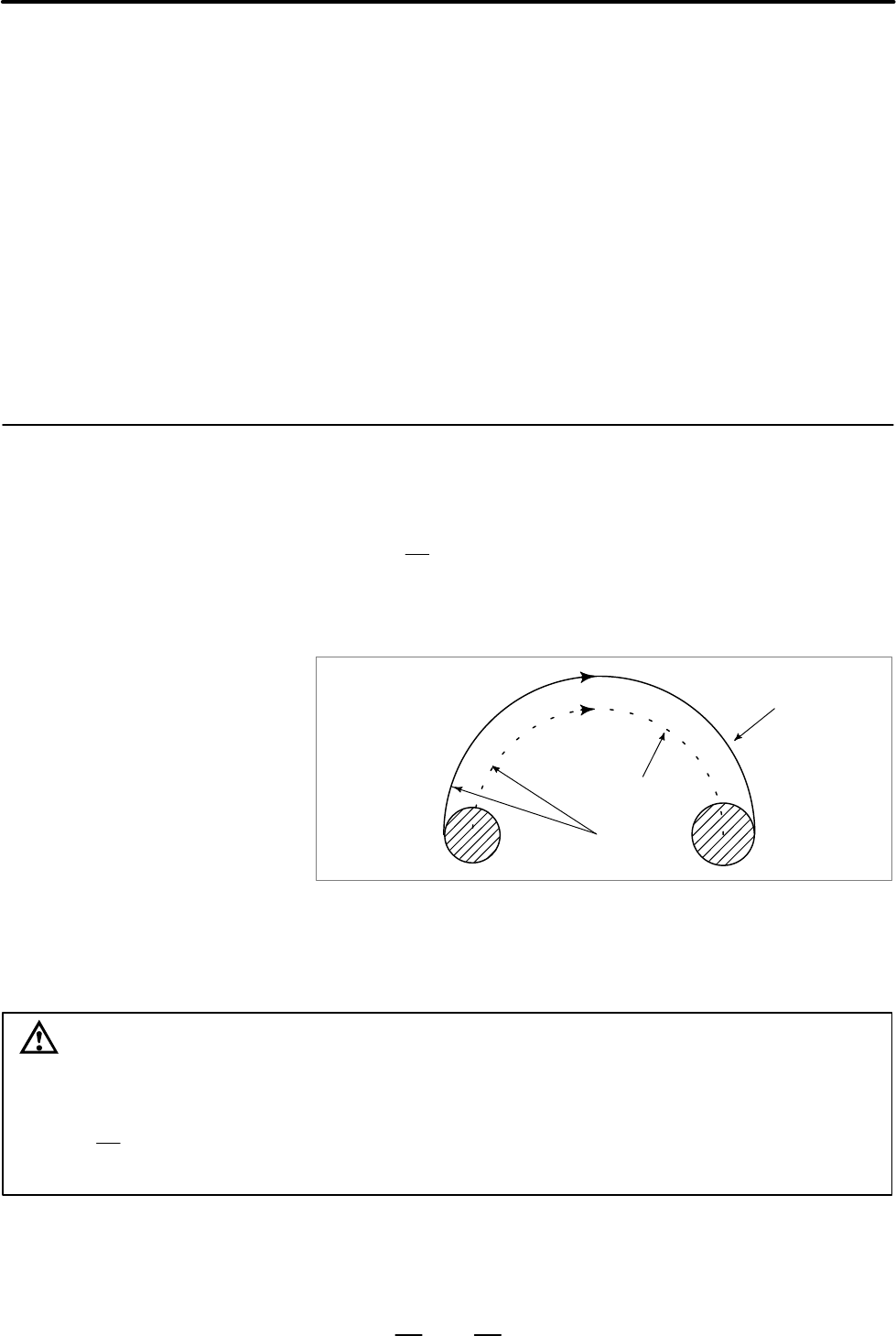 PROGRAMMING
5. FEED FUNCTIONS
B–63664EN/02
72
An override value is set with parameter No. 1712. An override value is
valid even for dry run and F1–digit specification.
In the feed per minute mode, the actual feedrate is as follows:
F
×
(automatic override for inner corners)
×
(feedrate override)
Override for inner corners is disabled during acceleration/deceleration
before interpolation.
Override for inner corners is disabled if the corner is preceded by a
start–up block or followed by a block including G41 or G42.
Override for inner corners is not performed if the offset is zero.
For internally offset circular cutting, the feedrate on a programmed path
is set to a specified feedrate (F) by specifying the circular cutting feedrate
with respect to F, as indicated below (Fig.5.4.2.2). This function is valid
in the cutter compensation mode, regardless of the G62 code.
Rc
Rp
Rc : Beam center path radius
Rp : Programmed radius
It is also valid for the dry run and the one–digit F command.
Rc
Rp
Programmed path
Beam center
path
Fig.5.4.2.2 Internal circular cutting feedrate change
If Rc is much smaller than Rp, Rc/Rp
8
0; the tool stops. A minimum
deceleration ratio (MDR) is to be specified with parameter No. 1710.
When Rc/Rp
x
MDR, the feedrate of the tool is (F
×

MDR).
CAUTION
When internal circular machining must be performed together with override for inner corners,
the feedrate of the nozzle is as follows:
(override for the inner corners)
Rc
Rp
Override value
Limitations
D
Acceleration/deceleratio
n before interpolation
5.4.2.2
Internal circular
machining feedrate
change