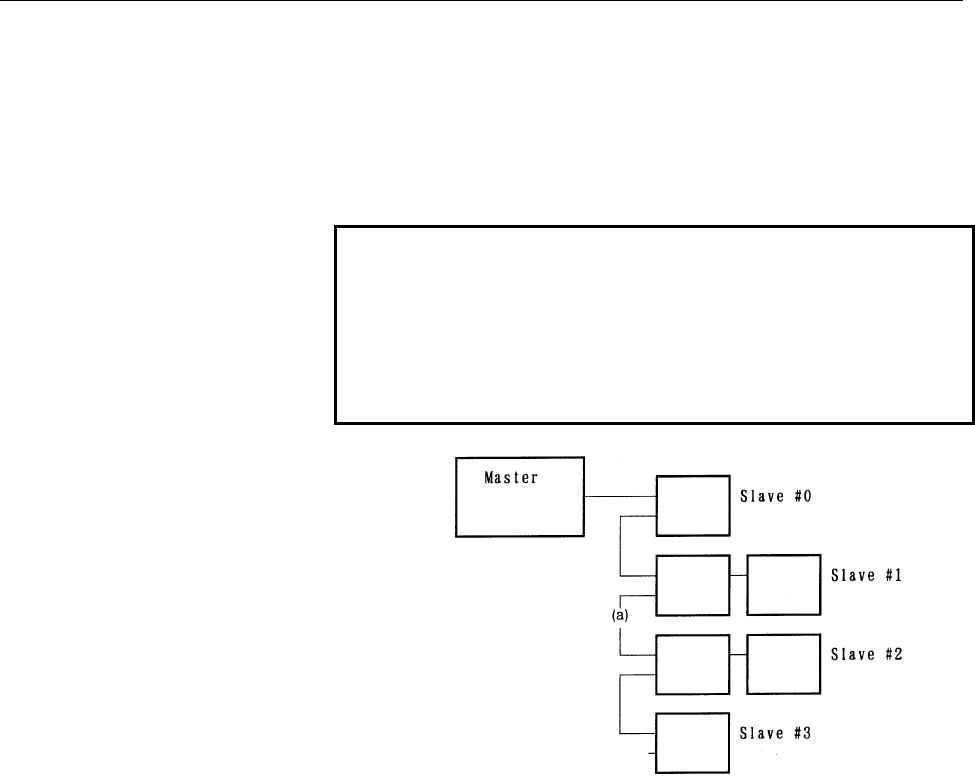 2. INDICATION
MAINTENANCE

B-61813E/03
T
Any device on the I/O Link is defective.
Þ
With reference to Note below, find a defective device,
and take an appropriateaction. If an I/O unit seems to
be defective, replace interface module AIF01Awith a
spare.
NOTE
How to pinpoint a failure in the I/O Link in event of
Check the LEDs on the master to find out which group
contains slaves whose I/OLink is established with the
master. (Refer to the maintenance manual for
themaster.)
For example, if the master is linked to slaves (slave #0
and #1) that belong to separate groups, the timing of
turning on slave #2 is bad, the cable is broken or short-
circuited at point (a), slave #2 is defective.
If the master is not linked to any slave, the master may
be defective.
3)
LINK is turned on once, then off.
Q
One of the devices on the I/O Link is turned off.
Þ
Turn off all devices, then turn them on.
R
The DI/DO assignment for the master is invalid.
Þ
When I/O unit bases 1 to 3 (units under control of
interface module AIF01B) are not connected, if DI/DO
units are assigned to these bases, LINK is turned on, but
turned off immediately.
Correct the DI/DO assignment.