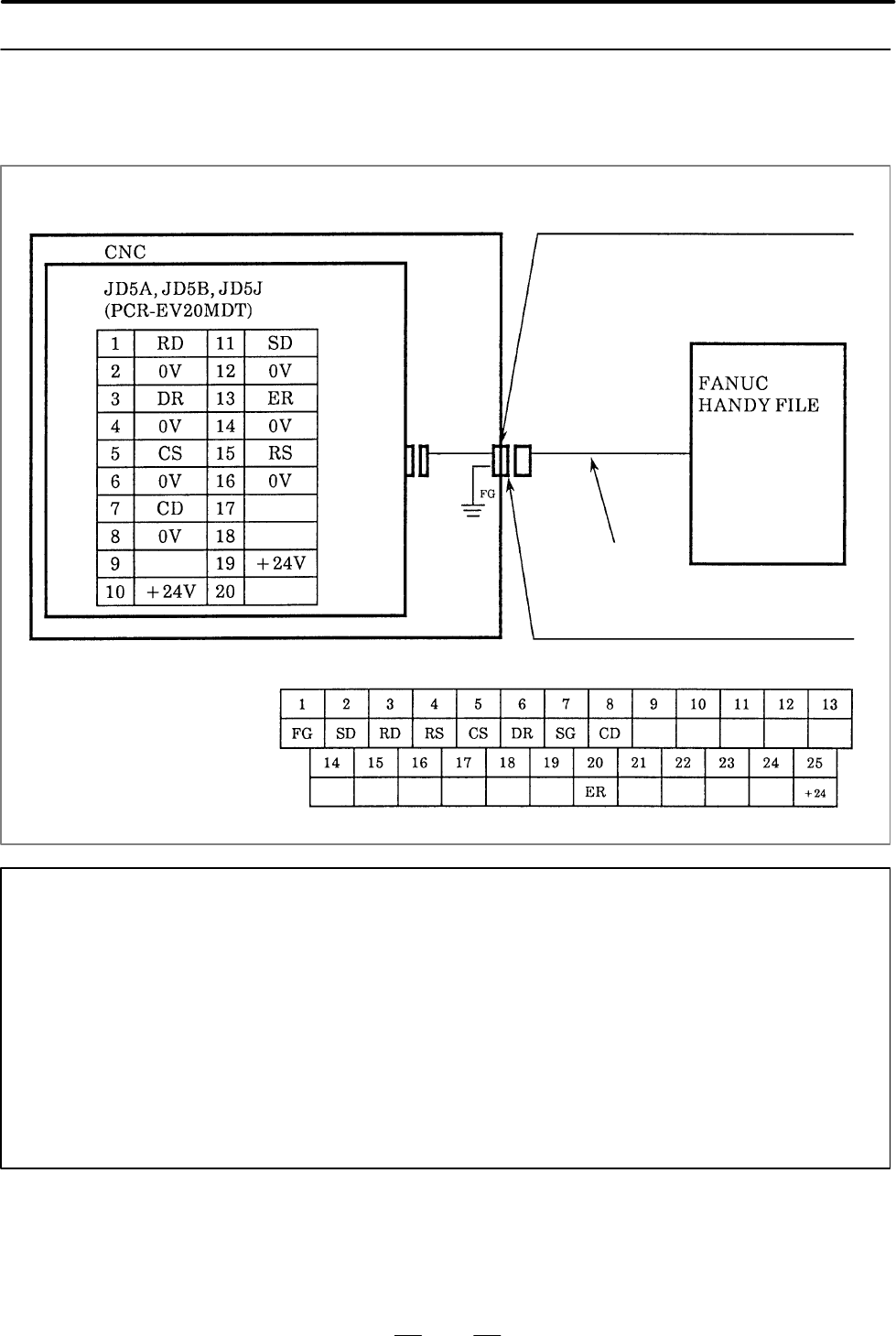 B–62073E/04
7. CONNECTION TO CNC PERIPHERALS
233
Cable side connector
Connector: DBM–25P (Japan Aviation
Electronic Inc., Ltd.)
Lock metal: DB–C2–J9 (Japan Aviation
Electronic Inc., Ltd.)
RELAYING CONNECTOR
SIGNAL LAYOUT
Relaying
cable
Relaying connector
Connector: DBM–25S (Japan Aviation
Electronic Inc., Ltd.)
Lock metal: D20418–J2 (Japan Aviation
Electronic Inc., Ltd.)
Accessory for cassette
NOTE
1
The machine tool builder must provide the relay connector and relay cable.
2
Use a totally shielded cable for the signal cable.
Ordering code of recommended cable: A66L–0001–0041
3
Open all terminals other than those illustrated.
4
Set the parameter enabling the reader/punch interface to be used when connecting a FANUC
Handy File. The standard baud rate is 4800 bauds.
5
Do not use a FANUC Cassette Adapter FANUC Handy File at the same time. If they are
connected to separate connectors, two of connectors JD5A, JD5B, and JD5J, the power
capacity may exceed that of +24 V. (When the power capacity exceeds that of +24 V, the
operation may become abnormal or the fuse for +24 V may blow.)
7.2.5
Connection with the
FANUC Handy File