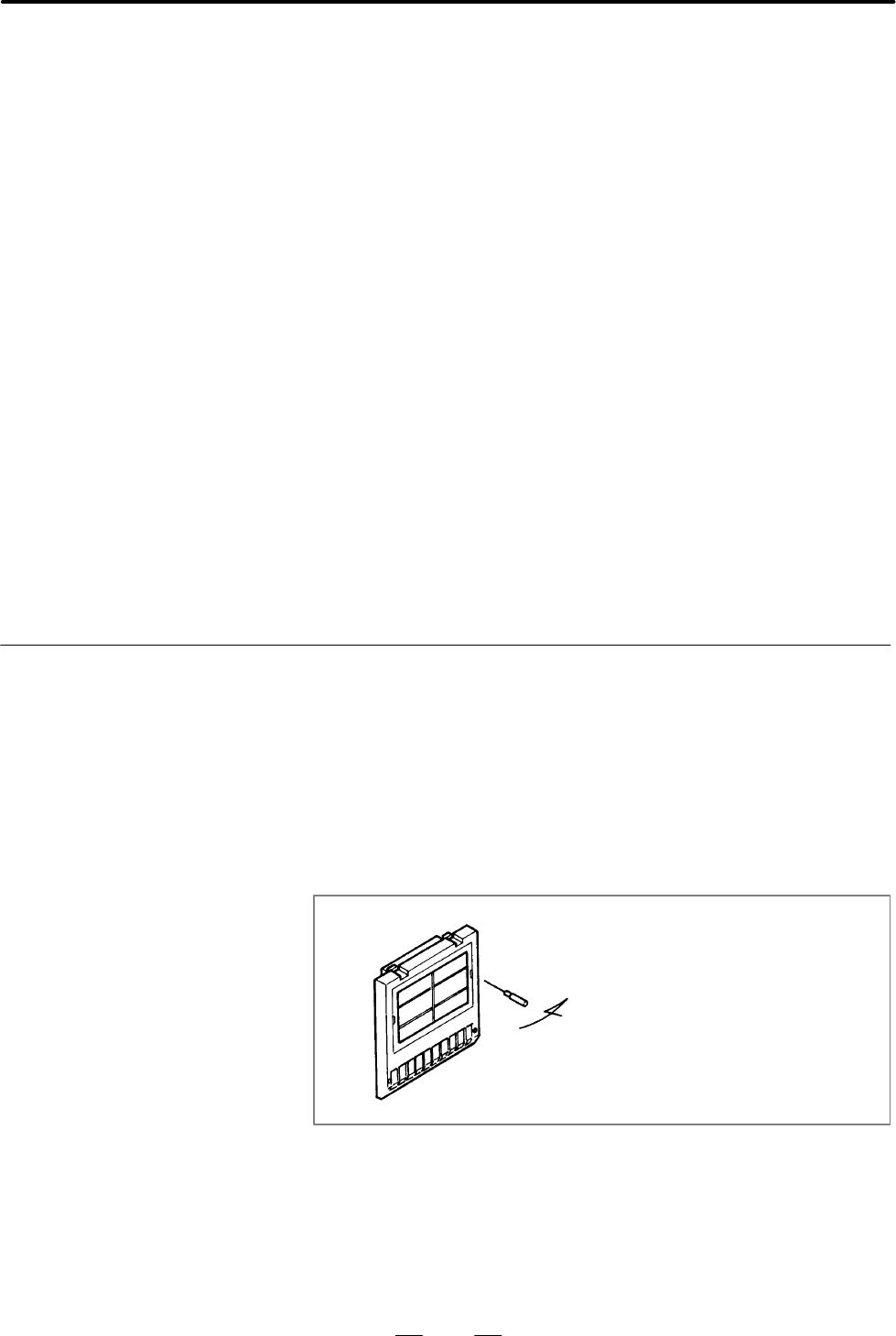 B–62073E/04
3. INSTALLATION
27
(a)
Take out the external fan unit from the heat exchanger main unit.
(Fig. 1)
Detach the external fan unit installation screws A (2 pieces), take
out the unit from the main unit by sliding it down, and detach the
earth cable and the power cable to the fan. Also detach the
installation screw B (1 piece).
(b)Install the heat exchanger main unit in the installation section
which has been panel cut. (Fig. 2)
When fastening down the heat exchanger main unit with the
screws, first, temporarily secure the panel and the heat exchanger
main unit with the installation screw B, which was taken out in 1).
After that, secure the main unit by the installation screws. In this
case, the external fan unit installation screw holes should be
aligned with the main unit screw holes. (Please provide the
installation screws for the heat exchanger main unit.)
Because this product is composed of plastic, set the value shown
below for the screw tightening torque.
Heat exchanger main unit (M4 screw):
11 kgf.cm
External fan unit (M3 screw):
5 kgf.cm
(c) Connect the power cable and the earth cable to the external fan unit
(the unit detached in section 1), and secure the installation screw
A to the main unit from the outside.
The installation is now complete.
It is necessary to regularly clean the heat pipe type heat exchanger,
because the cooling ability is reduced by the accumulation of dust. The
frequency of the cleaning needed differs according to the installation
environment and therefore should be determined by your own judgment
regarding the amount of dirt.
(1)Air filter cleaning and replacement method
(a)
When cleaning and replacing the filter, be sure to cut off the fan's
electric power source.
(b)Detach the filter cover and take out the filter inside.
Detach the cover by pressing the flanges
which are in the grooves of both sides to-
wards the inside using a flat blade screw-
driver, etc.
3.5.3.2
Maintenance