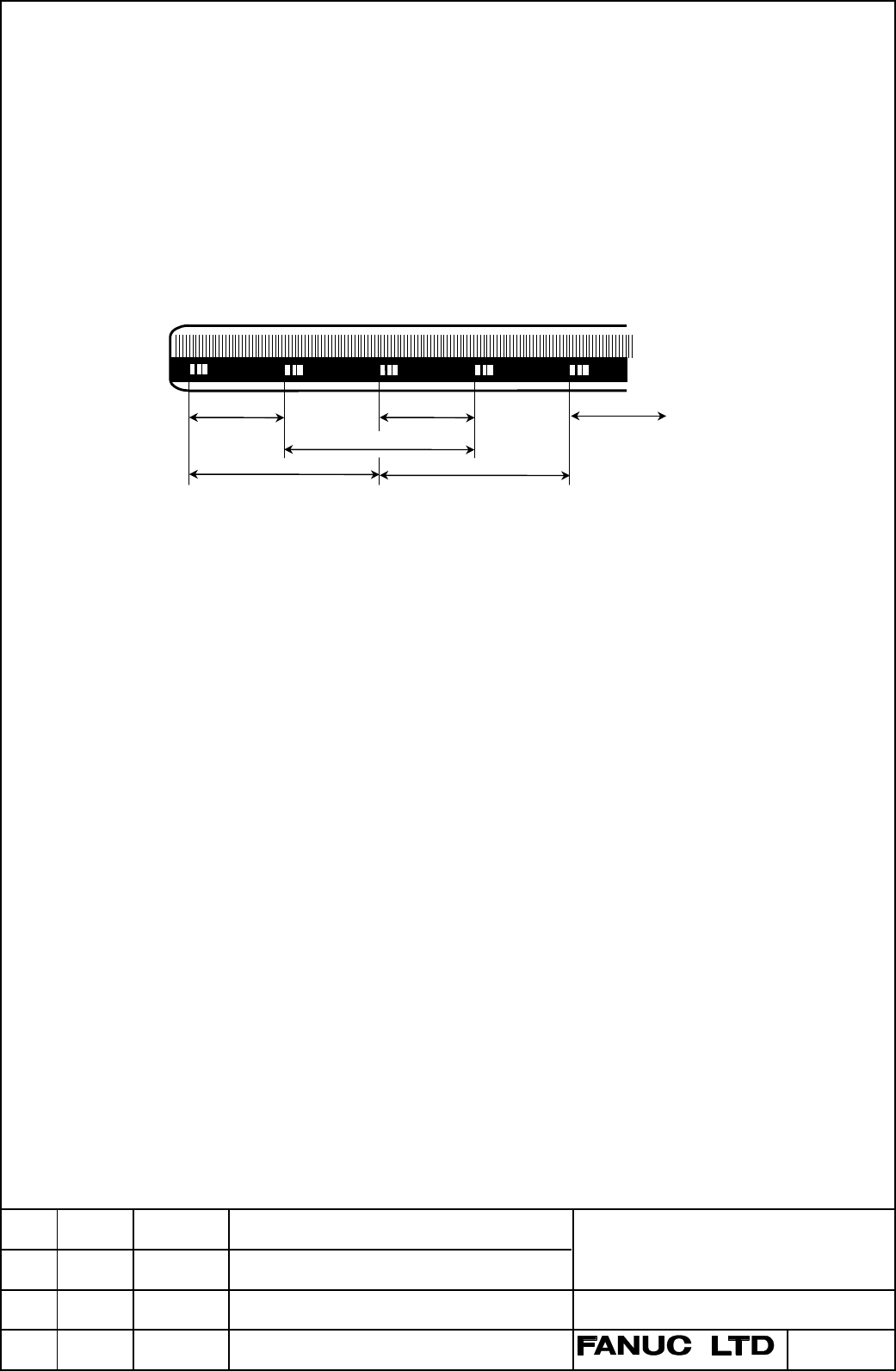 2/11
A- 77987EN
DRAW.No.
FANUC Series 16
i
/18
i
/21
i
Specifications of Distance Coded Linear
Scale Interface Ex
ansion
Title
Newly Registered
99.12.03
DATE
01
EDIT.
1. Outline
Intervals of reference marks of distance coded linear scale are variable. That is, if CNC can
know the interval of reference marks, it can know an absolute position on the scale.
When the axis is moved by G00 command or JOG mode, this function establishes the
reference point by measuring the interval of reference marks automatically. Therefore, the
reference point can be established without executing the reference point return operation
after CNC system is powered on.
Fig.1 Example of distance coded linear scale
* This is an optional function. (S730)
The optional function, Distance Coded Linear Scale I/F (J670) is also necessary to use this
function.
2. Specifications
2.1 Reference point establishment by G00 command
2.1.1 Requirement
In satisfying the followings, the reference point establishment operation is automatically
started.
(1) When the amount of the movement is given to the axis in which the reference point is
not established by the G00 command
(2) When the movement direction of above-mentioned (1) is the same as the reference point
return direction defined by parameter 1006#5(ZMI).
(3) When the target axis is not the following modes
• Three-dimensional coordinate conversion
• Coordinate system rotation
• Mirror image (signal(G106) or setting)
10.02
10.04
20.02
20.00
20.00
Reference mark 1
Reference mark 2
Mark 1
Mark 2
Mark 1
10.06